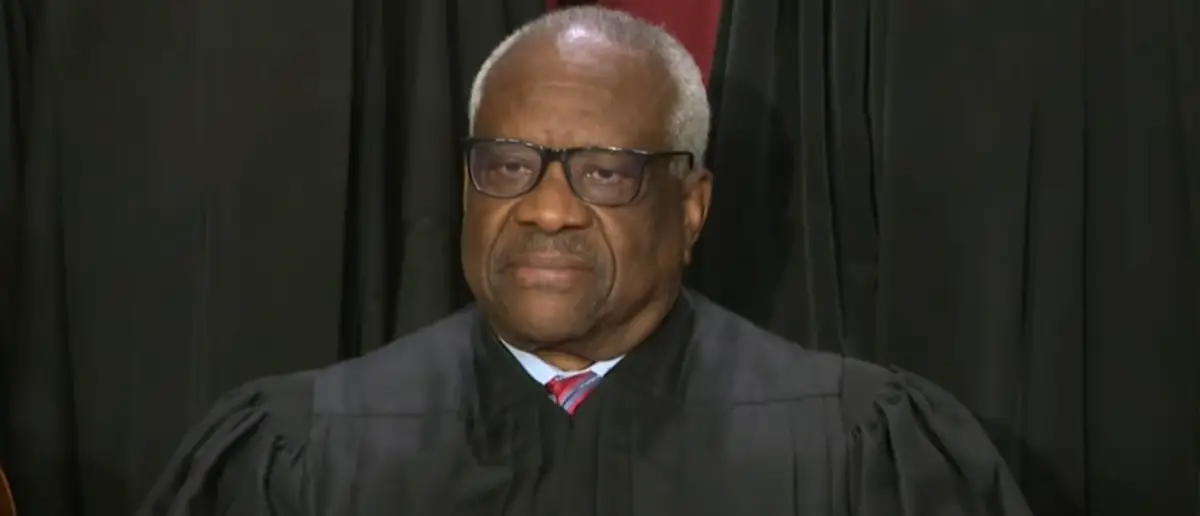 Clarence Thomas has been a steadfast conservative on the Supreme Court for decades. That could all change.
And here's the sad news about Clarence Thomas.
Many of us still remember when Clarence Thomas was nominated for as a Justice for the Supreme Court back in 1991 by President George H.W. Bush.
The confirmation hearing was a scandal and a disservice to a loyal public servant and to the American people.
In it, Anita Hill, a law professor who has previously worked under Thomas, accused him of sexual harassment.
The country was forced to endure back-and-forth testimony, with many who worked closely with Thomas at the time coming to his defense.
Eventually, the Senate confirmed Clarence Thomas as a Supreme Court Justice in a narrow 52-48 vote.
Since then, Democrats have never forgotten. And with his track record proving him to be a staunch conservative Constitutionalist, he's been in their crosshairs ever since.
Now the Left is alleging that Thomas accepted gifts from billionaire Harlan Crow.
Thomas, for his part, has argued that he has known Crow and his wife for decades and that accompanying them as a friend on vacation is hardly the same thing as a bribe.
But that hasn't stopped Democrats from calling for his resignation, like Rep. Alexandria Ocasio-Cortez:
Clarence Thomas should resign.

If not, his failure to disclose income from right-wing organizations, recuse himself from matters involving his wife, and his vote to block the Jan 6th commission from key information must be investigated and could serve as grounds for impeachment.

— Alexandria Ocasio-Cortez (@AOC) March 29, 2022
Let's forget the fact that she's also in the midst of campaign finance scandal where she is alleged to have concealed thousands in donations.
My latest EXCLUSIVE: AOC Concealed Thousands In Campaign Spending, Ethics Complaint Alleges https://t.co/igsmodZNqe @dailycaller

— Jennie Taer (@JennieSTaer) April 17, 2023
And everyone's favorite neighborhood socialist, Bernie Sanders, sounded off the same sentiment.
Sanders remarked on MSNBC's "Inside with Jen Psaki" on Sunday that Supreme Court Justice Clarence Thomas should be probed by the Justice Department.
Psaki said, "There were new revelations this week, about Supreme Court Justice Clarence Thomas and his financial relationship with a billionaire Harlan Crow. Just this morning there's even new reporting about some inaccuracies on his financial disclosure forms. Your colleague Sheldon Whitehouse is calling on the Department of Justice to investigate on Clarence Thomas for potential ethic violation. Do you back Senator Whitehouse's call?"
Sanders said, "I think that Senator Whitehouse is on the right track. The Supreme Court does not have to go along with the same type of ethics rules that members of Congress and other judges do at the time we ended that leniency for the Supreme Court. Some of what we are reading about in terms of Judge Thomas is really quite outrageous and I think it needs to be investigated."
Psaki said, "By the Department of Justice?"
Sanders said, "Yes, right."
Psaki said, "A number of colleague of yours in the House and in the Senate to have said he should be impeached. Do you think that if wrong doing is found he should be impeached?"
Sanders said, "I think the first thing you want to do before you impeach somebody is investigate the situation, and I think that is what the Department of Justice should be doing."
Remember, Sanders enriched himself by spending $445,000 of his election campaign funds in 2015 on his own book.
Hypocrites, all of them.
Stay tuned to DC Daily Journal.