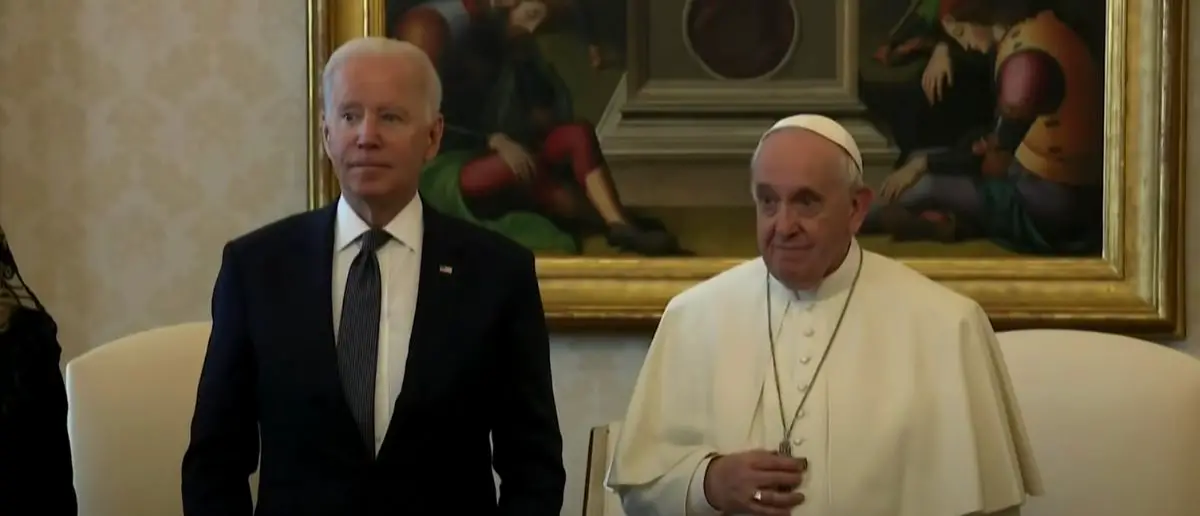 Joe Biden likes to pretend he's a faith-filled man. Nothing could be further from the truth.
And Joe Biden was smacked with a massive surprise from Pope Francis.
Biden is far from a faithful Catholic.
He and the Democrats differ from the Church on everything from abortion to LGBT issues.
But that hasn't stopped the Roman Pontiff from getting in contact.
The Pope and U.S. President Joe Biden met by phone on Sunday afternoon to discuss "the latest developments in Israel and Gaza," according to a White House statement.
The Holy See Press Office said earlier the phone call lasted about 20 minutes and focused on "conflict situations in the world and the need to identify paths to peace."
"The president condemned the barbarous attack by Hamas against Israeli civilians and affirmed the need to protect civilians in Gaza," the White House statement said.
They also discussed Biden's recent trip to Israel and his humanitarian initiatives in the region.
The pope and the president also talked about "the need to prevent escalation in the region and work toward a durable peace in the Middle East," according to the White House.
Earlier in the day, Pope Francis called for peace in the continuing Israel-Hamas conflict, which is now in its third week.
"Once again my thoughts turn to what is happening in Israel and Palestine. I am very worried, saddened; I pray and I am close to all those who suffer, the hostages, the injured, the victims, and their families," the Pope said.
I'm sure the Holy Father is really loving Biden stationing aircraft carriers off the coast of Israel and sending troops over.
The Pope also recognized people who are still suffering in Ukraine.
"War, every war in the world — I am also thinking of the tormented Ukraine — is a defeat," Francis said.
"War is always a defeat, it is a destruction of human brotherhood. Brothers, stop! Stop!"
Biden paid a quick visit to Israel on Wednesday, Oct. 18, to hold high-level talks with Prime Minister Benjamin Netanyahu and to express his support for the war-torn Jewish state.
The president also requested assistance for Palestinians in Gaza, where over a million people have been displaced since the conflict began.
On his way back from Israel, Biden informed reporters that during a phone chat with Egyptian President Abdel Fattah el-Sisi, the Egyptian leader agreed to allow 20 trucks delivering humanitarian aid into Gaza through the restricted Rafah crossing, which connects Egypt and Gaza.
In addition, Biden offered $100 million in humanitarian relief for Palestinians in Gaza and the West Bank.
Stay tuned to the DC Daily Journal.