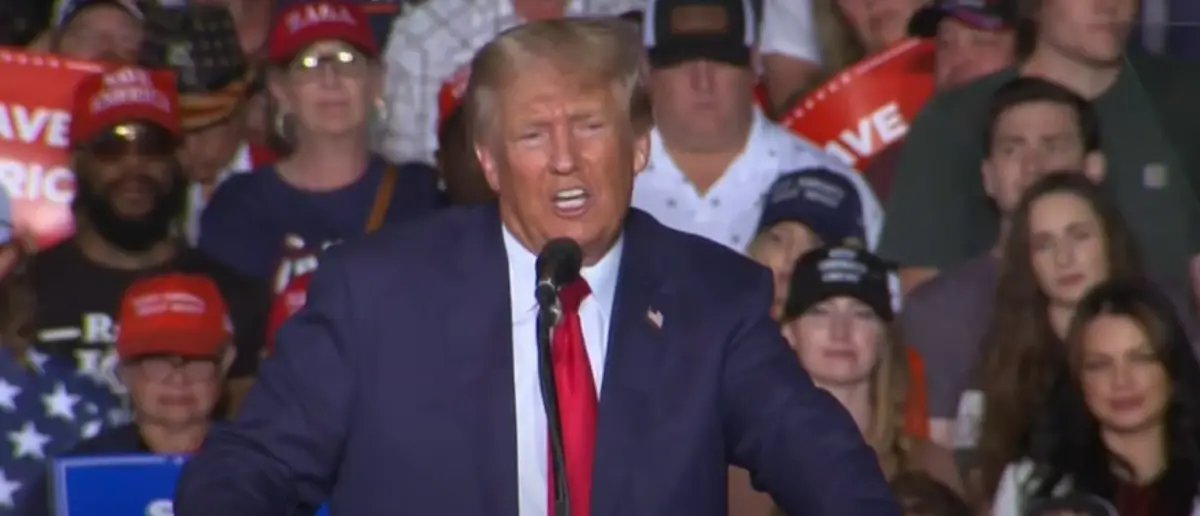 Since being ousted by Joe Biden, Trump has refused to remain silent. Many think he's setting the stage for a big comeback in 2024.
And now Donald Trump just sent out this urgent message to every American.
The radical Left hates no one more than former President Donald Trump.
They'll go to any lengths in a futile attempt to put Trump behind bars on false accusations and charges.
They have even shattered the American public's trust in the FBI by using it as a political tool to raid Donald Trump's residence in an attempt to catch any evidence of wrongdoing.
But that hasn't stopped Donald Trump in the least. He's still on a mission to make America great.
At a recent Save America Rally in Mesa, Arizona Trump called all conservatives to make sure we have a historic victory in the midterms this November.
"First we have to win a historic victory for the Republican Party this November," he announced to thousands."
He told the citizens of the border state that if we are going to stop the invasion of illegal immigrants pouring over the border, we'll have to get the military involved.
"Job number one for Republican Congress is to stop the invasion and that's what it is. It's like a military invasion. In many ways, it's worse because, with the military, you can stop them with force. These people are coming through totally unencumbered. But we have to stop the invasion on our southern border," Trump stated.
Trump's remarks were met with resounding cheers thanks to Arizona being one of the states hit worst by the mass illegal immigration allowed by Joe Biden.
So much has it hurt Arizona, that its Senate race will likely be decided by this issue alone.
And in Thursday's Senate race debate, Republican Blake Masters went off on Senator Mark Kelly (D-AZ) for peddling Biden's border policies.
Call me old-fashioned but I think the correct amount of illegal immigration is zero. That's what federal law says. The problem is, Joe Biden and Mark Kelly are willfully ignoring federal law. They've surrendered our southern border, they've given it up to the Mexican drug cartels.

We had operational control two years ago and now it's just a disaster. They incentivize people to break the law. Illegal aliens, when they come here, they are supposed to be caught and deported back to their country or some other country that wants them. But now, Joe Biden and Mark Kelly, they laid out the welcome mat. This is the greatest country in the history of the world. If you invite everyone to come here, you'll create a crisis.
Of course, Masters' is 100% correct. Illegal immigrants need to be sent back, and the Biden administration and his pals in Congress have given up the fight.
Thanks to them, over four million illegal immigrants have come over the border since Biden was inaugurated.
This is set to cost taxpayers $200 billion yearly to fund welfare programs that are abused by non-citizens.
And all of this is while Joe Biden claimed just last month that mass immigration is making America "so much better."
I guess it's easy for Leftists to spout support for mass immigration when they get to deport them illegals from their playgrounds like Martha's Vineyard.
Stay tuned to DC Daily Journal.