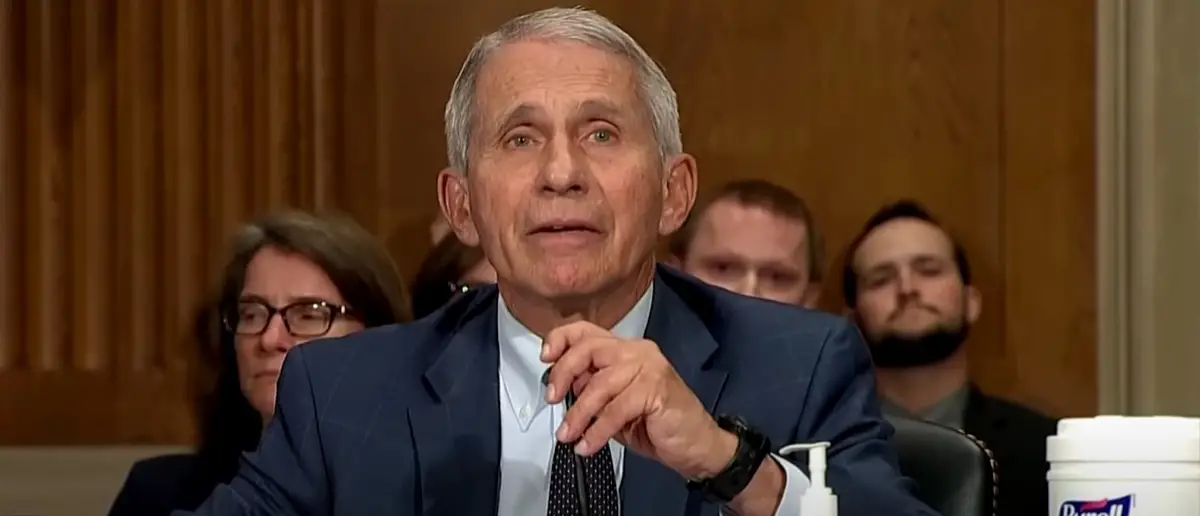 Americans were hoping they would never have to see Dr. Fauci again. Of course, we're never that lucky.
And Dr. Anthony Fauci was just ensnared in a multi-billion dollar fraud.
Dr. Fauci terrorized this country for years by playing up the COVID scare.
Thanks to his "guidance," schools across the country closed, masks were mandated, and elderly relatives were forced to die alone without family for the sake of "quarantine."
Needless to say, Fauci is not exactly popular among conservatives and even many independents.
But his legacy will go down in history as one of the worst after you see what he just did with your money.
Dr. Anthony Fauci, previously the highest-paid federal employee, may have to repay his salary for his final year at the National Institutes of Health after a congressional committee determined that he was not legitimately nominated by the Biden administration.
Republicans on the House Energy and Commerce Committee said Monday that they issued a letter to Health and Human Services Secretary Xavier Becerra on Friday, pointing out that Fauci and 13 other NIH officials had not been formally reappointed to their roles in December 2021.
The statute, according to their letter, "requires the Secretary of HHS to reappoint NIH IC [institute and center] directors, including those who were serving at the time of the law's enactment when their five-year terms expired on December 12, 2021."
Fauci, the long-time director of the NIH's National Institute of Allergy and Infectious Diseases, departed at the end of 2022 as the dominating face of the nation's contentious war against COVID-19.
"The failure to reappoint the above NIH IC directors jeopardizes the legal validity of more than $25 billion in federal biomedical research grants made in 2022 alone," says the letter to the HHS' Becerra signed by House Energy and Commerce Chair Cathy McMorris Rodgers, R-Wash.
🚨 BREAKING: @SecBecerra FAILED to follow the Constitution and the law to reappoint 14 top NIH officials—including Dr. Fauci—when their terms expired in Dec 2021.

These officials held unlawful positions & used authority they didn't have—including approving $26 BILLION in grants.

— Energy and Commerce Committee (@HouseCommerce) July 9, 2023
The letter from McMorris Rodgers discusses government funding in the context of the Antideficiency Act, which prevents federal agencies and officials from spending federal monies without congressional authorization.
Fauci's and the other NIH executives' tenure were set to expire in December 2021; Fauci remained until his retirement at the end of last year.
According to the New York Post, Fauci was paid $434,312 a year in 2020, an increase over the $419,608 recorded by the watchdog group Open the Books in 2019.
Conservatives have criticized Fauci for his alleged lack of transparency in his support for US funding of gain-of-function research that may have resulted in the dangerous coronavirus that causes COVID-19, as well as his refusal to accept evidence that the virus escaped from a government lab in Wuhan, China.
"For Dr. Fauci and 13 other NIH officials whose terms had expired and failed to be reappointed, they would be guilty of a violation of the act if they knowingly—knowingly—accepted federal salaries, or worse, made grants to institutions or organizations that they were not legally authorized to make," Robert Moffit, a former senior federal official in both the Department of Health and Human Services and the Office of Personnel Management, which oversees the federal workforce, told The Daily Signal.
Moffit is now a senior fellow at The Heritage Foundation's Center for Health and Welfare Policy. Heritage's multimedia news organization is The Daily Signal.
"If guilty of such a violation, they would be required to reimburse the federal government for their salaries, and the grants would at least be subject to litigation from competitors in the research community who lost grant opportunities in a lawful process," Moffit said.
Stay tuned to the DC Daily Journal.