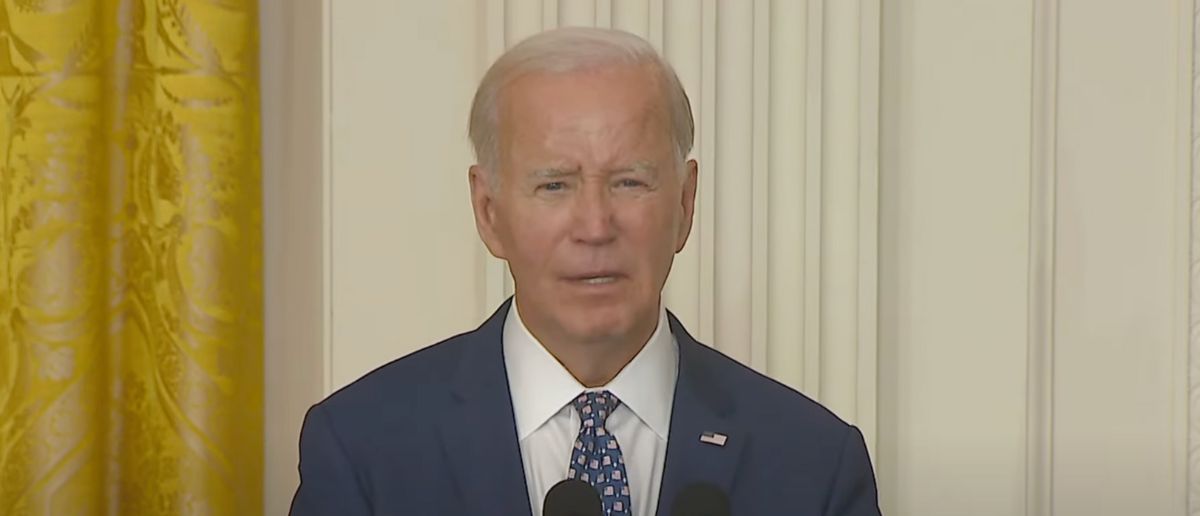 The history of the Biden family corruption is being uncovered. And a major development has hit the news.
Because an eye-opening email has proven that Joe Biden is lying through his teeth about his son Hunter.
James Comer, the head of the House Oversight Committee, wrote to the National Archives and Records Administration (NARA) this week asking for "unrestricted special access" to correspondence between Hunter Biden's office and those close to then-Vice President Joe Biden.
The letter asks for copies of the files in NARA's "Records on Hunter Biden, James Biden, and Their Foreign Business Dealings" file that have not been redacted.
One of the requested documents is an email from December 4, 2015, in which a Biden family business connection Eric Schwerin sent Kate Bedingfield, the director of comms for Joe Biden at the time, quotes that he recommended the White House use in response to press inquiries about Hunter Biden's position on the board of the Ukrainian energy firm Burisma.
At 10:45 on that December day, Schwerin sent the email. Hours later, around 2:30 pm, Bedingfield replied, "VP signed off on this."
This would definitively prove that Joe Biden is lying when he says that he has had "nothing" to do with the business dealings of his son Hunter at any point during the Barack Obama administration.
Comer states in the letter that the Committee is concerned about the context of time of this email activity. Hunter Biden 'called D.C.' to discuss pressure that Burisma wanted him to relieve on the night of December 4, 2015, according to Devon Archer, yet another longstanding Biden family business associate.
Previously, Archer testified that Biden, who was vice president at the time, participated in at least 20 phone conversations or face-to-face meetings with Hunter's overseas business colleagues. He clarified that having access to the vice president was the "brand" of Biden that allowed him and Hunter to take advantage of various profitable business possibilities, such as joining the board of Burisma.
The senior Biden later boasted about having fired Ukrainian prosecutor Victor Shokin, who was looking into allegations made by Burisma's founder and CEO Mykola Zlochevsky.
Hunter Biden co-founded Rosemont Seneca Advisors, a failed financial advice company, where Schwerin formerly held the position of managing director. According to financial disclosure documents, Schwerin also worked for Hunter's lobbying firm Oldaker, Biden & Belair from 2002 to 2008. While Biden was vice president, he made at least 36 trips between the White House and the Naval Observatory, according to Fox News.
The New York Post said that emails discovered on Hunter's abandoned laptop revealed Schwerin was heavily involved in the Biden family's affairs and frequently moved cash around for the Bidens, specifically Hunter and Joe.
House Republicans asked Schwerin to turn over all correspondence between President Biden and Hunter in April 2022.
NARA was given until September 20 to turn in "all documents and communications to or from the Executive Office of the President (including but not limited to the Office of the Vice President) to, from, copying or regarding Eric Schwerin, Devon Archer, Vuk Jeremic, John Robinson 'Rob' Walker, or Jeffrey Cooper."
Additionally, Comer requests copies of all correspondence with or from Bedingfield, Michael Carpenter, Kathy Chung, Amos Hochstein, Colin Kahl, and Alexander Mackler that were sent to or from, or that contained information about, Hunter Biden or James Biden. The House Republican also asked for copies of every executive calendar made for Joe Biden between January 20, 2009, and January 20, 2017.
Comer stated in a prepared statement for the media that Joe Biden "never built a 'absolute wall' between his family's business dealings and his official government work – his office doors were wide open to Hunter Biden's associates."
"There is evidence of collusion in the efforts to spin media stories about Burisma's corruption while Vice President Biden was publicly pushing an anti-corruption agenda in Ukraine. Suspiciously, Hunter Biden's associate had a media statement on Burisma approved by Vice President Biden himself the same day Hunter Biden 'called D.C.' for help with the government pressure facing Burisma."
In the letter, Comer also mentions that NARA and House Oversight personnel have spoken about the committee's prior petitions for specific access to vice-presidential documents. During those negotiations, NARA notified the committee that, in the event that it determines that some records qualify as "personal records" under the Presidential Records Act, it would not produce them to the committee and would not notify it of their existence.
"The Committee has made clear that its investigation involves potential abuse by then-Vice President Biden of his official duties; it cannot be NARA that determines whether certain records 'do not relate to or have an effect upon' those duties," James Comer has said of NARA picking and choosing which records to produce.
Comer requested that NARA create an audit trail demonstrating the grounds for withholding requested documents in the event that it does so. The audit should include information about the document's length, sender(s), recipient(s), time and date of transmission, and the reason why NARA decided to withhold the document, according to James Comer.
Recently, the committee has asked for "unrestricted special access" to documents pertaining to then-Vice President Biden's family's international travel on Air Force Two and Marine Two.
Biden's "misuse" of the aircraft, according to Republicans in Congress, is just one more instance of how he has "abused his various offices of public trust and wasted taxpayer money to benefit his family's enterprise, which consisted of nothing more than access to Joe Biden himself."
Prior to that, the committee sought records pertaining to any governmental responsibilities Joe Biden performed as vice president that coincided with Hunter Biden's commercial activities in Ukraine.
Stay tuned to the DC Daily Journal.