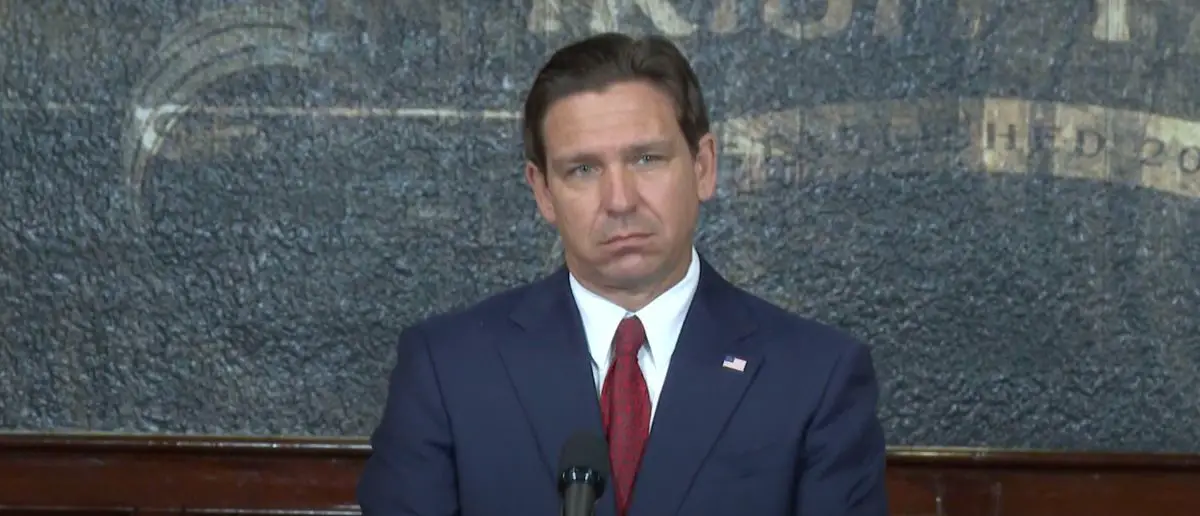 Over the past few years, Ron DeSantis has become a top target of the Left. They want to bring him down immediately.
And now a rogue Florida attorney has down the unthinkable to Ron DeSantis.
Florida Governor Ron DeSantis has made a ton of enemies since he won the Governor's mansion in 2018.
The radical Left fears that he is going to be even more effective than Trump, and he's only 44 years old. That means he's got a long road ahead of him to potentially be the face of the Republican party and maybe even win a Presidential bid at some point.
Trump may still be the frontrunner for the Republican party, but that won't last forever. And Ron DeSantis' success in Florida represents just how strong he can be for his constituency, a lot like Donald Trump.
An example of just how unafraid Ron DeSantis is of the pushback he gets from the extremists in the Democrat Party, is how he has recently fired two prosecutors in Florida for failing to uphold the law.
He recently fired Monique Worrell from her post for a "neglect of duty and incompetence" after she vowed to not enforce standing Florida law, including letting violent criminals off easy when they should be in jail.
Well now Monique Worrell wants revenge, and she is seeking to taking Ron DeSantis to court. She's said she is willing to take him all the way to the Florida State Supreme court.
On Wednesday, Worrell requested that the Florida Supreme Court rule that the decision to suspend her from her position was illegal because there was insufficient proof to back up DeSantis's claims.
The 46-page petition from Ms. Worrell's attorney makes reference to another state attorney DeSantis suspended in 2022 and claims that the order instead "vaguely refers to Ms. Worrell's 'practices and policies' throughout but notably fails to identify a single, specific policy or practice, making the Order distinguishable from recent cases involving other Florida state attorneys, where the executive orders identified specific policies alleged to constitute a neglect of duty."
The Democrat faced criticism for being too lenient on crime after being elected state prosecutor in the 9th Judicial Circuit in Orange and Osceola districts in 2020. Her attorneys stated that there is no evidence to support the claim that the state attorney's practices led to a decline in incarceration rates.
"Such data, even if accurate, reflects a host of factors unrelated to the practices or policies of the state attorney and thus cannot be relied upon to demonstrate that Ms. Worrell has practices or policies that result in lower incarceration rates," the court document states.
At the Orange County Courthouse on Tuesday, lawyers and lawmakers demanded Worrell be reinstated, citing DeSantis' nebulous accusations and claiming the order was unlawful.
DeSantis stated in a 15-page executive order announcing Worrell's suspension that there was a "duty to act to protect the public from this dereliction of duty." Worrell's suspension comes more than a year after DeSantis fired Democrat Andrew Warren, Hillsborough County State Attorney, on similar charges after charging him with negligence of duty. Warren is currently engaged in litigation as of August after he challenged DeSantis' ruling.
It should be noted that Ron DeSantis, according to Florida constitutional law, has every right to fire any Florida prosecutor on any grounds that he may find reasonable and justifiable.
Also, Worrell has links to the Leftist billionaire George Soros who runs dozens and dozens of operations throughout America to influence elections and politics as a whole in favor of the radical so-called "progressive" Left.
Worrell said she had no idea about the connections between her campaign in 2020 and George Soros, but for many Floridians she is compromised.
Conservatives have watched Soros-backed Leftist prosecutors make a mockery of law and justice in America, just as we're watching play out with Donald Trump right now in his indictment fiasco.
Ron DeSantis knows what the people of Florida want, and he's going to put them first over the anti-American progressives who just want to watch law and order crumble to its knees.
It's my duty to protect the people of Florida.

We will not tolerate a State Attorney who pursues an agenda at the expense of Floridians. Florida is a law-and-order state. As long as I'm Governor, it will stay that way. pic.twitter.com/lsguX9M3Sd

— Ron DeSantis (@GovRonDeSantis) August 9, 2023
Stay tuned to the DC Daily Journal.