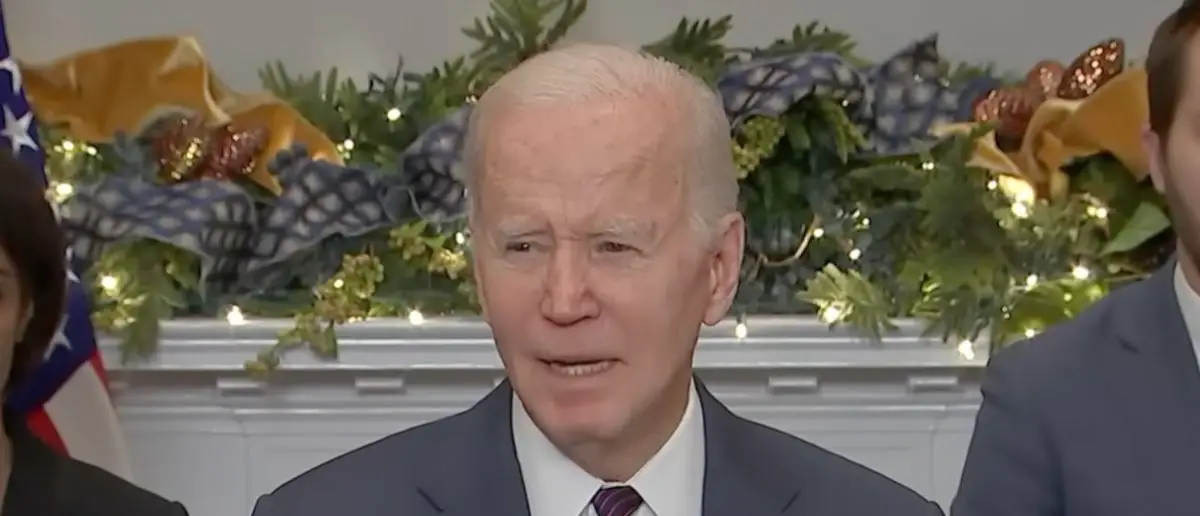 Joe Biden has been able to slip through conservatives' grasp for decades. But he may finally have met his match.
Because Florida just announced they're taking Biden to trial over this bombshell scandal.
Joe Biden and his pals in political office have been letting this country burn since they got in office.
All they've done is add more fuel to the fire wherever they can.
Nowhere is this more apparent than at the southern border, where Joe Biden has done nothing to stop the flow of millions of illegal immigrants into this country.
The drug cartels at the border have made the situation untenable, with many fearing for their lives and local Democrat politicians even begging Biden to act.
The only response they have gotten from liberals in Washington is that the crisis is somehow the fault of Republican governors of border states and a photo-op visit to the border by Biden.
But Florida isn't going to sit around and give Biden total control of the invasion at the southern border.
Ashley Moody, the attorney general of Florida, is going to take the administration of President Joe Biden to federal court over its plans to make the immigration parole system bigger.
As part of its plan to improve "safe, orderly, and humane processing" of illegal immigrants, the Biden administration has made changes to the federal parole system. This is why Florida is suing. With this change, an extra 30,000 people from Venezuela, Haiti, Cuba, and Nicaragua would be able to stay in the United States.
From what Just the News said:
Biden made the announcement after a record 68,044 Cubans and Nicaraguans and 6,232 Venezuelans were apprehended in November illegally entering the U.S., according to CBP data; and after more than 600,000 foreign nationals from all over the world were apprehended or evaded capture in November and December 2022 combined, and a record 3.3 million were apprehended in fiscal 2022.
Biden's expanded immigration parole program already faces legal challenge | Just The News https://t.co/K6NV3Tap39

— Just the News (@JustTheNews) January 6, 2023
Moody's office claimed the state has "uncovered evidence of Biden ignoring public-safety immigration laws allowing more than 1 million unvetted, inadmissible immigrants into the interior."
The upcoming trial "will once again show that the Biden administration is threatening Americans' safety by intentionally weakening our nation's border security," Moody's office continued.
"These policies harm Florida. The Biden administration is releasing tens of thousands of migrants at the border every month," attorneys in Moody's office wrote in an amended version of the lawsuit that was filed in August. "Many of these migrants are arriving or will arrive in Florida, harming the state's quasi-sovereign interests and forcing it to incur millions of dollars in expenses."
Florida's lawsuit against feds over Biden immigration policies set to begin https://t.co/Y0ABZ2PEdZ

— Tampa Bay Times (@TB_Times) January 7, 2023
In a statement released on Thursday, Moody called Biden's immigration policy "irresponsible" and said it put "Americans at risk."
Moody said:
Since President Biden took office, he has intentionally dismantled public-safety immigration structures, allowing chaos to reign at our nation's Southwest Border, and letting unvetted, inadmissible immigrants — along with dangerous individuals and deadly drugs like fentanyl — into our country. Biden's actions are beyond irresponsible and put Americans at risk. Now, because of our litigation, the president must defend his reckless actions and refusal to follow the law in a federal courtroom.
But U.S. Department of Justice (DOJ) lawyers said in a filing in October that the federal government has control over immigration policies and that Florida is asking U.S. District Judge T. Kent Wetherell II to "second-guess discretionary decisions by the Department of Homeland Security about how to enforce immigration law most effectively and efficiently."
"This court should decline Florida's invitation to undermine the principles of federalism and separation of powers upon which the U.S. constitutional system is based," the DOJ filing continued.
On Monday, the trial is set to start in the Pensacola Division of the Northern District of Florida, which is run by Judge Wetherell.
Florida v. United States, No. 3:21-cv-1066-TKW-ZCB, is the case in the U.S. District Court for the Northern District of Florida.
Stay tuned to DC Daily Journal.