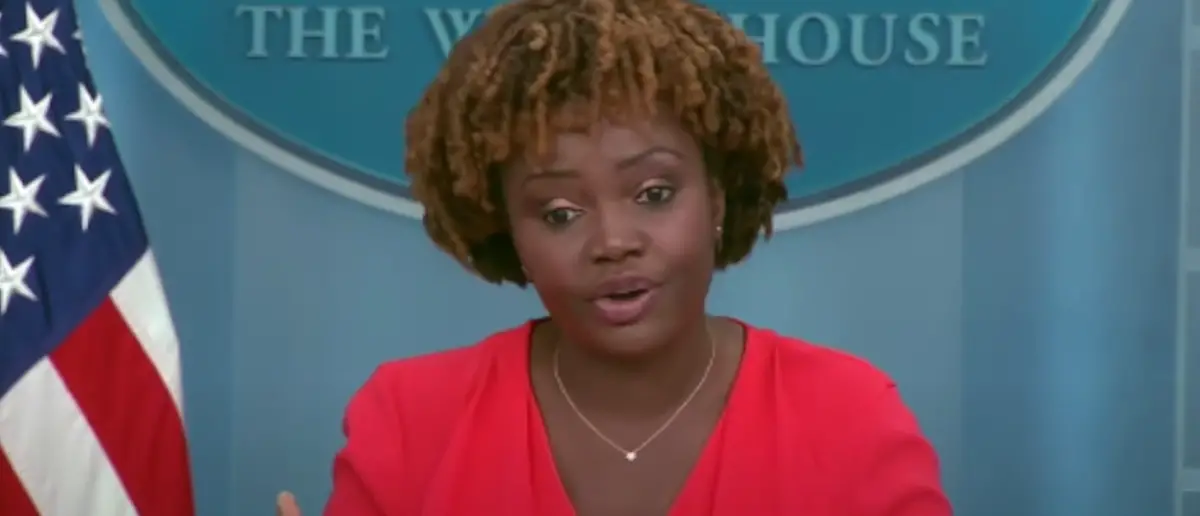 The Biden administration is all about setting the worst records possible with record high inflation, border crossings, and more. But they aren't done yet.
Because this statement was the dumbest thing anyone in the White House has ever said, and you have to see it.
It's fair to say that Jen Psaki was a pretty unpopular White House Press Secretary in the eyes of the American public.
She constantly responded to questions with a now infamous "I'll circle back to you" statement.
So when she stepped down as Press Secretary, many within the Biden administration were hopeful for a much better replacement.
Oh boy were they wrong.
The current White House Press Secretary, Karine Jean-Pierre, has performed as well as a dumpster fire every time she takes questions from the press.
She stutters through her answers as if she's completely unprepared to say anything of any substance on any question asked of her and the Biden administration.
Recently, she was asked by Fox News' White House Correspondent Peter Doocy if Joe Biden believed America's big cities were safe.
Jean-Pierre asked Doocy to clarify, even though it's a super straightforward question. He does, sharing some statistics that prove a crime is on the rise in America's cities.
He even shared examples of high-profile individuals like an NFL player who was mugged and shot and a congress member whose house was robbed.
Jean-Pierre stumbles into nonsense about how the Biden "American Rescue Plan" would help reduce crime by going to "local states and local cities."
She said "local states," by the way – whatever that means. But the kicker is what she said after blabbering nonsense about the American Rescue Plan.
When asked again, very clearly, by Doocy if Biden believed America's cities are safe, she sidestepped the question in the stupidest way possible.
She said, and we quote, "It is not a yes or no question."
Doocy's question, which he asked multiple times during his exchange with KJP, is quite literally a yes or no question.
What in the world is Karine Jean-Pierre going on about?
You can watch the full exchange here:
VIDEO
This just might be the dumbest thing any White House Press Secretary has ever said.
But what's incredible, is she's liable to top it any time she steps in front of a camera.
We know she doesn't want to answer Doocy's question honestly and say that America's cities aren't safe. That's to be expected.
Her attempts to change the conversation are absurdly laughable, however.
Stay tuned to the DC Daily Journal.