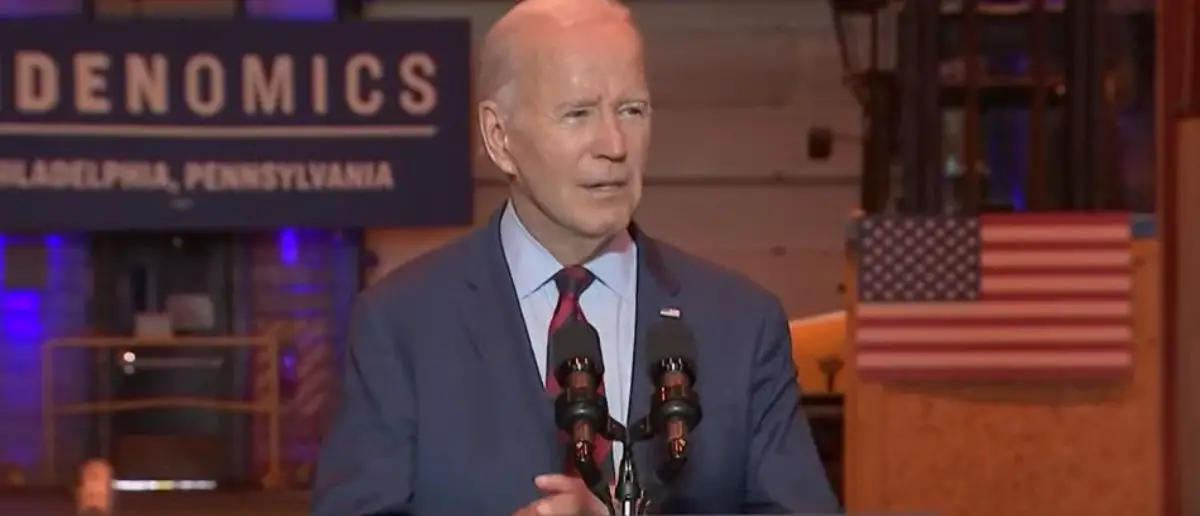 Many believe the Biden admin is in complete disarray. That all starts with President Biden himself.
And now an utterly massive Biden admin announcement has confirmed everyone's worst fears.
Whatever the Democrats want to say about Donald Trump, they know that the reality of the situation they are in is that Trump very well might beat Biden in a head-to-head rematch.
The reasons for that are manifold, but much of it comes down to just how politically toxic Joe Biden, Kamala Harris, and the entire D.C. Democrat regime has become in the past two years since Donald Trump left office.
Americans are overwhelmingly unoptimistic about the future of America, especially on the number one issue that Americans care about: the economy.
A brief overview of American history tells you that incumbent Presidents who have a poor economy at the end of their first term will have a hard time getting reelected because the economy is always the one thing Americans want addressed first.
If you fail on that front, Americans will largely think you failed in totality since much of the fabric of American society is built on historic economic successes.
So, of course, with record levels of inflation, sky-rocketing gas prices, and a housing crisis on top of all of that, Americans are sour on the Biden administration when it comes to the economy.
The bad news is only getting worse for the Biden regime, it appears, as a new announcement from the Biden officials within the U.S. Federal Reserve doesn't look good for the near future of the economy.
The U.S. Federal Reserve has now admitted inflation seems to be back on the rise and that they will continue to consider raising interest rates in combatting the rising inflation that has yet to fall back to normal levels.
"It is the Fed's job to bring inflation down to our 2% goal, and we will do so," the Federal Reserve Chair Jerome Powell said recently.
Powell admitted that they are "prepared" to raise rates "further" if they feel like they have to.
"We have tightened policy significantly over the past year. Although inflation has moved down from its peak, a welcome development, it remains too high. We are prepared to raise rates further if appropriate, and intend to hold policy at a restrictive level until we are confident that inflation is moving sustainably down toward our objective," Powell added.
What's sick is that Powell implied later that this was the fault of Americans spending their hard earned cash.
"We are attentive to signs that the economy may not be cooling as expected," Jerome Powell said, adding that he thinks consumer spending has been "especially robust."
This is stunning news for many as the Federal Reserve's constant interest rate hikes for the past year have effectively manufactured a housing crisis that continues to lock millions of Americans out of being able to buy a house.
Interest rates for mortgages are at 25-year highs, and now with the announcement of more interest rate hikes potentially being on the way, we may end up seeing double digit mortgage rates come back soon.
Those interested in buying a house are looking at around 8% rates right now, which is alarmingly close to that stunning mark of 10% that would be a shock for the American economy.
The sad reality is that the Federal Reserve is ultimately punishing Americans for engaging in the economy by spending their money. Economy cultivation is a good thing, on the whole, according to the vast majority of economists.
If the Biden administration and Congress would stop spending billions upon billions of taxpayer dollars like its nothing and force the Federal Reserve to stop printing money out of thin air, then that could actually bring down inflation.
The interest rate hikes simply haven't worked the way the Biden Democrats have wanted it to, so it's time for a new plan. But instead, they are doubling down on their failing plan.
Stay tuned to the DC Daily Journal.