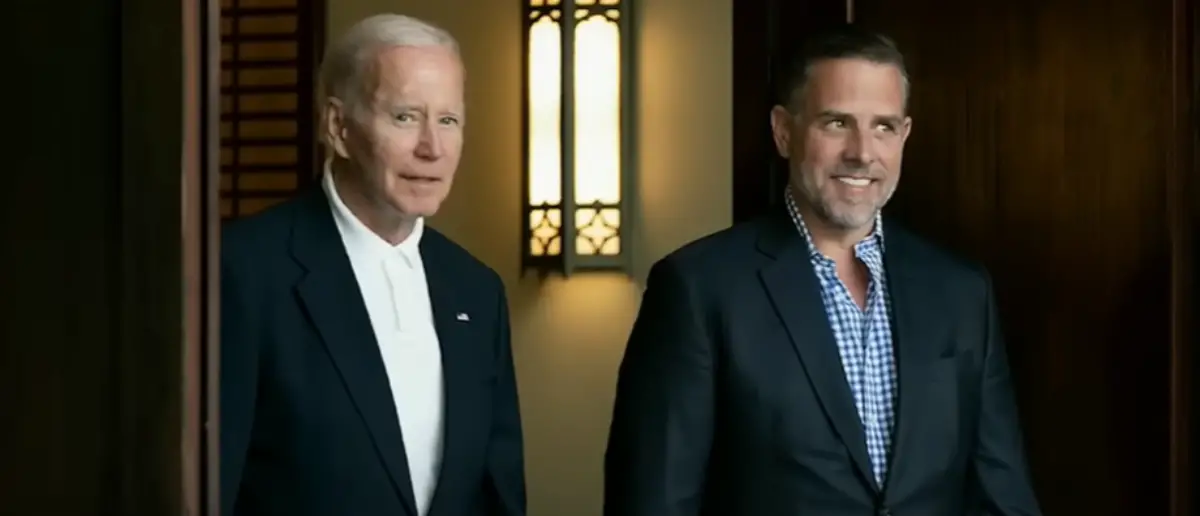 President Joe Biden's son, Hunter, has been under the spotlight for months. Rumors suggest he could be criminally charged any day now.
But Hunter Biden can't believe what his father Joe has done for him this time.
Hunter Biden has been facing investigations for a number of potential crimes, some of which Hunter almost certainly committed.
Falsely reporting on federal applications, drug crimes, gun crimes, as well as a host of other crimes of varying degrees.
One crime that has been well reported on are the alleged tax fraud crimes that have been leaking out to the public in recent months.
But it seems as though his father is protecting him from facing any consequences from the IRS.
One month after a whistleblower complained to Congress that the inquiry was being conducted improperly, a fresh source claims that the IRS has fired the "entire investigative team" in charge of managing a criminal investigation into Hunter Biden.
The New York Post claims that the Justice Department ordered the departure of the team.
In April, an IRS criminal supervisory special agent approached Congress with material that reportedly revealed the younger Biden's tax inquiry was being handled improperly, asking for protection as a whistleblower.
The team's withdrawal from the probe, according to the whistleblower's attorneys, is revenge for his decision to come forward.
Attorneys Mark Lytle and Tristan Leavitt wrote to Congress that the request had been made at the Department of Justice.
"Today the Internal Revenue Service (IRS) Criminal Supervisory Special Agent we represent was informed that he and his entire investigative team are being removed from the ongoing and sensitive investigation of the high-profile, controversial subject about which our client sought to make whistleblower disclosures to Congress."
Several media sites have reported the worries are related to the probe against the younger Biden, even though the whistleblower did not specifically mention the Hunter Biden issue in his remarks.
Congress was urged by the lawyers to "give this matter your prompt attention."
"Removing the experienced investigators who have worked this case for years and are now the subject-matter experts is exactly the sort of issue our client intended to blow the whistle on to begin with," they claimed.
These worries were repeated in a statement by Jason Smith, chairman of the Ways and Means Committee.
"This most recent communication concerning allegations of retaliatory actions against a whistleblower appears to contradict the sworn testimony by Commissioner Werfel who pledged that whistleblower protections would be upheld," Smith stated.
Smith went on to say that he is requesting Werfel to "abide by his pledge, quickly provide information to Congress in response to these allegations."
Last month, Lytle claimed in a letter to Congress that his client possessed material that would "contradict sworn testimony to Congress by a senior political appointee."
The Wall Street Journal was the first to reveal the April letter, which claims the prospective whistleblower had proof of "preferential treatment… if the subject were not politically connected."
At the time, Lytle informed lawmakers that one of his clients had disclosed information to the IRS that was legally protected. He also stated that he wanted to ensure that his clients would feel comfortable sharing such information with Congress.
Hunter Biden's taxes are the subject of a criminal investigation being conducted by Delaware's US attorney David Weiss. The investigation, which was started in 2018, also focuses on whether Hunter Biden lied in relation to buying a gun.
In October, a report was published that stated the FBI believed it had sufficient evidence to charge Hunter Biden with tax offenses. The report stated that the FBI believed it had enough proof to indict Hunter Biden.
Stay tuned to the DC Daily Journal.