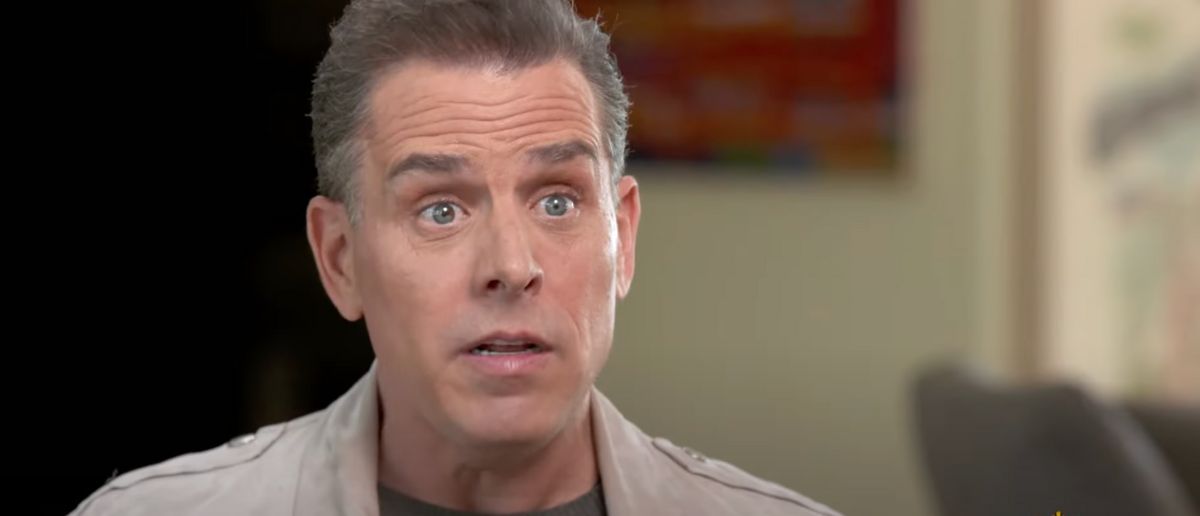 Everyone knows that Hunter Biden is in a world of trouble. But he's not willing to go down alone.
Because now Hunter Biden has dragged his own father to court.
On Monday, Hunter Biden filed a lawsuit against the Internal Revenue Service, claiming that the IRS improperly disclosed his tax data throughout the course of its inquiry.
According to reports, the president's son claims the IRS breached his privacy by improperly disclosing his tax return information and failing to secure his personal files. The complaint, filed in federal court in Washington, D.C., highlighted the congressional testimony and media interviews of IRS whistleblowers Gary Shapley and Joseph Ziegler.
The 27-page lawsuit alleges that Shapley and Ziegler's testimony bolstered their media campaign against Biden "despite clear warnings from Congress that they were prohibited from disclosing the contents of their testimony to the public in another forum."
"And finally, since their public testimony before the House of Representatives on July 19, 2023, the agents have become regular guests on national media outlets and have made new allegations and public statements regarding Mr. Biden's confidential tax return information that were not previously included in their transcripts before the Committee on Ways and Means," the lawsuit claims.
The lawsuit alleged that Shapley and Ziegler committed "unauthorized public disclosures that are not permitted by the whistleblower process" when they spoke to the media about developments in the IRS inquiry. This means that their "'whistleblower' status cannot and does not shield them from their wrongful conduct."
The lawsuit states, "In fact, a 'whistleblower' is supposed to uncover government misconduct, not the details of that employee's opinion about the alleged wrongdoing of a private person."
According to the court filing, the following media channels were involved in the broadcast of the sensitive tax return information: Fox News, CNN, CBS News, John Solomon Reports, and The Megyn Kelly Show.
Hunter Biden has filed a lawsuit against the IRS.

Biden alleges the two whistleblowers who went before Congress violated his privacy. pic.twitter.com/okWYUA4bms

— Citizen Free Press (@CitizenFreePres) September 18, 2023
For "each and every unauthorized disclosure of his tax returns," Biden is asking for $1,000 in damages. His attorney did not name Shapley or Ziegler as defendants in the case, only the Internal Revenue Service.
Earlier this summer, two IRS officers testified before Congress, claiming that Hunter Biden was given preferential treatment by the Department of Justice due to his family ties to the President. They argued that Hunter Biden's plea agreement, in which he would have pleaded guilty to two minor tax charges in return for delaying a felony firearm violation, was too lenient.
A federal judge questioned the proposed accord in late July, leading Republicans to condemn it as a "sweetheart" bargain with prosecutors. Hunter Biden pleaded not guilty to federal tax charges, opening the door for further prosecution.
A federal grand jury indicted Biden on three gun offenses last week, including lying on a firearms form and having a handgun in his possession while under the influence of narcotics.
There have been rumors that Weiss is considering filing a tax evasion indictment against Biden in either California or Washington, D.C.
This presents a weird scenario where Hunter Biden is suing an agency that is within the jurisdiction of the executive branch of the U.S. federal government, which is headed by the sitting President and father of Hunter's, Joe Biden himself.
Hunter Biden is effectively suing the Biden administration, seemingly making it clear that he's willing to do anything to get away with the crimes that have been charged against him. Even suing the IRS while his father is in charge.
This ultimately goes to show that Hunter Biden is not the "little troublemaker" that Democrats have tried to paint him to be. They say that he was once a troubled man who has gotten past all of his demons.
Surely, he may have grown from his past sins and troubled lifestyle. But clearly he still wants to get away with his tax crimes. He believes he's not subject to the same law that everyone else in this country is.
Stay tuned to the DC Daily Journal.