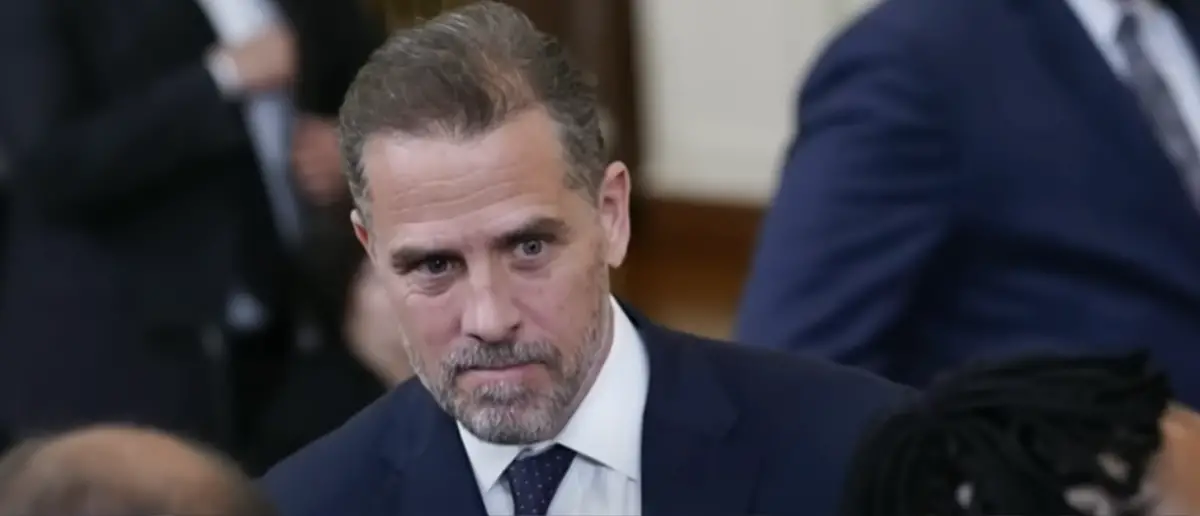 The Biden family's scandals are being aired out like dirty laundry. There's no hiding from the consequences.
And now Hunter Biden is on his way to jail according to this bombshell report.
Hunter Biden has been a major thorn in the side of his father Joe and the Democrats at large.
Trying to hide his problems and keep him out of controversy has been a seemingly handful for the President and his Democrat lackeys.
But sometimes, you find yourself in a corner with nowhere to hide. That's what seems to be happening to Hunter Biden.
According to The New York Times, the U.S. attorney for Delaware is poised to decide whether to charge Hunter Biden.
The Times said that U.S. Attorney David C. Weiss and his colleagues are looking into the first son's international business transactions as well as interactions between President Joe Biden and Hunter Biden's business associates prior to Joe Biden's election to the presidency.
The Times was informed by persons familiar with the investigation that Weiss seemed to be concentrating on Hunter Biden's taxes.
According to the publication, Hunter Biden might face penalties for missing the deadlines for completing his 2016 and 2017 tax returns and for perhaps making $30,000 in erroneous business expenditure deductions.
Weiss, who was appointed to his position by former President Donald Trump, is also rumored to be considering accusing Hunter Biden of lying on a 2018 handgun purchase application form submitted to the US government. Later, a trash can contained the gun.
When completing the paperwork, Hunter Biden declared that he did not use drugs. According to the Times, prosecutors "that prosecutors might be able to challenge based on his erratic behavior and possible witness accounts of his drug use around that period."
Republicans' claims that the first son took advantage of his father's position as vice president at the time and claims that Joe Biden benefited financially from Hunter Biden's business dealings in China and Ukraine are unlikely to be stopped, whether or not Weiss charges Hunter Biden with wrongdoing in his business dealings.
Rep. James Comer, R-Kentucky, the new chair of the House Oversight Committee, ordered on Wednesday that the Treasury Department make public all suspicious activity reports generated by financial institutions connected to Hunter Biden.
One of Hunter Biden's involvements in international business is on the board of the Ukrainian energy company Burisma. When Joe Biden oversaw administration strategy in Ukraine as Vice President under President Barack Obama, he accepted the post.
According to the Times, an oligarch who headed Burisma at the time was being investigated for wrongdoing.
A failed joint venture between Hunter Biden and a Chinese entrepreneur, who courted well-connected Americans in both parties and once offered Hunter Biden a sizable diamond as a gift, was also disclosed by the Times. Hunter Biden also owned ownership in the Chinese business venture.
Hunter Biden did not submit his tax returns for 2016 or 2017. His accountants calculated that he owed overdue taxes of nearly $2 million.
The Times said that Hunter Biden paid the IRS the full amount his accountants believed he owed in taxes in October 2001 after borrowing $2 million from a wealthy Los Angeles lawyer.
Hunter Biden's gun, which was purportedly thrown into a trash can in 2018, was the subject of a request for the public disclosure of information, but an Obama-appointed federal court rejected it in September.
Hunter may only be the first domino of the Biden family to fall, though.
Joe Biden's now found himself steeped in a classified documents scandal that he and his fellow Democrats have been ready to throw Trump in prison over.
Stay tuned to the DC Daily Journal.