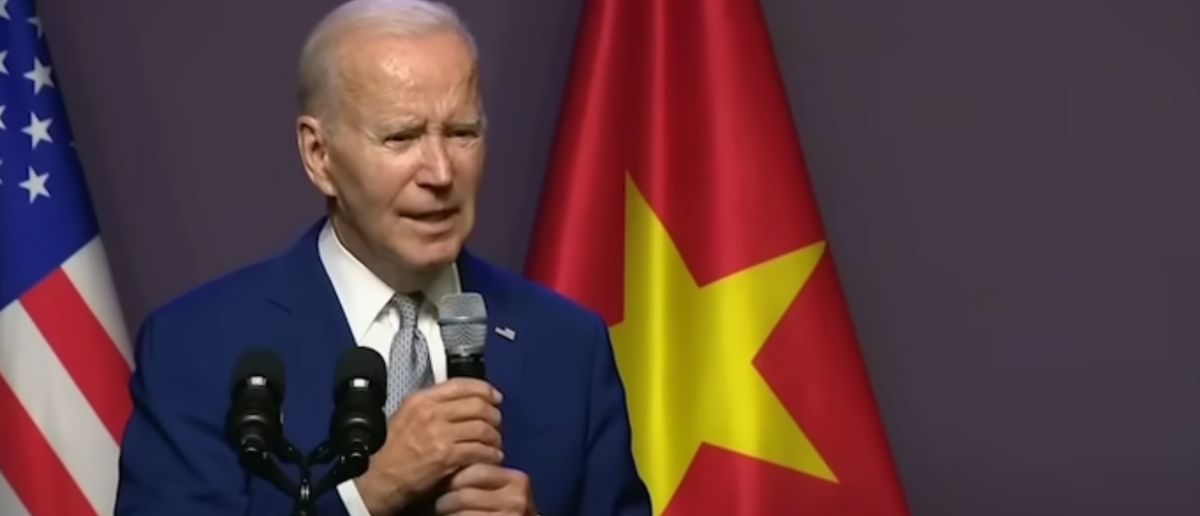 President Biden hates getting hit with hard questions. He'll do anything to avoid telling the truth.
And Joe Biden got SHUT DOWN live on air after being asked this one question.
President Joe Biden dismissed a reporter's question Sunday about if he is concerned about his son, Hunter, being indicted.
On Sunday evening in Vietnam, Biden gave a rambling press conference. After White House Press Secretary Karine Jean-Pierre attempted to call the conference to a close, jazz music began to play and he began to collect his documents.
When a reporter asked a question, the 80-year-old responded, and the jazz music was switched down so he could be heard.
Then as he began walking away from the podium, another reporter asked, "Mr. President — are you worried about your son being indicted? Mr. President?"
Biden continued walking and dismissed the issue, as he usually does when asked about his son.
WATCH: Joe Biden's staff cuts off a rambling Joe Biden mid-sentence and abruptly ends his news conference.

I have never seen this occur with any other president. pic.twitter.com/LqvW2VsESH

— Andrew @ Don't Walk, RUN! (@DontWalkRUN) September 10, 2023
The exchange was not included in the White House's news conference video, which ended when Jean-Pierre tried to halt it.
In the past, Biden has routinely disregarded queries regarding Hunter.
During an unexpected visit to FEMA headquarters in Washington, D.C. earlier this month, a reporter asked him whether he would turn over his bank records to Congress for an ongoing inquiry into his son's foreign business dealings and whether he was engaged or profited from them.
Biden raised both of his hands, laughed, and said, "Let's talk about why I'm here."
"Let's talk about why I'm here," Biden says as reporters ask questions he hasn't been told how to answer pic.twitter.com/k0pXQMaxaQ

— RNC Research (@RNCResearch) August 31, 2023
He disregarded the question, which was repeated, and then answered a question about the G-20 summit, despite the fact that it had nothing to do with government emergency response activities.
However, Biden may soon find himself unable to escape the topic.
In a filing last week, Special Counsel David Weiss stated that he intends to indict Hunter Biden before the end of September.
"[T]he Speedy Trial Act requires that the Government obtain the return of an indictment by a grand jury by Friday, Sept 29, 2023, at the earliest," he wrote Wednesday.
"The Government intends to seek the return of an indictment in this case before that date."
Stay tuned to the DC Daily Journal.