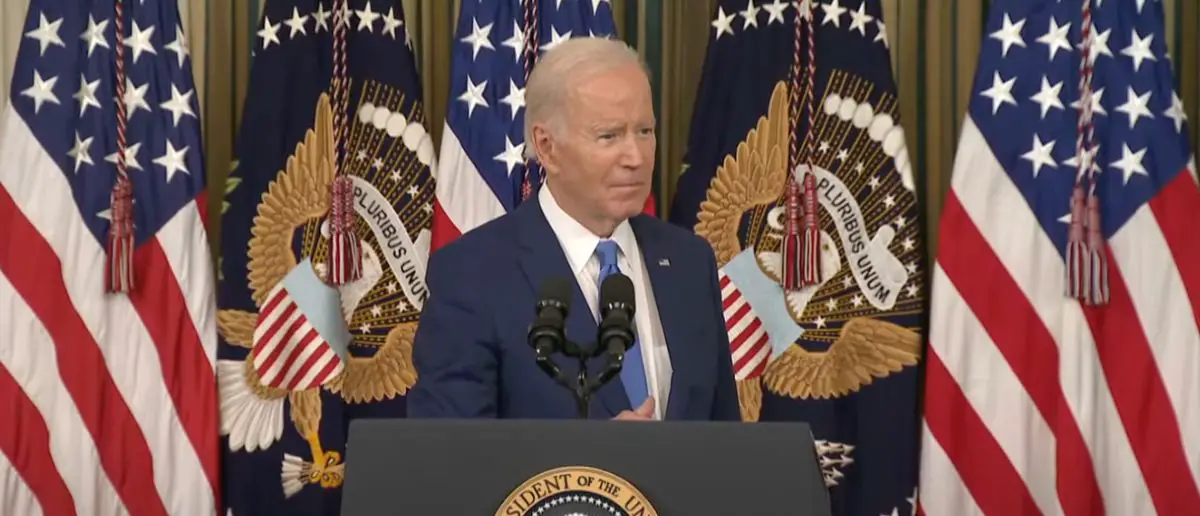 Biden and Democrats aren't concerned with the average law-abiding American. They only care about pushing their radical agenda.
And now Joe Biden promised to put every American in danger with this unhinged statement.
The Biden administration will go down in history as the most radical so-called "progressive" presidential administration ever in America.
Whether it's opening the flood gates at the southern border to allow over two million illegal immigrants since taking office or pushing experimental gender transition drugs on children, Biden's radicalism knows no bounds.
It's the reason Biden's approval rating as president is at an awful 42.1% with no signs of improving in the future.
And it's the reason only 22% of people who responded to a recent Economist/YouGov poll want Biden to seek a second term.
Rather than read the writing on the wall – that Americans are tired of radical Leftist projects and want relief from crippling inflation and supply shortages – Biden is doubling down.
Now he wants to make sure Americans have no means to defend themselves.
President Joe Biden spoke Wednesday night at the 10th Annual National Gun Control Vigil, assuring guests that he is still working to "limit the number of bullets that can be in a cartridge."
What the president meant by this is unclear, as anyone with experience with firearms knows there is only one bullet per cartridge.
But it is safe to assume that he was referring to limiting the capacity of magazines – something Democrats have long sought to do at the federal level.
Biden made the statement after citing the gun control legislation he signed into law in mid-summer 2022.
After mentioning his gun control legislation, Biden swiftly added, "It's still not enough," prompting applause from vigil attendees.
He then said, "Our work continues to limit the number of bullets that can be in a cartridge, type of weapons that can be purchased and sold, attempt to ban 'assault weapons,' a whole range of things that are just commonsense."
Biden talked of how a federal "assault weapons" ban was in place once and suggested, "We can do it again."
He then said, "Scripture says, 'The light shines in darkness and the darkness have not overcome it."
Biden then addressed the attendees of the gun control vigil that they are the light.
Though Democrats recently took a 51-49 majority in the U.S. Senate with Raphael Warnock's victory over Herschel Walker in Georgia, it is unlikely the Republican-led House would pass such stringent regulations.
But with RINO's plotting to replace Kevin McCarthy as Speaker of the House, it's anyone's guess what some Republicans are willing to do to stay in the good graces of Democrats.
Stay tuned to DC Daily Journal.