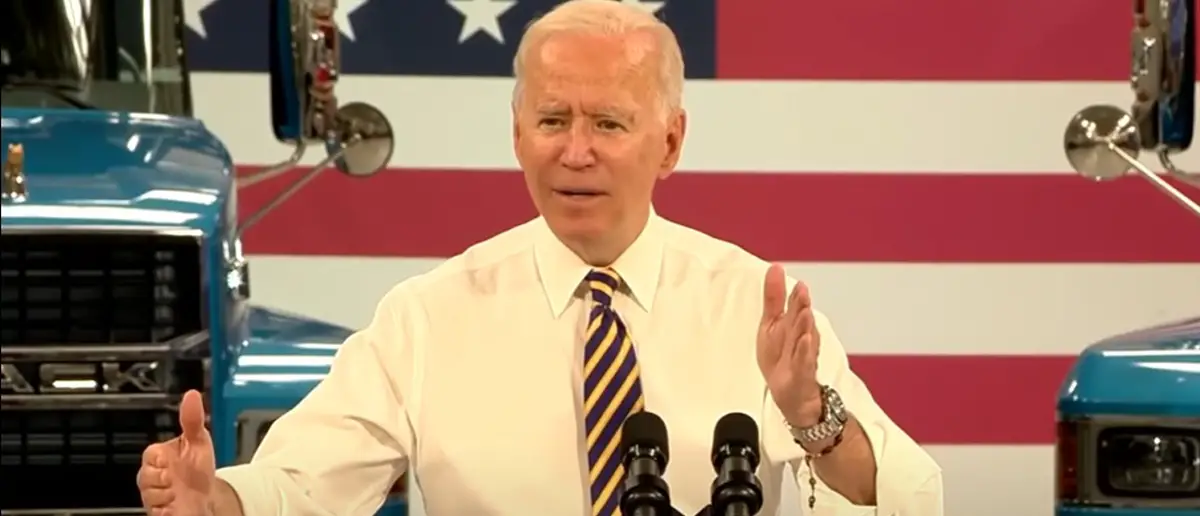 The Biden admin's foreign policy has been one of the weakest of any President since Jimmy Carter. The fumbling of Afghanistan is what really exposed Joe Biden.
But that's nothing compared to what's on the horizon. Because Joe Biden uttered one word that put the U.S. at war.
On Joe Biden's watch, we've seen radical terrorist Muslims take over regions of the Middle East, Russia invade Ukraine, and China harden it's rhetoric on Taiwan.
And ever since the Biden administration completely and utterly failed to pull our troops out of Afghanistan safely and efficiently, it's left a ton of questions surrounding the Biden administration's ability to respond to developing threats.
Many Americans want to know that their President is capable of de-escalating situations that the U.S. is even loosely connected to, like the Ukraine and Taiwan issues.
It doesn't help that Biden's mental faculties most certainly appear to be weaker than any President we've had in recent years.
So when Joe Biden appeared on 60 Minutes with Scott Pelley, Pelley made sure to ask him one very clear question.
Will the U.S. defend Taiwan if China invades?
Biden answered that question saying, "Yes, if, in fact, there was an unprecedented attack."
When asked again to clarify that U.S. soldiers would be sent to defend Taiwan from a Chinese invasion, Biden gave a one word response.
"Yes."
Aaron Blake from The Washington Post reports that Biden has appeared to grow "increasingly hawkish" with his comments on international affairs like Ukraine and Taiwan.
And make no mistake about it. The U.S. sending soldiers to defend Taiwan from the Chinese wouldn't be just a small affair.
This would likely turn out to be a much bloodier war with the U.S. having to commit a ton of military resources to defend Taiwan in a more traditional "war" that the U.S. hasn't seen in quite some time.
Some have argued that this could even turn into an all-out war situation with the U.S. getting allies like the British involved while the Chinese could turn to the Russians, who have grown fonder of the Chinese by the day.
Putin's heart has also only grown harder and colder about Ukraine.
He's made it clear that he wants to take the region over, even if it means using nuclear warfare on Ukraine and the rest of the west to accomplish it.
China and Russia would be a dangerous combination to deal with, to say the least.
No one here in the U.S. wants China to invade Taiwan, of course.
But one has to wonder if the Biden administration is actually prepared to defend America's interests and if the military is even prepared.
The Biden administration is literally responsible with nominating the first transgender four-star officer in any uniformed service in U.S. history.
They've made a mockery of the military for the sake of cultural political wars.
It's hard to imagine Biden being able to diplomatically or militarily take on threats from the Chinese.
Stay tuned to the DC Daily Journal.