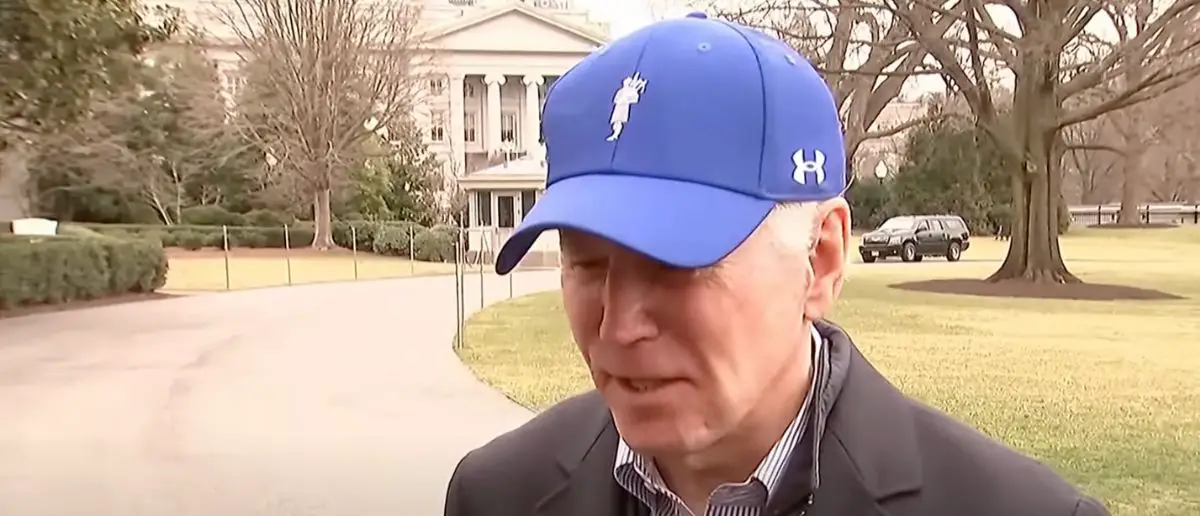 With all eyes on President Trump's indictment, no one is keeping an eye on Biden. And Joe is banking on no one noticing.
But Joe Biden's dirty secret was revealed in a shocking report.
Politicians have move they play often when they're hit with unsavory stories about themselves.
They wait for some massive news item to take the focus off of them for a second and quietly release the bad news.
In the past, Congress has even passed controversial legislation in the middle of the night around the holidays when people aren't paying attention.
So when it was revealed that Donald Trump was being indicted, Joe Biden must've breathed a sigh of relief.
But unfortunately for him, his dirty little secret is getting airtime on conservative networks anyway.
The Biden administration disclosed this week that more than 1,100 pages of vice presidential papers were discovered in President Joseph Biden's previous office at a Washington, D.C. think tank.
The National Archives and Records Administration (NARA) said it "must deny" the request "in full for approximately 1,170 pages" found at the Penn Biden Center in response to a Freedom of Information Act (FOIA) request by America First Legal, a group founded by former Trump administration official Stephen Miller.
The rejection was found in NARA's March 29 letter to special counsel Robert Hur's ongoing investigation into Biden's handling of secret government materials to determine whether anyone breached the law.
/1 BREAKING — The National Archives admits to America First Legal that 1,170 pages of Biden's Vice Presidential records were found at the Penn Biden Center.

They also admit they "lack custody" of Biden's other misplaced records found in Delaware.

Where are the records? ⤵️ pic.twitter.com/EJA0YpZ55A

— America First Legal (@America1stLegal) March 30, 2023
The letter, written by Archival Operations Division Director Stephannie Oriabure, provides more information regarding the large quantity of pages that investigators may be looking at.
Biden's crew stated they discovered roughly ten classified records when clearing out Biden's office in D.C. in the days before the 2022 election.
Since then, searches conducted by Biden's lawyers and the FBI at his home in Wilmington, Delaware, and his beach property in Rehoboth, Delaware, have turned up more items of interest to investigators.
NARA also informed Congress that its personnel had retrieved nine cartons of materials from a personal attorney to Biden's Boston office that had been relocated from the Penn Biden Center.
Under the Presidential Records Act, NARA is responsible with taking custody of presidential and vice presidential records at the end of a term.
However, the agency stated that it could not give any more new material in answer to other sections of America First Legal's FOIA request for vice presidential records due to a lack of physical ownership of certain records or Hur's inquiry.
Outside the scope of the FOIA request, some papers allegedly stretch back to Biden's service as a U.S. senator.
A source told CBS News in late January that between 25 and 30 classified documents had been discovered since November.
The White House and Biden's personal counsel have stated that they are working with the National Archives and the Justice Department.
Even among Democrats, there is anger in Congress over the Biden administration's lack of transparency. Sen. Mark Warner (D-VA), chairman of the Senate Intelligence Committee, told MSNBC that the Biden administration receives a "absolute failing grade" on this issue.
Classified documents have also been discovered in the homes of former President Donald Trump, who is being investigated by a separate special counsel, and former Vice President Mike Pence, prompting the National Archives to urge other former presidents and vice presidents to conduct similar searches.
Stay tuned to DC Daily Journal.