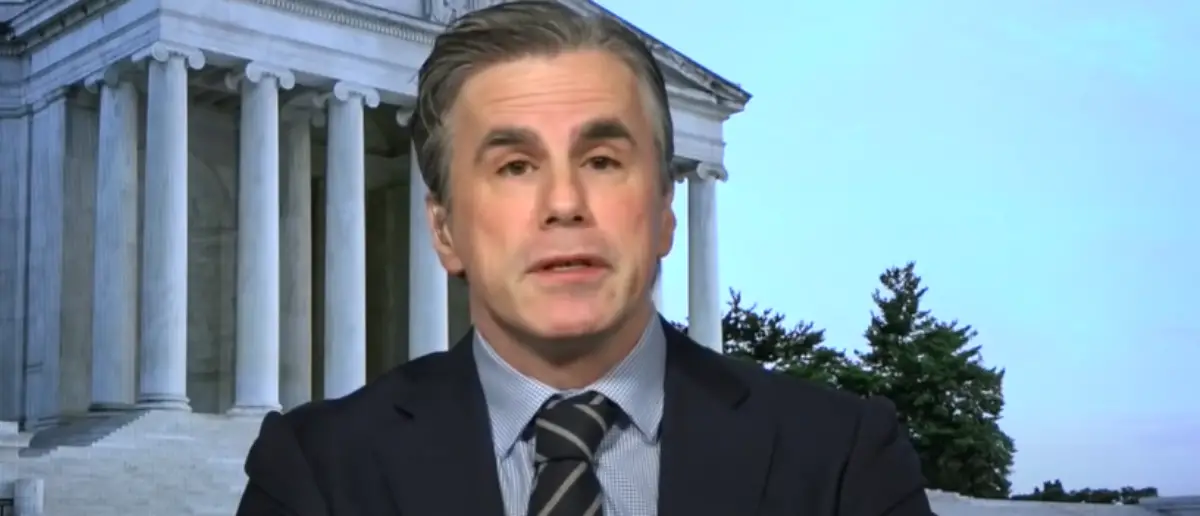 Democrats thought they were in the clear. Now their crimes are out there for all to see.
Because Joe Biden's presidency is crumbling after he was smacked with this major lawsuit.
Joe Biden and the Democrats love to gaslight conservatives about committing crimes and threatening democracy.
The truth is they're the ones who target political opponents with SWAT-style raids against pro-lifers and Donald Trump just this year.
Anyone with half a brain can see their blatant projection of their own crimes.
And now they have nowhere to hide thanks to a recent lawsuit against the Biden administration.
Judicial Watch, a conservative watchdog organization, filed a lawsuit against the Department of Homeland Security (DHS) on Nov. 22 after it failed to finish a Freedom of Information Act (FOIA) request into suspected online censorship during the 2020 presidential election.
The watchdog group was looking for communication between the Cybersecurity and Information Security Agency (CISA), a DHS division, and the Election Integrity Partnership (EIP), an "information exchange" established in 2020 between researchers, election officials, and government agencies to identify and research online misinformation leading up to elections, which flagged social media posts for platforms to address.
According to the lawsuit, Judicial Watch asked the Washington D.C. District Court to force the DHS to recognize the Oct. 5 FOIA request and "produce… non-exempt records responsive to the requests."
"We've had these disclosures essentially over the last year that federal agencies, especially DHS, have been working to censor Americans… either directly or indirectly," Judicial Watch President Tom Fitton told the Daily Caller News Foundation.
Multiple groups, including CISA and liberal organizations like the Democratic National Committee and the NAACP, could file "tickets" through the EIP reporting potential election misinformation, which the EIP would then forward on to social media platforms after conducting an investigation into the claims.
The EIP published a report in 2021 detailing its efforts to combat misinformation in the 2020 election, admitting that it had shared hundreds of posts with online platforms, with "35% of the URLs we shared with Facebook, Instagram, Twitter, TikTok, and YouTube […] either labeled, removed, or soft blocked."
"This lawsuit's designed to get into that. There's these federal frauds that colluded to come up with a system of censorship for social media, and it looks like this [Department of Homeland Security] agency participated in it and we want to figure out what was going on," Fitton said.
BREAKING: Judicial Watch filed a lawsuit against the DHS for all records of comms between the CISA, a division of DHS, and the EIP, which was created to flag online election content for censorship and suppression (1/3). https://t.co/xlJLtr8llL

— Judicial Watch ⚖️ (@JudicialWatch) November 30, 2022
Judicial Watch also sought records from CISA and the University of Washington's Center for an Informed Public, as well as the Stanford Internet Observatory, which were both part of the EIP. The proposal requested communication about the 2020 election as well as "online misinformation and disinformation."
However, according to the lawsuit, DHS reportedly failed to meet the November 3 FOIA deadline.
"When an agency unlawfully refuses to comply with FOIA, we have the option of suing the federal court, which is what we did," Fitton told the DCNF.
In addition, House Republicans began an investigation into Google, YouTube, Twitter, and Facebook's roles in online censorship. The House Judiciary Committee is also looking into Amazon, Apple, TikTok, and Microsoft, according to The Washington Times.
Republican Rep. Dan Bishop of North Carolina has requested that all communications between the Biden administration and social media businesses regarding "digital censorship" be made public.
"This is a threat to the first Amendment like we've never seen in modern history," Fitton said.
The DCNF's request for response was not immediately responded to by the White House, DHS, CISA, the EIP, the University of Washington Center for an Informed Public, or the Stanford Internet Observatory.
Stay tuned to DC Daily Journal.