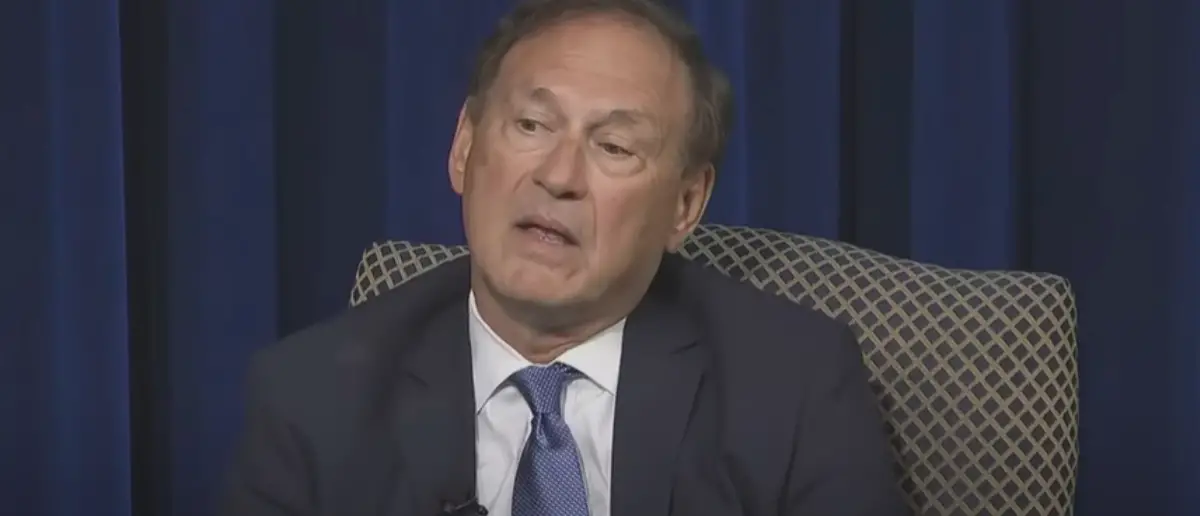 Political fights between the Left and Right are always messy. But they should never end in bloodshed.
And Justice Alito just sounded the alarm on a homicidal scheme against the Supreme Court.
Democrats are losing their minds and it's beginning to show to the American people.
Over the past few months, dozens of churches and pregnancy resource centers have been targeted for vandalism and fire bombing.
The Left can't stand that the Supreme Court decided to reverse their fateful Roe v. Wade decision this past summer.
It's gotten so bad that pro-life door-knockers like 84 year-old Joan Jacobson of Michigan was shot by a pro-abortion radical.
Not only that, but the FBI has been rounding up pro-life grassroots activists like Mark Houck with SWAT raids of their homes in front of their children.
As bad as all of this is, it pales in comparison to what Supreme Court Justice Samuel Alito just revealed.
On May 2nd of this year, over a month before the Supreme Court released its Dobbs v. Jackson decision overturning Roe v. Wade, someone leaked the Court's opinion.
Justice Alito made it clear that this was an unprecedented breach of trust within the walls of the Court.
"It was a grave betrayal of trust by somebody, and it was a shock because nothing like that had happened in the past, so it certainly changed the atmosphere at the court for the remainder of last term," he said at an event at the Heritage Foundation.
Alito said it encouraged rabidly radical Leftists to try to assassinate one or more of the Justices to alter the opinion.
"The leak also made those of us who were thought to be in the majority in support of overruling Roe and Casey targets for assassination because it gave people a rational reason to think they could prevent that from happening by killing one of us. And we know that," Alito went on.
Following the leak, there were protests and leftist violence outside the houses of Justices in D.C., Maryland, and Virginia, including a 26-year-old California man who traveled to Justice Brett Kavanaugh's home with the intention of assassinating him.
Attorney General Merrick Garland refused to take measures to safeguard the justices, prompting Virginia Gov. Glenn Youngkin (R) and Maryland Gov. Larry Hogan (R) to protect the justices who lived in their respective states themselves.
Attorney General Merrick Garland declined to take steps to secure the justices, causing Virginia Gov. Glenn Youngkin (R) and Maryland Gov. Larry Hogan (R) to step in to protect the justices who lived in their respective states.
And now five months after the leak, the marshal of the Court has yet to identify who the leaker was.
But Alito made clear to anyone who may be listening, the opinions of the different Justices is nothing personal or evil, it's just a difference of beliefs.
"You can see by reading those opinions, we sometimes disagree pretty passionately about the law," Alito added. "And we have not in recent years been all that restrained about the times in which we express our disagreement."
"I'm as guilty as others probably on this score," he concluded. "But none of that is personal. And that is something that I think I wish the public understood."
Stay tuned to DC Daily Journal.