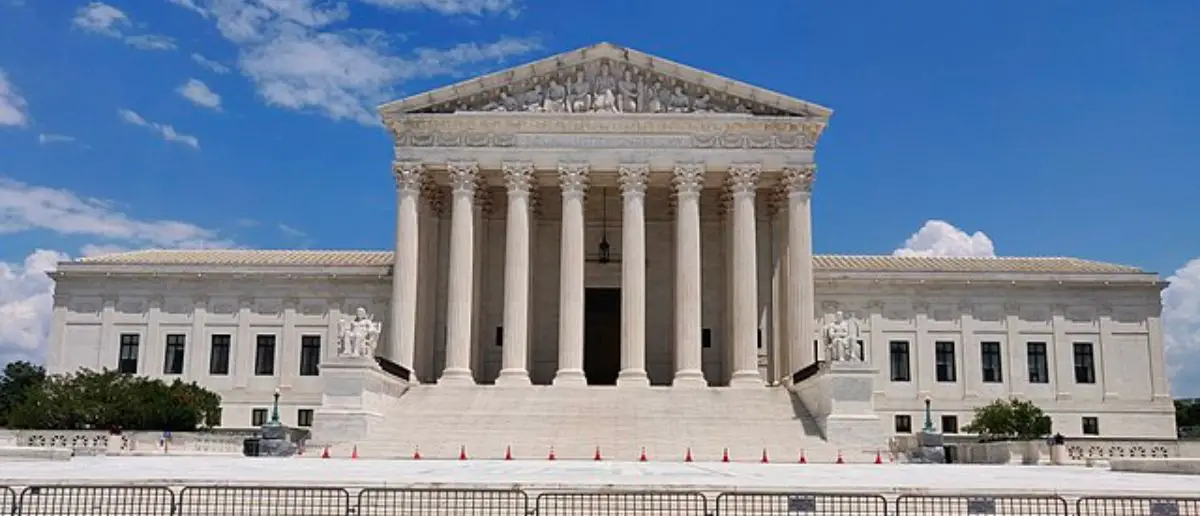 Amy Coney Barrett is the latest Justice to join the U.S. Supreme Court bench. And she's already shaking things up.
Because Amy Coney Barrett left jaws on the floor with this major confession.
In recent months, Democrats have been attacking the legitimacy of the Supreme Court and the entire judicial system because they haven't been getting their way with rulings being handed down from the U.S. Supreme Court.
So they've been turning up the heat on the Justices by trying to pass new laws in Congress that will effectively regulate the Highest Court in the land however the legislators in Congress decide to.
That's an obviously anti-constitutional move, to say the least. But this week, Amy Coney Barrett surprised everyone with what she had to say about the criticism coming their way.
Justice Amy Coney Barrett stated that she appreciated the public's scrutiny of the court to those in attendance at a legal conference on Monday in Wisconsin. She didn't say if she believed the court should alter its procedures in light of recent criticism.
Recent proposals for the justices to adopt a formal code of behavior were not directly addressed by Barrett, nor did she express any opinions on the matter. Barrett fielded questions from the 7th U.S. Circuit Court's chief judge, Diane Sykes, at a meeting that included judges, lawyers, and court staff.
The ethics scandals that have followed several justices, including the conservatives Clarence Thomas and Samuel Alito and the liberal Sonia Sotomayor, were not brought up by Barrett.
Public scrutiny is encouraged, according to Barrett. "Increasing and enhancing civics education is welcome."
The 51-year-old Barrett claimed that the speed and volume of material accessible have fueled the Supreme Court's greater scrutiny.
"You're not waiting once a day to read your print newspaper," she remarked. "You're seeing things come across your phone all the time, and you're seeing pictures of people."
When Barrett was a legal clerk before the internet, she recalled that visitors to the Supreme Court frequently requested the justices on the bench to take their pictures because they did not know who they were.
People simply didn't know who the justices were, according to Barrett. "I think that's better. I don't think justices should be recognizable in that sense."
However, she claimed that the criticism of the court was nothing new.
"Justices and all judges are public figures, and public criticism comes with the job," Barrett added. "I'm still kind of new at this."
Prior to her appointment to the Supreme Court in 2020, Barrett served as a circuit court judge in the 7th Circuit from 2017 to 2020. She received her law degree from Notre Dame Law School in northern Indiana and practiced law there from 2002 until she was appointed to the Supreme Court to take Ruth Bader Ginsburg's place.
"I've been at it for a couple of years now," Barrett stated. "I've acquired a thick skin, and I think that's what other figures have to do. I think that's what all judges have to do."
She claimed that the court's recent high-profile in the media has both benefits and drawbacks.
"That's a positive development," she added, "to the extent that it engages people in the work of the court, paying attention to the court, and knowing what the courts do and what the Constitution has to say."
"To the extent that it gives them misimpressions, that's a negative development."
Barrett made her public appearance for this conference not long after Justice Elena Kagan openly stated her support for a Supreme Court ethics rule at a symposium in Oregon earlier this month. However, she said that the justices could not agree on a course of action, indicating that the high court is battling public outrage over its ethics procedures.
In a July interview with the Wall Street Journal's editorial pages, Justice Samueal Alito asserted that Congress lacked the authority to impose an ethics code on the Supreme Court. That made him the first justice to publicly oppose congressional attempts to impose stricter ethics standards on judges in response to heightened scrutiny of their extrajudicial operations.
When speaking at a judicial conference in Minnesota last month, Justice Brett Kavanaugh, the only additional justice to speak in public since the court's term ended in June, mainly avoided bringing up ethics.
In addition, Barrett took a brief moment to depict the court as "warm," with the justices eating lunch together. She wanted to emphasize that the Court is currently witnessing greater agreement than in previous years.
"There's warm personal relations," she added. "There's an effort to accommodate one another."
Stay tuned to the DC Daily Journal.