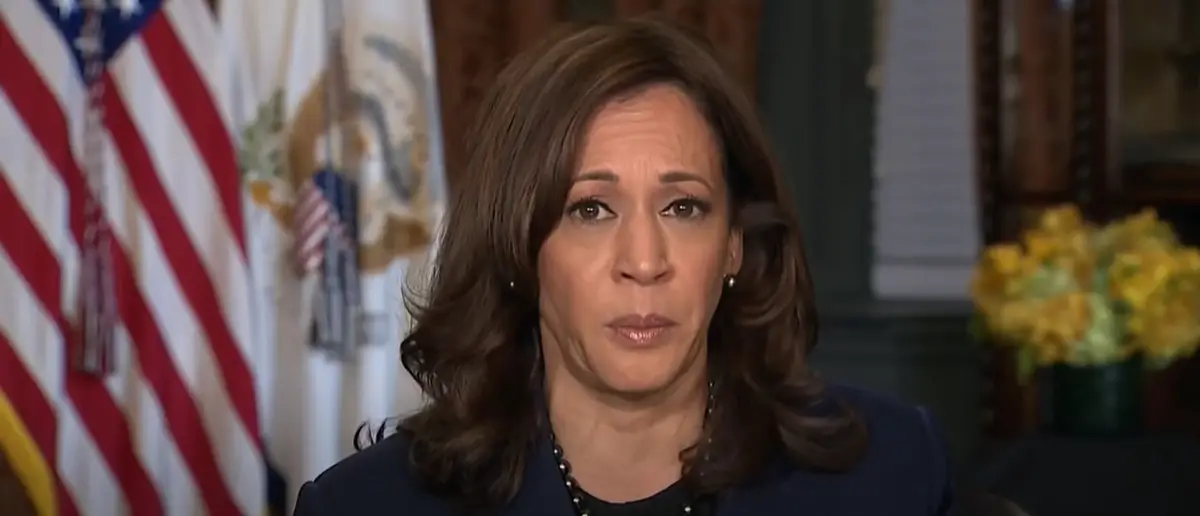 Almost no one likes Vice President Kamala Harris. She's desperate to change that and fast.
But Kamala Harris' brain broke in this utterly moronic rant that made her even more unlikeable than before.
It's honestly an achievement that Kamala Harris is somehow more disliked than the sitting U.S. President who has approval ratings in the low 30s according to the most recent surveys.
Some polls show Kamala Harris enjoying a laughably bad approval ratings in the low 20s and the high teens, with no signs of that turning around whatsoever.
She has to do something though. Back in 2020 when Joe Biden "won" the Presidential election, it was a completely different scenario because Kamala Harris hadn't really been in the national spotlight outside of a few clips from the debate stage here and there.
And whenever she did step into the national spotlight, it was almost always for bad reasons. Just consider how the former Democrat Congresswoman from Hawaii, Tulsi Gabbard, utterly destroyed Kamala Harris on the debate stage and went viral for it.
Kamala Harris simply didn't help Joe Biden win at all. But she was able to fly under the radar enough to not completely sink him either.
The 2024 campaign is entirely different now. Kamala Harris' low approval ratings are actually damaging for the Biden campaign's re-election efforts, and the entire Democrat establishment knows this. That's why there were so many rumors flying about Joe Biden potentially getting a new Vice President running mate.
He ultimately had to stick with Kamala Harris with some political experts saying that if he chose a new running mate, it simply wouldn't have sat well with the American people.
So now Kamala Harris has to turn her fortune around or she will lose her job as Vice President. She's tried to do that recently in a speech that she gave ahead of the one year anniversary of the Dobbs ruling that saw Roe v. Wade overturned, but she utterly failed.
In her speech, Kamala Harris started out by waxing on about "freedom" and how "freedom" means women should have the "reproductive right" to murder their baby through abortion.
She thanked the pro-abortion organizations and politicians who have fought for the "right" to end the life of a baby in the womb for the past 50 years, saying they've accomplished "a lot of work… together."
Then Kamala Harris shifted to address the elephant in the room that their oh-so-holy "right" to abortion has been getting chipped away at ever since the Supreme Court's Dobbs ruling from June of 2022.
And let's just say that it seems like her brain broke.
According to the White House's transcript of her speech, Kamala Harris said:
So, to get there, let's talk about the work. (Laughs.) And let's take a moment to really reflect on the historic progress that we've made thus far. You know, so many of us are always in the process of fighting to achieve full equality, full freedom, the rights that people are fully entitled to. But let's always take a moment to also see what we have achieved thus far while we clearly see the moment that we are presently in.
First of all, what in the world is she saying? She's the queen of being able to just ramble on without actually saying anything of substance whatsoever. If that was a prepared speech, that had to come from a defective AI.
After that nonsensical nothing-burger, Kamala Harris addressed the Dobbs ruling saying that it "hit" the pro-abortion people very hard.
So we have achieved a lot, and I know that in particular when the Dobbs decision came down, a lot of us — it — it hit us very hard. Doug talked about it. Jill has talked about it. We all know how we felt. It really — it — it was painful.
Okay, so where are you going with this Kamala? Apparently no where because she went right back to saying how they've "accomplished" so much and about how they are going to continue to fight… bla bla bla.
But let's also remember what we have achieved together to continue to provide us with the sustenance that we rightly deserve to know that we make a difference when we are in this fight.
Kamala Harris: "Let's always take a moment to also see what we have achieved thus far, while we clearly see the moment that we are presently in. So we have achieved a lot." pic.twitter.com/Krdce4n1fE

— RNC Research (@RNCResearch) June 23, 2023
Look, the reason no one likes Kamala Harris is that she just might be the most disconnected from reality politician to ever grace the White House.
Those in attendance — who are there to support the abortion of unborn babies and the Biden administration — know that they are actually losing the battle over abortion, not winning.
Kamala Harris can try to "rally" the troops all she wants, but her going on and on about accomplishments means nothing because they are losing.
Abortion is essentially outright illegal in more than a dozen U.S. states, with more certainly on the way in years to come.
Letting states handle the issue is what the pro-life movement has wanted for decades ever since the original Roe v. Wade ruling that was the most outrageous and poorly decided case the U.S. Supreme Court has ever ruled on.
Now that abortion is handled by the states, they are taking matters into their own hands. California can go be as radically anti-life as much as the want and Tennessee can be as pro-life as they want.
The only hope that the Democrats have for the future of expanding the "right" to abort unborn babies in America is to pass a national pro-abortion law that enshrines abortion on a federal level.
With just about nothing effectively making its way through Congress these days, it's hard to imagine that happening anytime soon. This reality has Kamala Harris and the Democrats devastated.
Kamala Harris is just trying to save face for the fact that they've lost, but it's not ringing with her own political base. She just might be the worst politician ever. How she got to this position is beyond rationality.
Stay tuned to the DC Daily Journal.