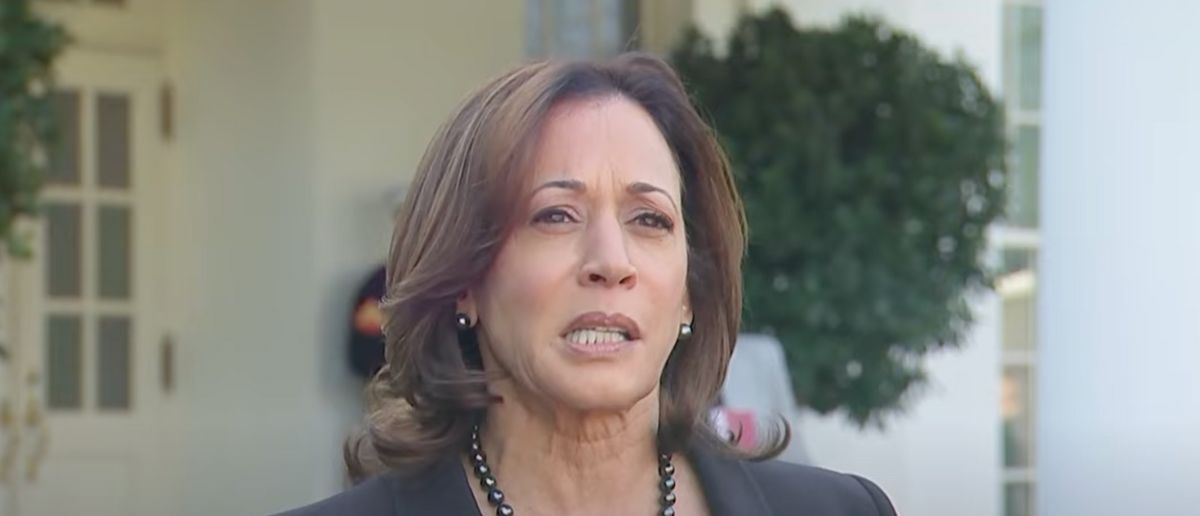 Vice President Kamala Harris isn't exactly a bright-spot for the Biden admin. Most Americans believe she's way in over her head.
And now she's proven that she's simply a dunce with this stunning three word response to a reporter's question.
Appearing in a podcast episode, Vice President Kamala Harris appeared flustered when asked about the racial considerations that went into her selection as Joe Biden's vice president back in the 2020 election cycle.
The Run Up podcast from The New York Times featured a conversation with Harris that was produced by Astead Herndon in August.
Herndon wanted to hone in on the strategy via which Biden chose Harris in 2020.
CNN reported in July of 2020 that all four of Biden's finalists to be selected for his running partner were black women.
In addition, NPR reports that two hundred prominent black women in the Democratic Party sent an open letter to Biden urging that a black woman be chosen.
"It is a fact that the road to the White House is powered by black women and black women are the key to a Democratic victory in 2020," the letter said.
Meanwhile, in August of 2020, Democratic Representative Maxine Waters predicted that, since black voters were instrumental in Biden's primary election triumph, he would select a black woman as his vice presidential nominee.
Herndon inquired of Harris what it was like to be selected on the basis of her color and gender rather than her accomplishments.
"He came to the decision that he needed to choose a black woman," Herndon said to Kamala Harris.
"While that is obviously about you, it's not necessarily you personally, but your identity. How should it matter, does it matter that that narrative has existed, that Biden needed to choose someone who was a black person, and should it matter?"
Just listened to NYT's The Run-Up podcast interview with Kamala Harris. She was awful. Like she had never done a day of media training ever. Defensive. Needlessly argumentative with a generally sympathetic interviewer. The opposite of nimble. Apparently unable to pivot to her…

— Kenny Farquharson (@KennyFarq) November 19, 2023
Harris said that she "did not understand" the question being asked by Herndon.
He explained himself further, asking, "Does it matter that, that kind of narrative around Biden needed to choose a black woman as a running mate still exists, and has hovered over that selection?"
"It happened. I don't think. I honestly don't understand your question. Has it lingered?" she reportedly stated while giggling during the podcast interview.
"He chose a black woman, that woman is me, so I don't know that anything lingers about what he should choose. He has chosen, he asked me to join him on the ticket."
Herndon then claimed he was going to "move on" from such kinds of inquiries.
One of two things happened in Kamala Harris' brain during this podcast when she was asked this question.
Either she knew the answer to the question but didn't even know how to respond in a diplomatic manner that maintained her integrity by still answering the question in full.
Or she didn't know the answer at all. Which is worse, we're not sure. On the one hand, she's an unseasoned politician with no diplomatic skills whatsoever.
On the other hand, she's completely oblivious to the reality of the politics around her, specifically the reason she was selected to be the Vice President to Joe Biden.
Stay tuned to the DC Daily Journal.