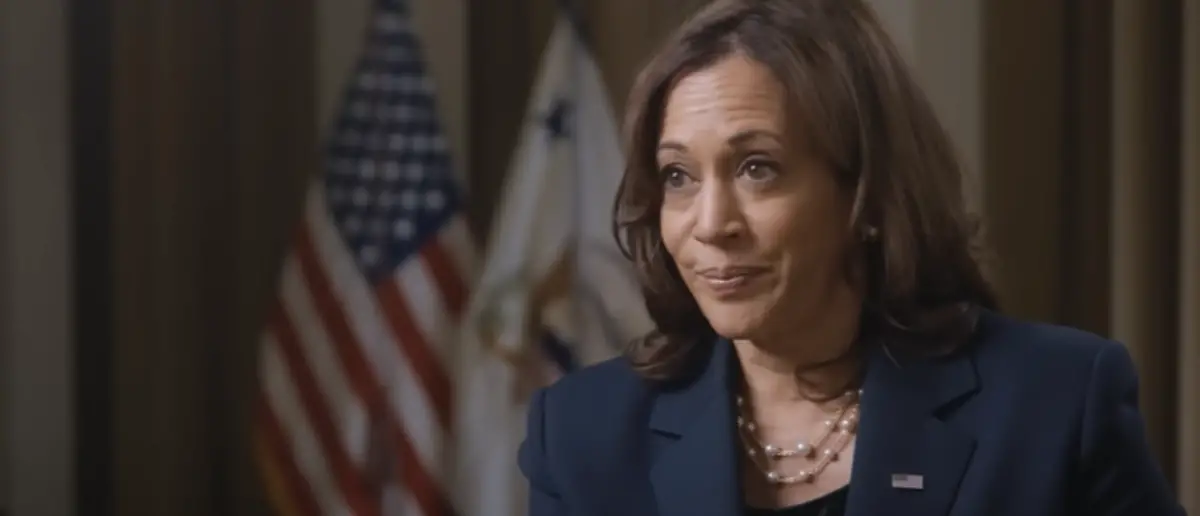 Vice President Harris is one of the least liked politicians in the country. There's a good reason for that.
And now Kamala Harris humiliated herself with just two letters.
Kamala's cringeworthy gaffes and terrible performance as Vice President are a major reason that she is polling even below Joe Biden.
Seriously, only 39.2% of Americans approve of her the way she's handled the job according to FiveThirtyEight polling.
Now she made an embarrassing show that Republicans are sure to latch onto for days to come.
On Wednesday, Vice President Kamala Harris' attempt to explain artificial intelligence (AI) to a group of labor and civil rights activists turned into her latest word salad mistake, something she's grown increasingly recognized for throughout her tenure in the position.
"I think the first part of this issue that should be articulated is AI is kind of a fancy thing," Harris said during the roundtable at the Eisenhower Executive Office Building.
"First of all it's two letters. It means artificial intelligence, but ultimately what it is, is it's about machine learning."
Kamala Harris gives a highly sophisticated explanation of AI:

"AI is kind of a fancy thing. First of all, it's two letters. It means 'Artificial Intelligence.'"

Wow! So profound of her!

I'm glad we have someone so intelligent as our Vice President 😂pic.twitter.com/bcUkJgMi39

— Proud Elephant 🇺🇸🦅 (@ProudElephantUS) July 12, 2023
"And so, the machine is taught – and part of the issue here is what information is going into the machine that will then determine – and we can predict then, if we think about what information is going in, what then will be produced in terms of decisions and opinions that may be made through that process."
"So to reduce it down to its most simple point, this is part of the issue that we have here is thinking about what is going into a decision, and then whether that decision is actually legitimate and reflective of the needs and the life experiences of all the people," she said.
Harris followed her lengthy statement by addressing the need for "transparency" in the AI technology development process and its impact on decision-making.
Her error comes only one day after she was mocked for making more "nonsense" comments during a transportation roundtable discussion.
"This issue of transportation is fundamentally about just making sure that people have the ability to get where they need to go! It's that basic," she said in an obvious statement.
During a pro-abortion protest in April, she made more perplexing remarks on the "importance of the moment."
"So I think it's very important, as you have heard from so many incredible leaders for us at every moment in time and certainly this one, to see the moment in time in which we exist and are present, and to be able to contextualize it, to understand where we exist in the history and in the moment as it relates not only to the past but the future," Harris said.
This is just the latest in her cringy and bizarre rants:
Kamala Cringe: VP Bizarrely Gushes About School Buses pic.twitter.com/HuI5a7vMTS

— Breitbart News (@BreitbartNews) October 27, 2022
kamala harris busting out laughing after singing the wheels on the bus go round and round pic.twitter.com/unTBq3hyDu

— i ♡ p l n e t media (@pIanetMEDIA) November 8, 2022
What an odd woman.
Stay tuned to the DC Daily Journal.