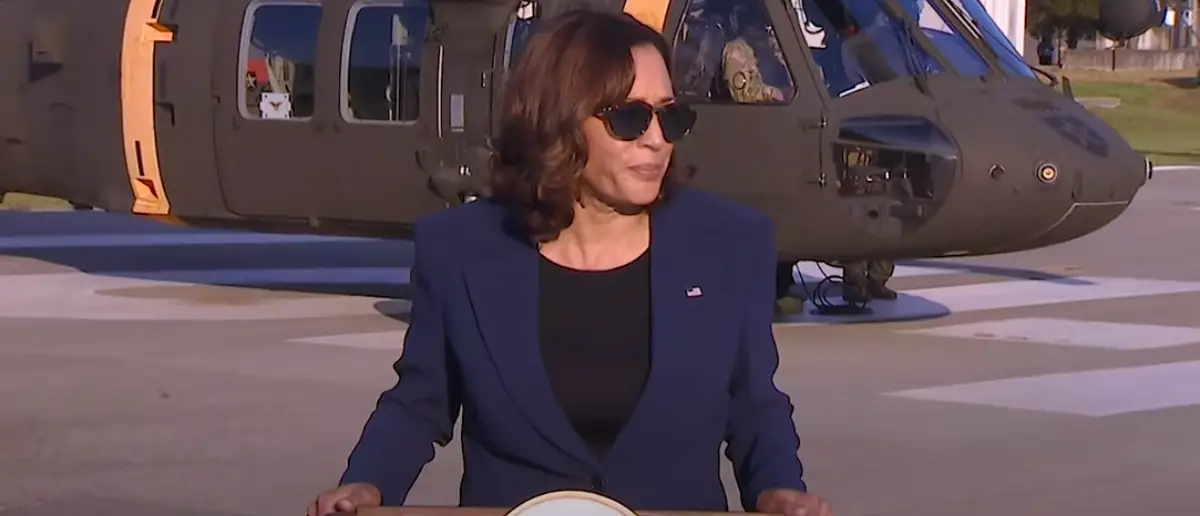 The Biden administration is failing at every turn. Kamala Harris is making things even worse.
And Kamala Harris just got the shock of her life after she was smacked with this Christmas surprise.
Joe Biden was never excited to have Kamala Harris as his running mate in the 2020 race.
Everyone and their mother knows that he chose her so he could tick off a diversity box for his rabid base.
Since taking power he has appointed her as his "border czar" – making it her mission to clear up the mess at the southern border.
But thanks to the Democrats' radical agenda, rather than securing the border, millions are flooding through every year.
And now Kamala got the shock of her life right in the middle of the holidays.
On a cold Christmas Eve, scores of migrants were dropped off at Vice President Kamala Harris's apartment in Washington, D.C.
Texas Governor Greg Abbott and other Republicans in southern states have organized for thousands of migrants to be transported to liberal enclaves such as Chicago, New York City, Martha's Vineyard, and Washington, D.C. in recent months in order to attract attention to the US-Mexico border situation.
With temperatures in the teens, buses carrying roughly 50 migrants were due to arrive late Saturday in front of the US Naval Observatory, according to a CNN source. A reporter for 7News, a local ABC affiliate, said he caught the third and final bus of the night, which arrived from Texas.
#HappeningNow the second bus of migrants has arrived here in D.C. near VP Kamala Harris' home. They are boarding another bus taking them to a church. Was just told by someone helping bring them to the church that this bus came from Texas: pic.twitter.com/Sp4upqz1yB

— Christian Flores (@CFloresNews) December 25, 2022
Christian Flores, the reporter, released a video on social media showing refugees packing up their belongings and boarding another bus bound for a local church. Women and children were among them.
The third and final bus of migrants of the night of migrants buses up to D.C. from Texas arriving, with Migrant Solidarity Mutual Aid Network taking them to a church: pic.twitter.com/Y65B8RnilZ

— Christian Flores (@CFloresNews) December 25, 2022
According to Amy Fischer of the Migrant Solidarity Mutual Aid, the asylum seekers were originally bound for New York but "shifted to DC because of the weather," according to CNN's Noah Gray.
Amy Fischer with Migrant Solidarity Mutual Aid Network tells me the 3 busses of asylum seekers were sent by Texas @GovAbbott & originally headed for NY but "shifted to DC because of the weather," busses picking up were from DC govt- the migrants were bussed to a DC church. https://t.co/j1y9PtSEy0

— Noah Gray (@NoahGrayCNN) December 25, 2022
The Migrant Solidarity Mutual Aid Network, he said, was busing the migrants locally.
These migrants landed in Washington, D.C., as the Supreme Court considers the fate of Title 42, a contentious Trump-era public health directive that empowers U.S. border officials to expedite the deportation of migrants, including those claiming asylum.
A coalition of Republican-led states, including Texas, is suing the Biden administration to preserve the emergency powers in place, warning of further border mayhem.
In fiscal year 2022, US officials reported more than 2 million migrant interactions at the border, a significant rise from the previous year.
When that statistic was announced in October, Customs and Border Protection Commissioner Chris Magnus stated that "failing regimes in Venezuela, Cuba, and Nicaragua" were fueling a new wave of migration throughout the Western Hemisphere.
In announcing buses traveling to outside Harris' home in the Naval Observatory in September, Abbott noted that the vice president was President Joe Biden's choice to lead his administration's efforts to address the migration challenge at the US-Mexico border — a job critics say she has failed to take seriously.
"The Biden-Harris Administration continues ignoring and denying the historic crisis at our southern border, which has endangered and overwhelmed Texas communities for almost two years," Abbott said in a statement at the time.
"Our supposed Border Czar, Vice President Kamala Harris, has yet to even visit the border to see firsthand the impact of the open border policies she has helped implement, even going so far as to claim the border is 'secure.' Texas will continue sending migrants to sanctuary cities like Washington, D.C. until President Biden and Border Czar Harris step up and do their jobs to secure the border."
During an interview on NBC's "Late Night with Seth Meyers" in October, Harris slammed Abbott, calling his actions "an absolute dereliction of duty."
"If you see a problem and we agree that we need to address it, then if you're a leader, participate in a solution, right?" Harris added. "They've fled great harm and they are coming here seeking refuge. Talk about political theater."
Stay tuned to DC Daily Journal.