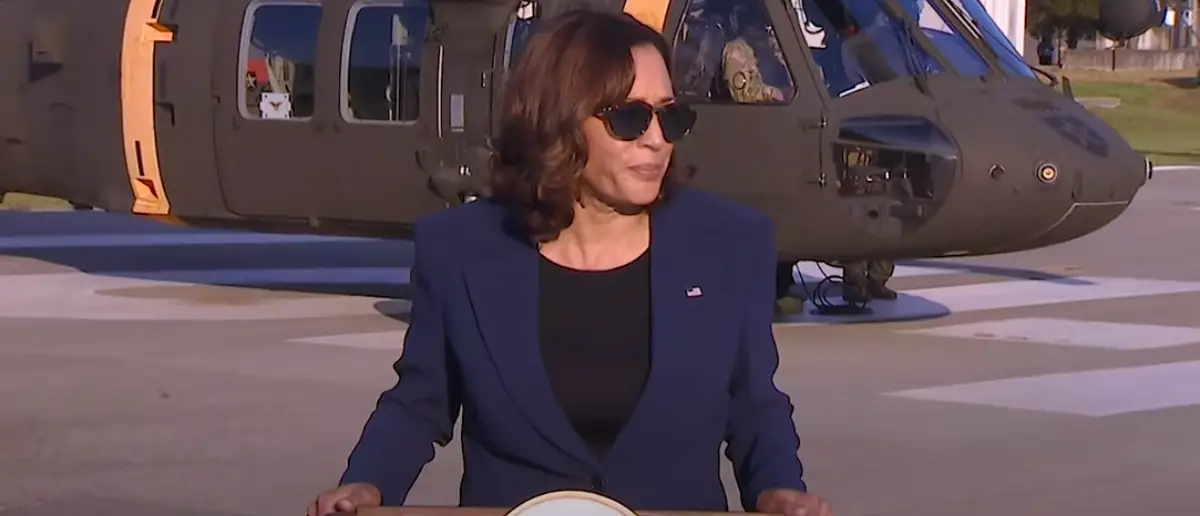 The word on the street is that the Democrats are looking to replace President Biden for 2024. Kamala Harris has been hoping to position herself to be the pick.
But that's not happening after Kamala Harris just put herself on thin ice with this one statement.
We know that everyone has their days where they seem to make more gaffes and simple mistakes more than other days.
And politicians are no different.
Presidents have been making gaffes that have been magnified by the media for decades now.
But there are certain times when you need a President and Vice President to be sharp, especially on issues of national security.
Joe Biden and Kamala Harris making so many critical mistakes and gaffes have eroded America's stature on the international stage.
This latest one is hard to swallow, however.
Kamala Harris recently made a trip out to South Korea and the demilitarized zones between South Korea and North Korea.
She made a speech at the DMZ in Panmunjom, South Korea, and it was in this speech that she gave us the most poorly-timed gaffe possible.
Harris said that the United States has a strong relationship and alliance with the "Republic of North Korea."
Yes, you read that right.
In a speech to condemn North Korean totalitarianism and dictatorship, she misspoke and said we were allies with North Korea instead of South Korea.
You can watch the video here:
Kamala: "The United States shares a very important relationship, which is an alliance with the Republic of North Korea." pic.twitter.com/eEfIAOnhgW

— Daily Wire (@realDailyWire) September 29, 2022
Again, everyone has those days where you have brain farts or say something you don't mean to.
That's what happened to Harris here.
But the issue in this case is that it was not the time or place to misspeak.
Shortly after Harris's speech ended, North Korea reportedly launched short-distance ballistic missile tests into the sea, violating sanctions placed on the communist state.
Some are speculating that North Korea's actions were a response to Harris's visit and speech.
And while the gaffe Harris made likely had nothing to do with that move from Kim Jong-un and the North Korean regime, it certainly shows how we need leaders who are sharp when they need to be.
In times of heightened militaristic tensions, things can change on a dime. And one small mistake can lead to disaster spiraling out of control.
The reality is, Joe Biden and Kamala Harris are not the leaders America needs right now. So while Biden is on his way out of the spotlight, Harris was hoping her career was just getting started.
But you can bet she's on thin ice with her Democrat allies.
Stay tuned to the DC Daily Journal.