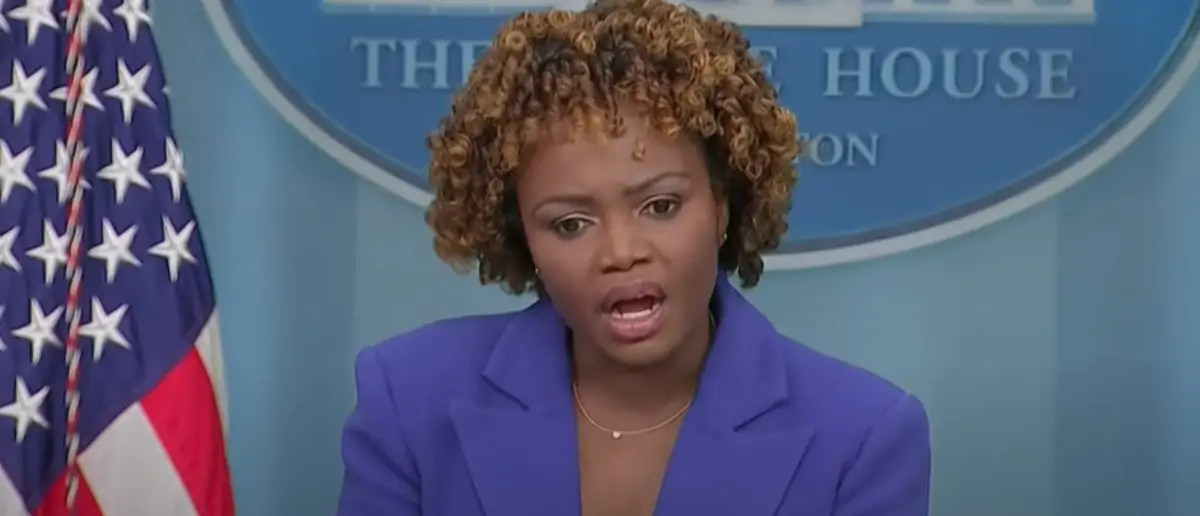 Press Secretary Jean-Pierre has been a disaster for Biden. She can't stop embarrassing the entire administration.
And Karine Jean-Pierre's life is over after making this idiotic comment.
The Left has this habit of claiming victories that either aren't real or aren't theirs.
And when they fail, they project that onto conservatives because they can never take responsibility for their actions.
It's all just propaganda peddling at the root of it all.
No one knows how to peddle propaganda like the White House Press Secretary – Biden's one person Ministry of Truth.
This week, White House Press Secretary Karine Jean-Pierre replied to Rep. Alexandria Ocasio-Cortez (D-NY)'s allegation that President Joe Biden is not doing enough to secure the southern border by stating that Biden had "done more" than anybody else on the topic.
"Immigration is arguably this administration's weakest issue," AOC told The New York Times in an interview.
"This is one area where our policy is dictated by politics, arguably more so than almost any other."
AOC stated that Biden was not following her advice due of "fear of being seen as approving or providing permission structures, or really just the Republican narratives that have surrounded immigration."
"We also need to examine the root causes of this migration and address the fact that this problem doesn't start at our border, but it starts with our foreign policy," she said.
Jean-Pierre responded to AOC's remarks, saying: "The president has done more to secure the border and to deal with this issue of immigration than anybody else. He really has."
"Look, the president has done what he can from here, from the federal government, from the White House to put forth and manage our border in a safe and humane way, to respect the dignity of every human, as he says all the time, and making sure that our communities are safe," she continued.
KJP: "The President has done more to secure the border to deal with this issue of immigration than anybody else. He really has. June saw the single largest month-to-month drop in unlawful border crossings b/c of the policies [he] out in place…We secured record funding" pic.twitter.com/69JgZqSR92

— Curtis Houck (@CurtisHouck) August 31, 2023
How can she say that with a straight face?
Just take a look at this chart of border encounters from a 2022 report from BBC:
https://ichef.bbci.co.uk/news/976/cpsprodpb/164A4/production/_125700319_optimised-us_migrants-nc.png.webp
Right as Trump leaves office, border encounters skyrocket to the moon.
But we're supposed to believe Biden is tough on illegal immigration?
Stay tuned to the DC Daily Journal.