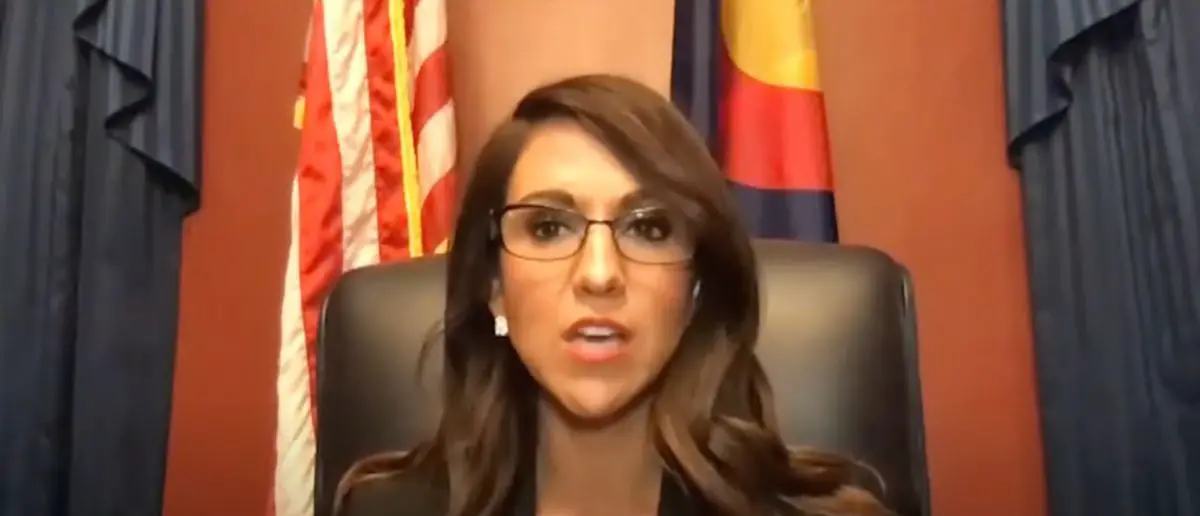 Joe Biden's fall from grace in the eyes of the American public was swift. Many are wondering how much worse his presidency can get.
That's why President Biden is an anxious mess after being sent this personal video from Rep. Lauren Boebert.
Volodymyr Zelenskyy, the president of Ukraine, arrived in Washington on Wednesday, and the White House greeted him with a red carpet before their meeting.
The President of Ukraine made use of the exceedingly uncommon and exceptional occasion to address a joint session of Congress, trying to persuade them to approve additional funding for an unwinnable conflict in Ukraine.
In order to continue waging a war that Ukraine can never win, the 46th President of the United States asks Americans to make sacrifices and agree to keep paying more for food and fuel.
More innocent Ukrainians lose their lives in the interim.
But that doesn't stop President Biden from continuing to delay the inevitable by supporting Ukraine and spending tens of billions of dollars in public money in addition to thousands of innocent deaths.
Before departing the Swamp for the year, Congress enacted an enormous $1.7 trillion omnibus spending measure, fulfilling Biden's Christmas wish.
An additional $45 billion in military and humanitarian aid for Ukraine is included in the massive budget plan.
America has now contributed more than $110 billion to the crisis in eastern Europe.
Together with every senator from the Senate's Democratic caucus, 18 so-called "Republican" senators voted in favor of Biden's bloated legislation.
Numerous well-known RINO senators from the GOP are on the list of those who voted in favor of the omnibus, including Mitch McConnell of Kentucky, Mitt Romney of Utah, Lisa Murkowski of Alaska, Susan Collins of Maine, John Cornyn of Texas, Lindsey Graham of South Carolina, Roy Blunt of Missouri, John Boozman of Arkansas, Shelley Capito of West Virginia, Jim Inhofe of Oklahoma, Jerry Moran of Kansas, Rob Portman
Several are the same people who supported Democrats earlier this year on the "compromise" on gun rights.
In addition to the 17 RINO senators, Sen. Tom Cotton of Arkansas, a steadfast conservative who has never opposed a foreign conflict, was an unexpected inclusion on the list.
Republican Representative Lauren Boebert of Colorado was one of the House's most vocal opponents of the proposed legislation.
Following her extraordinarily close reelection in 2022, some political insiders questioned whether Boebert would continue to throw bombs.
Boebert provided a significant response to that query.
The rural Colorado congresswoman announced on social media that she will vote against Biden's bloated legislation.
Rep. Boebert said she has sympathy for the Ukrainian people, but she is unable to support sending any more of the hard-earned American money to the country until an audit of the $50 billion or more that has already been delivered there is conducted.
"The people of Ukraine are suffering, the war is deadly and horrific and the carnage has not stopped," Boebert said in the video. "Sadly, what I didn't hear tonight was a clear explanation of where the first $50 billion we sent to support their efforts went. Until Congress receives a full audit on where our money had already gone, I will not support sending additional money to this war."
Boebert, though, wishes that President Biden were more like President Zelenskyy in some respects.
"President Zelenskyy is working to protect his country, his border and his people," Boebert added. "I get it. I really just wish our Commander-in-Chief would do the same right here at home and secure our southern border."
Stay tuned to DC Daily Journal.