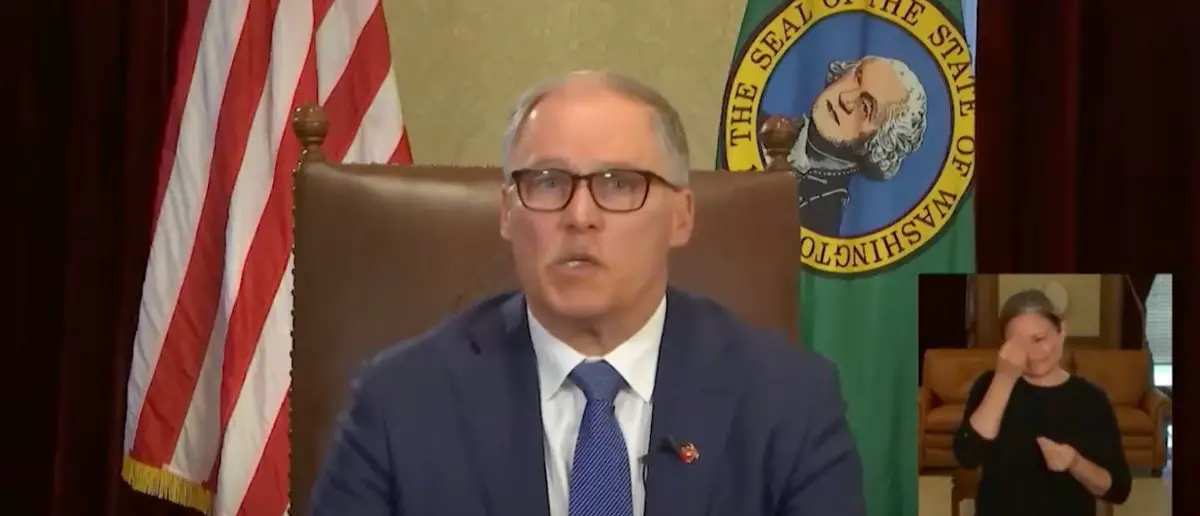 Politicians can be some of the most depraved people in the country. One Democrat proves the rule.
And a major Democrat was smacked with a lawsuit after committing this despicable act.
The Left's pet political projects have gotten more and more radical with every passing year.
Just a decade ago, they wanted "free" healthcare. Now they are pushing radical social ideologies on children.
And they're starting to feel the heat for their actions.
A nonprofit legal group filed a lawsuit against Washington Democratic Governor Jay Inslee on Wednesday, seeking to halt the implementation of legislation that allows the state to conceal juvenile sex-change procedures from parents.
The complaint was brought by American First Legal, led by former Trump adviser Stephen Miller, in response to Senate Bill 5599, which was recently signed into law by Inslee.
Leftists supported the bill as protection for transgender youth, and it allows "host homes" to keep parents in the dark about their child's sex-change procedure.
According to American First Legal, the legislation "creates a dangerous incentive for minors who disagree with their parents on 'gender-affirming care' to run away to a shelter or host home."
"No state action more frighteningly illustrates the threat to our children than this law," Miller said.
"This sick, authoritarian law essentially allows the state to kidnap children from their parents and hide their whereabouts to surgically and chemically mutilate them — and to formally deprive their parents of any legal ability to stop the medical disfigurement of their sons and daughters by gender extremists targeting their children."
Shelters or "host homes" are not obligated to alert parents of a runaway kid if the child claims to be escaping parents who do not approve of a sex-change procedure or an abortion under the new rule. The host home is supposed to alert the Washington Department of Children, Youth, and Families instead of reporting the runaway kid to the parents.
The bill also makes abortion a "compelling reason" for licensed shelters and host homes to not tell parents if a runaway child seeks such a procedure.
The bill breezed through the Democrat-controlled legislature, passing 29-20 in the Senate and 57-39 in the House. It was introduced by state Sen. Marko Liias, a Democrat who represents a district just north of Seattle and serves as co-chair of the LGBTQ caucus.
"Every child – including our trans youth – deserves to be safe at home. In a perfect world, that is the case, but unfortunately, that is not the reality," Liias said in a press release.
"This legislation affirms our commitment to ensuring children have a safe and stable place to go when they are not welcome at home."
Inslee stated when he signed the bill that it offers a "compassionate, developmentally appropriate, and reasoned approach to supporting these youth as they access gender-affirming treatment and reproductive health care services."
The claim also names Washington Attorney General Robert Furguson and Ross Hunter, the secretary of the Washington Department of Children, Youth, and Families.
The new law, according to American First Legal, "deprives certain parents of their fundamental rights under the United States Constitution to direct the care and upbringing of their children."
"America First Legal is proud to defend parental rights and stand up against the insidious 'gender-affirming care' agenda, which promotes using experimental medical procedures and drugs on minor children – potentially altering their lives forever," said Miller.
Stay tuned to the DC Daily Journal.