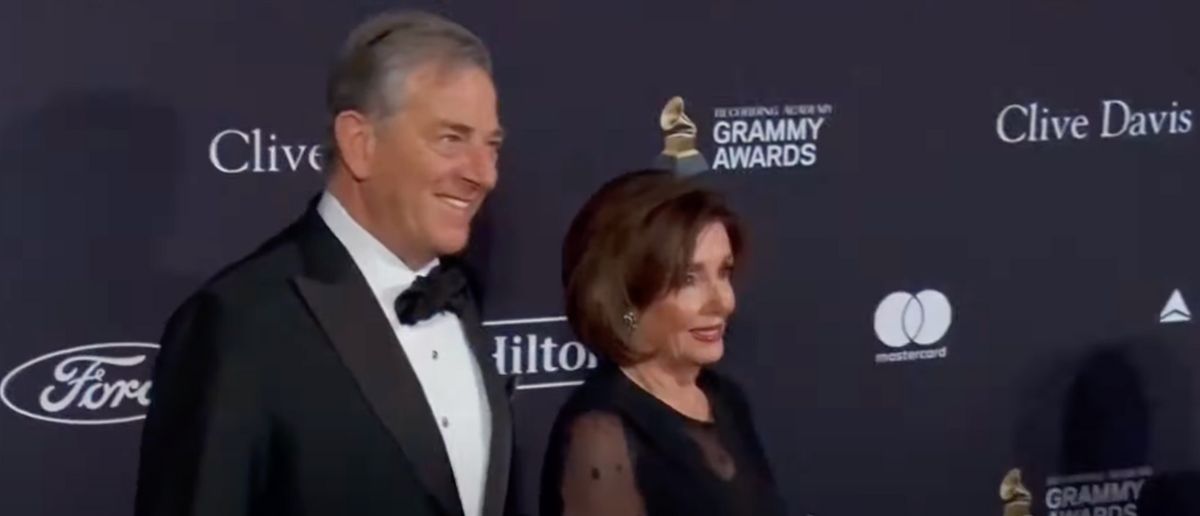 Over a year ago, Nancy Pelosi's husband was attacked in his own home. Something seemed off about the whole ordeal.
And now Paul Pelosi's attacker spoke out about his stunning assault.
On Tuesday, the man accused of hammering former House Speaker Nancy Pelosi's (D-CA) husband, Paul, took the stand in his own defense.
When probed about his political beliefs and how he fell down a conspiracy theory rabbit hole that lead him to believe outrageous things about many people, including the longtime California politician, David DePape became upset at times.
DePape, who is facing life in prison, said that he got obsessed with political podcasts and YouTube videos and would listen to them for hours. He admitted to allowing what he read on largely right-wing websites to influence his thinking, especially as the assertions became increasingly fanciful.
"At that time, I was biased against [former President Donald] Trump, but there's, like, truth there," he said, sobbing. "So if there's truth out there that I don't know, I want to know it."
DePape confessed that his acceptance of alternate hypotheses began several years ago.
"When Bush was in office, I thought 9/11 was an inside job," he was quoted as saying. "I searched for lies about Trump."
Prosecutors believe DePape intended to find Nancy Pelosi on the night he broke into the couple's Pacific Heights home on October 28, 2022. DePape looked up members of the congresswoman's family, including her daughters and grandchildren, about a week before the attack, they claimed. DePape considered the former speaker to be "evil" and had "planned to kidnap her, hold her hostage, break her kneecaps, and teach her a lesson," they claimed.
Instead of the long-serving legislator, DePape discovered her spouse at the property.
DePape allegedly yelled "Where's Nancy?" repeatedly at Paul Pelosi, who managed to dial 911 and speak with the dispatcher before leaving the line open for authorities. When the dispatcher realized something was awry, he dispatched the police to the address.
When the cops arrived, they found both males with a 5-pound steel hammer. They were both commanded to drop the hammer, but DePape took it away from Paul Pelosi and repeatedly whacked him on the head with it. DePape was promptly detained, and Paul Pelosi was transported to the hospital with serious injuries.
Paul Pelosi was hospitalized for six days after suffering a skull fracture and damage to his right arm and hands.
On Monday, he told jurors about the night he "woke up in a pool of his own blood" after being attacked by DePape, who burst into his house with zip ties and a hammer and asked to speak with his wife.
Paul Pelosi told jurors that he had not discussed the attack with anybody other than investigators.
"I've tried to put it out of my mind," he explained. "I made the best effort I possibly can to not relive this."
DePape rattled off numerous names on Tuesday when asked who else was on his "target list," including "Tom Hanks, Mike Pence, Bernie, Hunter Biden, Gavin Newsom."
The federal prosecution against him is predicated on whether he went after Paul Pelosi only because his wife is a federally elected person.
During opening statements last week, DePape's lawyer Jodi Linker laid out a narrow legal defense, telling jurors that her client was at the Pelosi house not because of Nancy Pelosi's duties in Congress, but because he believes he has an obligation to stop a larger and more devious plan to morally bankrupt the country.
The federal trial of DePape is likely to conclude by the end of the week.
He is still facing four other felony accusations in state court that are unrelated to Nancy Pelosi's membership in Congress.
Stay tuned to the DC Daily Journal.