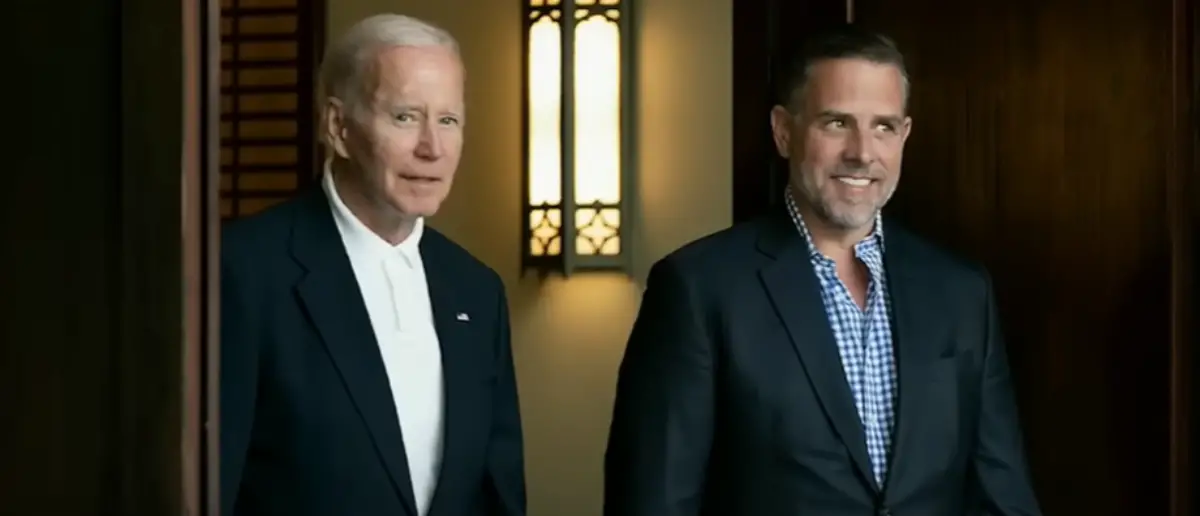 The Biden family crimes are finally being exposed. Now the public can see them for what they truly are.
Because President Biden's been hit with an accusation of organized crime that's sending shockwaves through the country.
In an interview published on Wednesday, the chairman of the House Oversight Committee, James Comer, again accused President Joe Biden and his family of financial crimes, this time going so far as to say that investigators had found six policy decisions that they believe Biden made in return for foreign cash.
In a podcast with John Catsimatidis and Rita Crosby, Comer called the Biden family's business dealings "organized crime," adding that he and his coworkers "can't come to any other conclusion as to why these decisions were made other than the fact this president is compromised."
Senator Chuck Grassley (R-Iowa) has joined Comer in bringing bribery claims against the current administration. Biden has denied any wrongdoing and has called the charges a prank on multiple occasions, most recently earlier this month when he said, "Where's the money?…It's a bunch of malarkey."
The White House has made the same claim, saying the rumors have been proven false. WH investigatory spokesman Ian Sams stated, "This silly charade by Chairman Comer is yet another reminder that his so-called 'investigations' are political stunts not meant to get information but to spread thin innuendo and falsehoods to attack the President."
Comer claims that the committee has identified a web of 19 shell businesses used by various Biden family members to conceal the origin of funds from foreign commercial interests by citing a significant paper trail of bank records. "The sole purpose of these shell companies appear to be to launder money from foreign nationals to at least nine different Biden family members," Comer stated, adding that he is convinced the probe will uncover $17 million the Bidens received from overseas. However, Comer noted that the deals could be worth more than $40 million.
For tax purposes, "this is an organized attempt by the Biden family to hide the source of money flowing into these shell companies," Comer said.
Compared to his prior accusations, Comer ratcheted up the rhetoric in his Wednesday comments about the alleged links between foreign contributions paid to the Bidens and Biden's conduct as vice president and president. In the past, he has called the connections between them "concerning."
Comer told Maria Bartiromo of Fox News in late April, "There are six specific decisions that Joe Biden made either as vice president or president that are very concerning to us, that we believe could potentially lead back to payments that were made to these LLCs that were then laundered down to the Biden family member."
On Wednesday, Vice President Joe Biden denied he was there when Hunter Biden used a threatening text message to his Chinese business associates in order to get paid. A former IRS employee brought the texts to light, and Comer's committee made them public.
"I am sitting here with my father and we would like to understand why the commitment made has not been fulfilled," Hunter wrote to Henry Zhao, an official in the Chinese Communist Party, through WhatsApp in July of 2017. "Tell the director that I would like to resolve this now before it gets out of hand, and now means tonight."
"And, Z, if I get a call or text from anyone involved in this other than you, Zhang, or the chairman, I will make certain that between the man sitting next to me and every person he knows and my ability to forever hold a grudge that you will regret not following my direction. I am sitting here waiting for the call with my father," he remarked.
Chinese energy company CEFC transferred $100,000 to Hunter Biden's Owasco law business a few days after the text was written. Then, a few days later, another $5 million was transferred to a consultancy firm that Biden's son had founded with Chinese investors called Hudson West III.
However, a counsel for Hunter Biden told CNN that the Justice Department had conducted a comprehensive investigation of the case, contradicting the claims of the whistleblowers.
Separate connections that Hunter Biden had with the Ukrainian energy business Burisma are at the heart of the bribery claims as well. Republicans have claimed Biden is unqualified to serve on the board of the energy business and that his appointment was influenced by his father's position in the Obama administration.
Grassley alleged on the Senate floor earlier this month that there are 17 audio recordings made by a Burisma official in which the executive admits to making a payment to Hunter Biden and another payment of the same amount to the president. The Senator from Iowa claimed the tapes serve as a "insurance policy."
Committee members were denied access to an FD-1023 form, an FBI informant report, containing information about ties to the Burisma movement, despite Comer's threats to hold FBI director Christopher Wray in contempt. Whether or the document is a smoking gun is a point of contention among Republicans and Democrats on the committee, with the ranking Democrat on the panel, Jamie Raskin, calling the evidence "secondhand hearsay."
After reviewing the file, investigators have concluded that further action is not warranted.
But that brings into question the legitimacy of the investigators put on these cases, as several whistleblowers that have come out against the Bidens have noted that several different federal agencies have mishandled and intentionally suppressed full investigations into Hunter and Joe Biden.
If you want to stay up-to-date on this story, please stay tuned to the DC Daily Journal. We will bring you all the latest news on the Biden family investigations.