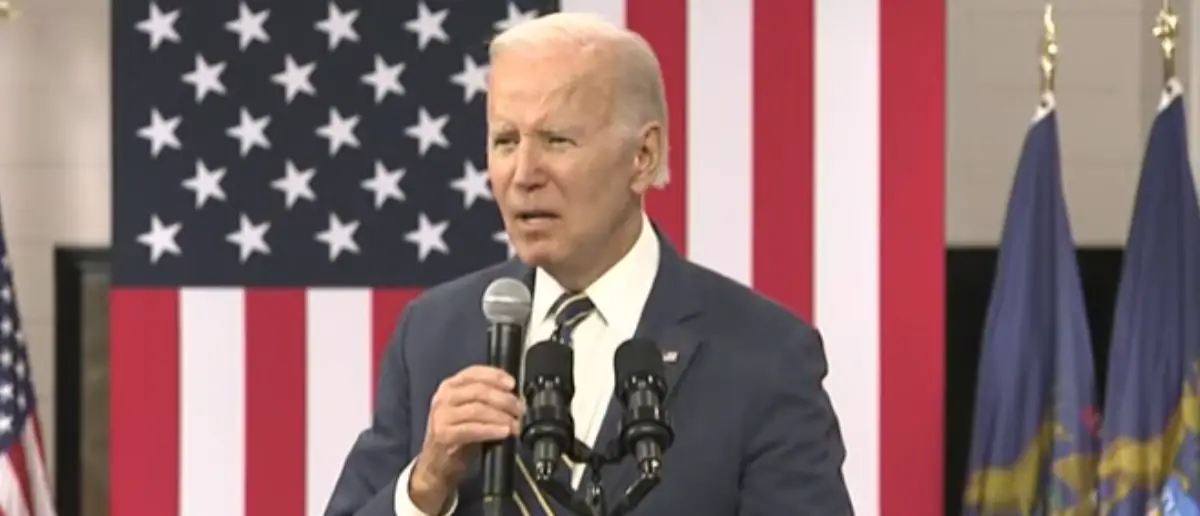 A new military report has his Joe Biden's desk in the Oval Office. It's not looking good.
And now Joe Biden is sweating bullets over what it means for the future of America.
Polls have shown that Americans overwhelmingly trust conservative Republicans with running the military and foreign policy overall compared to their leftist Democrat counterparts.
The Afghanistan pullout disaster certainly served as the major reason why Joe Biden is simply not trusted by the vast majority of Americans with the military.
Who makes such a huge mistake like leaving Americans and military personnel hanging to dry in a territory that is being run over by the Taliban? Joe Biden apparently.
In the wake of the Afghanistan disaster, you'd think Biden would give the military and his foreign policy a little more attention and refine it so he doesn't look like a complete and utter failure for four years on those fronts.
But you'd be wrong, of course.
A new report from Congress has demonstrated that the Navy is in really bad shape and operating at a fraction of its total capacity.
According to the Congressional Research Service report, 36% of the Navy's submarine fleet is simply out of commission either currently facing maintenance or waiting to receive maintenance.
Newsmax reports:
A report by the Congressional Research Service published July 6 said that of the Navy's 50 attack submarines, 18 are in maintenance or waiting for their turn. The report cited Rear Adm. Jon Rucker, who said in November 2022 the "best practice would call for just 20% to be tied up in repairs, or 10 boats instead of 18."
Some experts are saying that it is unwise for so many Navy submarines to be waiting for maintenance if they are still entirely functional and operational and only need minor maintenance.
One expert, Ronald O'Rourke, has said that he believes that this has hamstrung the Navy in being able to complete "day-to-day" missions and tasks.
This has "force's capacity for meeting day-to-day mission demands and potentially putting increased operational pressure" on existing operating submarines, according to O'Rourke.
The report pointed to four main reasons why the delays in getting submarines and ships back to operations were so lengthy.
Firstly, there's only four authorized naval shipyards in the entirety of the United States right now. That's something Donald Trump mentioned in the 2020 election that he wanted to address.
Secondly, the report cited a shortage of parts for certain submarines and ships.
Thirdly, they note that certain steels that are no longer approved for use were used in ships between the years 1987 and 2017.
And lastly, they say there's been defective hull coatings for some of the submarines that are in maintenance right now.
This comes at a time when the Chinese Navy is growing more and more powerful by the day. Some projections show that their Navy fleet could be larger than the United States' in a matter of 10 years.
Whether or not their Navy is more capable overall is another question entirely. But it's no doubt that they've closed the gap.
Whoever is in the White House in the next term needs to address this issue or you could see America's enemies grow more emboldened by the failure to upkeep our U.S. military at full strength.
Stay tuned to the DC daily Journal.