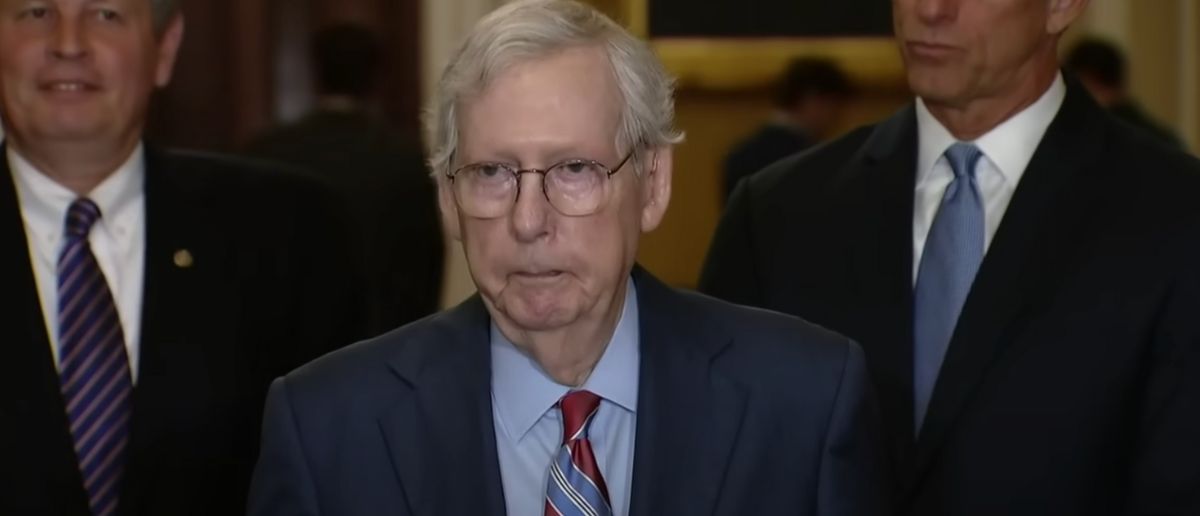 Congress may be tightly contested across the board. But GOP congressmembers have given up the fight.
Now Republicans are waving the white flag of surrender to President Biden and the Democrats.
Republicans in Congress are thinking about abandoning the word "pro-life" to characterize their attitude on the subject after supposedly suffering a succession of electoral defeats on the subject of abortion.
According to NBC News, who broke the story first on Thursday, many Senate Republicans convened with strategists this week on Capitol Hill behind closed doors to address the issue.
A poll suggesting that people increasingly interpret "pro-life" and "pro-choice" terminology differently following the Supreme Court's rejection of Roe v. Wade last June, is said to have been delivered to senators on Wednesday by Steven Law, a former assistant to GOP Senate minority leader Mitch McConnell (R-KY).
As stated by Senator Kevin Cramer (R-ND), "What intrigued me most about the results was that 'pro-choice' and 'pro-life' means something new now, that people regard being pro-life as being against all abortions… at all levels."
Law, who also serves as the president of the McConnell-affiliated Senate Leadership Fund super PAC, advised the senators there to be more detailed when making their case to voters in regards to abortion. Given that several of them represent Republican-controlled states that are working towards abortion restrictions, communicating their views on the matter is crucial.
Senator Josh Hawley (R-MO) agreed that detail is crucial.
"Many voters think pro-life means you're for no exceptions in favor of abortion ever, ever, and 'pro-choice' now can mean any number of things," claimed Hawley. "So the conversation was mostly oriented around how voters think of those labels, that they've shifted. So if you're going to talk about the issue, you need to be specific."
"You can't assume that everybody knows what it means," he continued. "They probably don't."
Todd Young, a senator from Indiana, said the meeting's focus was on "pro-baby policies," although there was not any confirmation that senators were urged to use that phrase. Young claimed that he independently developed the name "to demonstrate my concern for babies."
Senators Cynthia Lummis of Wyoming and Mike Braun of Indiana were two additional prominent Republicans who were supposedly present.
The NBC News story did not include specific polling, but according to Gallup, this year forty-four percent of the Americans polled identified as pro-life and 52 percent as pro-choice. The pro-choice percentage is decreasing from 55 percent and the pro-life figure is up from 39 percent as compared to last year, before the Dobbs decision was announced.
Since last June, 14 states have outlawed abortion, and 11 of those states have done so with little to no exceptions.
Republican politicians and pro-life activists must "speak with clarity and specificity on what it means to be pro-life," according to E.V. Osment, Vice President of communications for the nationally-known pro-life group Susan B. Anthony Pro-Life America.
"The American people deserve to know exactly where we stand and what limits on abortion we support and how we will serve mothers and their children," stated Osment. "The other side refuses to list even a single limit that they will place on abortion, we must contrast our compassionate position with the extreme pro-abortion position used by Democrats."
She continued, citing a recent Cygnal poll showing 56% of respondents in favor of a federal 15-week abortion limit, "Polling indicates that when we are clear about abortion limits then voters overwhelmingly agree and respond favorably." At the federal and state levels, "we need strong leaders who are ready to take up the torch in defending life."
This is yet another example of how the Republican Party is largely in favor of taking the "easy" way out and simply caving to the Democrats and what they want.
The radical so-called "progressives" want Republicans to abandon their post with the term "pro-life" because it makes their lives easier. This signals that these GOP legislators are willing to bend the knee and consider abortion acceptable in certain instances.
While it's reasonable for someone to want exceptions in the most wild of cases like r*pe and inc*st, even though those account for next to zero of the reasons women give for having an abortion, this is simply waving the white flag of surrender.
The numbers are very clear that the pro-life movement has been winning over the last 50 years ever since the Roe v. Wade ruling was initially handed down. Now that all this progress has been made in overturning Roe v. Wade and passing real pro-life legislation all across the country, coward national Republicans want to reconsider the strategy.
Stay tuned to the DC Daily Journal.