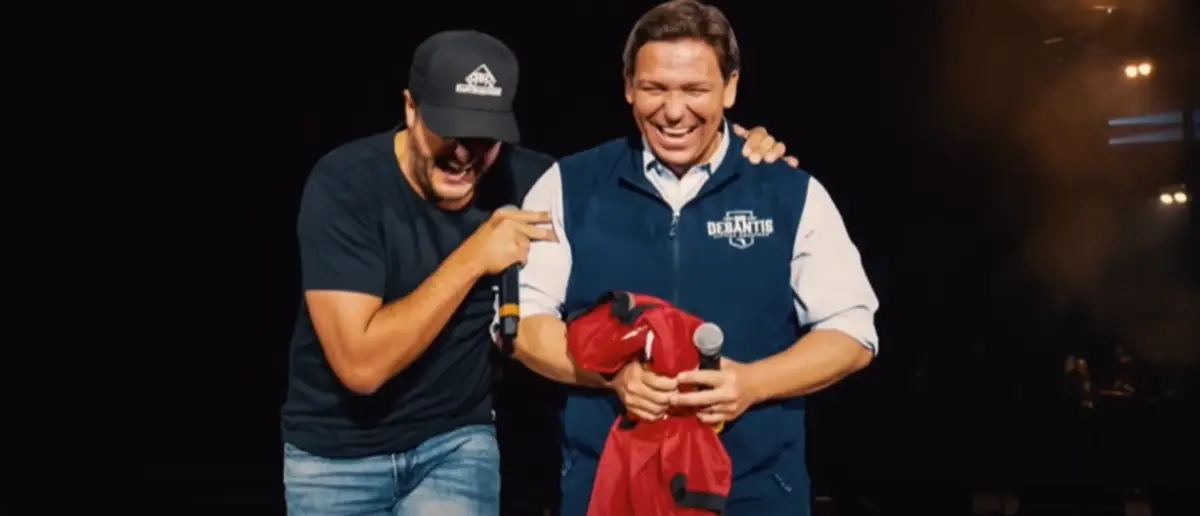 The Democrats are scared to death of the rise of Ron DeSantis. There's been no slowing his popularity train down so far.
But Ron DeSantis just made one appearance that made everyone lose their minds.
Florida's Republican Governor Ron DeSantis has been unafraid to stand up for what he believes in, no matter what.
He constantly reminds everyone he only wants the best for the prosperity of Floridians.
That has meant putting an end to the economic shutdown nonsense during the pandemic panic before most states.
And it's also meant flying immigrants to Democrat Sanctuary cities where Democrats claim immigrants are welcome no matter what.
And the people have resonated with his actions so far.
It's why conservatives all across the country have looked at DeSantis as the model for other Republicans to follow.
His popularity just reached new heights, as well.
At a recent concert from country music star Luke Bryan, Ron DeSantis was brought out on stage by the country music artist.
DeSantis was met with deafening cheers and Luke Bryan said that they would be raising money for the victims of the devastating hurricane Ian.
The Daily Wire reports:
The crowd at a Luke Bryan concert erupted in cheers Friday night when the country music singer brought Florida Governor Ron DeSantis (R) on stage to promote the state's recovery efforts from Hurricane Ian.

Bryan's concert in Jacksonville, Florida, which was part of his 'Raised Up Right' tour, had been postponed several times in recent weeks due to the hurricane.
"All you Florida voters, if you want to keep the state of Florida free, we need you to vote on November 8th," the governor said.
"The state of Florida had to deal with the major hurricane last month, and it's not easy to deal with. It's hurt a lot of people," DeSantis added. "Though I can tell you this, show me any other state that can rebuild bridges in three days. I don't think you can find that."
Ron DeSantis tweeted about the event thanking Luke Bryan for having him on stage.
Thanks for letting me crash the party last night, @lukebryan! pic.twitter.com/GCuTELFOM9

— Ron DeSantis (@RonDeSantisFL) October 29, 2022
It's a nice change of pace to see a major star unafraid to share support for a conservative defender like Ron DeSantis.
Of course, the blue-haired Twitter keyboard warriors lost their minds claiming Luke Bryan to be a "bigot" like they say DeSantis is.
— CAMPBIZZLE (@happycrazytown) October 29, 2022
But in the real world, people truly resonate with Ron DeSantis because he simply wants the best for Americans.
Hopefully, more Republicans follow his lead.
Stay tuned to the DC Daily Journal.