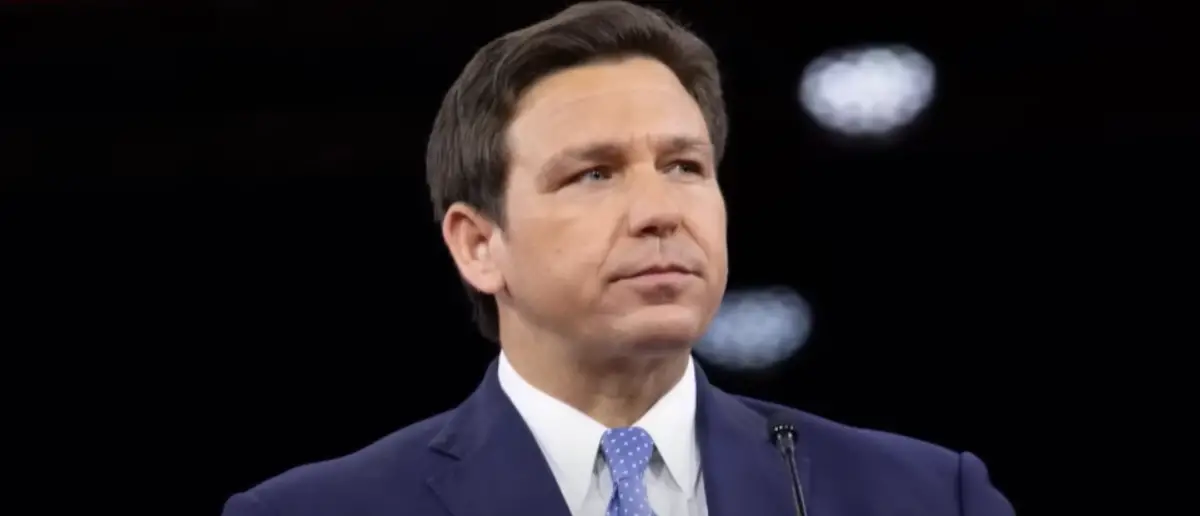 The Democrats find themselves in a tough situation for the 2024 election cycle. But it just got even worse.
Because Ron DeSantis topped this one poll that proves he would beat Biden in 2024.
Joe Biden's low approval ratings have given the Democrats a headache unlike any other.
And it all stems from his incapability to lead the nation in any meaningful way when conflict comes.
This has left millions of Americans wondering if Biden is even fit to serve office anymore, which is exactly why even Democrat voters don't want Biden to run in 2024.
Ron DeSantis, on the other hand, has been a rising star in conservative circles and the Republican Party because he's taken the radical Left head-on and is largely no-nonsense as the Governor of Florida.
Of course, the Fake News Media now has him in their sights because he's a threat to their propaganda and lies for the Democrat Party's benefit.
But despite that, he's maintained high favorability ratings in the eyes of Florida voters as well as voters outside of Florida who aren't even his constituents.
Many have been left wondering if Joe Biden would even stand a chance against DeSantis in a potential 2024 matchup.
Well, we just got proof that Biden really wouldn't stand the slightest chance at all.
A Harvard University poll that was conducted between October 12-13 asked individuals to answer on their favorability for certain high-profile politicians, like Ron DeSantis, Donald Trump, and Joe Biden.
The result showed that Ron DeSantis stood alone as the most favorable U.S. politician right now, and Biden lagged a staggering 14 points behind DeSantis.
In fact, Joe Biden's unfavorability of negative eight points was almost as bad as Kamala Harris at negative ten points.
The Daily Wire reports:
The poll asked respondents to rate top political figures in the U.S. as either very favorable, favorable, unfavorable, very unfavorable, never heard of them, or no opinion.

The politicians ranked in order were DeSantis (+6), former Vice President Mike Pence (+4), South Carolina Republican Senator Tim Scott (+3), former President Donald Trump (0), Independent Vermont Senator Bernie Sanders (0), Texas Republican Senator Ted Cruz (0), former Secretary of State Mike Pompeo (-3), President Joe Biden (-8), Arizona Democrat Senator Kyrsten Sinema (-9), Vice President Kamala Harris (-10), Democrat Senate Majority Leader Charles Schumer (-12), New York Democrat Congresswoman Alexandria Ocasio-Cortez (-12), twice failed Democrat presidential candidate Hillary Clinton (-13), West Virginia Democrat Senator Joe Manchin (-15), Democrat House Speaker Nancy Pelosi (-22), and Republican Senate Minority Leader Mitch McConnell (-22).
No poll is ever perfect, and there are considerations to take into account when digesting results.
But it's hard to get over the fact that DeSantis commanded a very high favorability in his own right, and definitely compared to the likes of Joe Biden and Kamala Harris.
And it's hard to imagine Biden being able to compete against DeSantis in a 2024 head-to-head race.
That's led many to believe that the Democrats will pull the plug on Biden's career before the 2024 election to slide someone else in who might stand a better chance.
The only problem with that plan is that Kamala Harris, Chuck Schumer, Alexandria Ocasio-Cortez, and Hillary Clinton all had negative favorability ratings as well.
So there's no easy way for the Democrats to wiggle out of running for Biden in 2024.
They've made their bed, so let them lie in it.
Stay tuned to the DC Daily Journal.