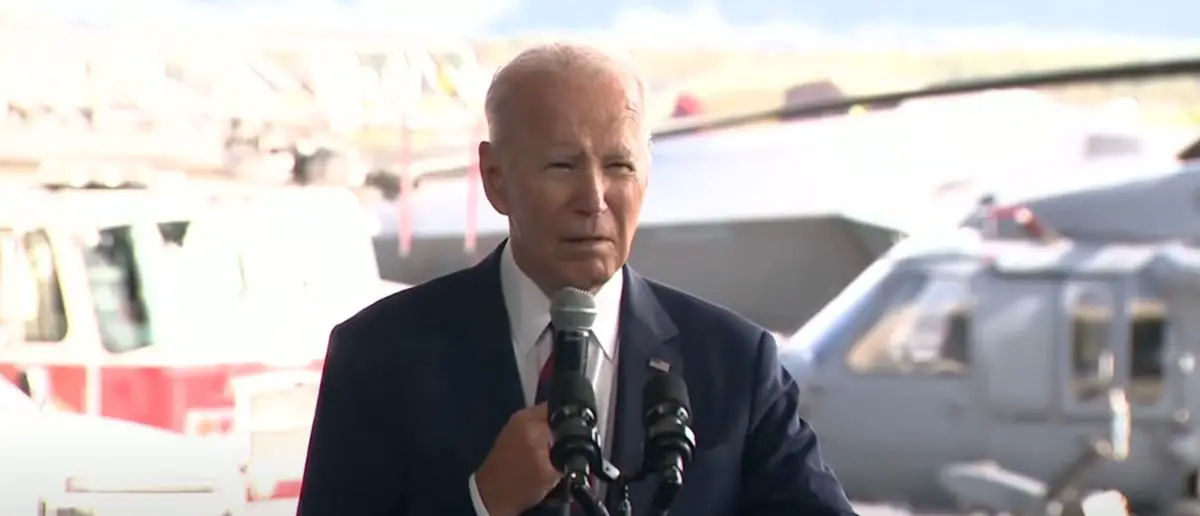 President Biden's past is troubled. Now it's back to haunt him.
Because this letter the Secretary of State received spells doom for Joe Biden.
The chairman of the House Oversight Committee, Republican Kentucky Representative James Comer, wrote to Secretary of State Antony Blinken on Tuesday, asking for details about what former vice president Joe Biden did in response to "certain sudden foreign policy changes" affecting Ukraine while his son Hunter Biden served on the company's board of directors for a Ukrainian energy organization.
Ukrainian prosecutor Viktor Shokin had been looking into allegations of corruption at Burisma and its founder and CEO, Mykola Zlochevsky; the senior Biden later boasted of having Shokin sacked.
In the letter, Comer requests details about how the State Department views the Ukrainian Prosecutor General's Office, which was then led by Viktor Shokin.
A global probe into the alleged wrongdoing began shortly after Shokin's appointment in February 2015.
After Zlochevsky's firms attempted to transfer $23 million to Cyprus from their British deposit at a French bank in March 2014, the bank reported him to U.K. authorities on suspicion of money laundering. One month later, Hunter Biden started working as a director for Burisma, earning a yearly salary of $1 million.
According to Comer, "the Committee seeks to understand the State Department's sudden change in disposition towards the Ukrainian Office of the Prosecutor General in late 2015."
The prosecutor had received good accolades from U.S. officials for his work in pursuing corruption prior to the Biden-driven lobbying campaign to dismiss Shokin in 2016, the Kentucky Republican explains.
Former Assistant Secretary of State for European and Eurasian Affairs Victoria Nuland, praised Shokin's anti-corruption efforts in a letter she wrote to him in June 2015. U.S. Ambassador to Ukraine at the time, Geoffrey Pyatt, stated, "we want to work with Prosecutor General Shokin so the [Prosecutor General Office] is leading the fight against corruption." This was three months after the inauguration of the new Prosecutor General.
Shokin's anti-corruption measures were deemed successful enough by the Interagency Policy Committee that same month for a third commitment of a $1 billion loan.
In a conversation with Ukraine's then-president Petro Poroshenko in November 2015, then-Vice President Joe Biden did not insist that Poroshenko fire Shokin. However, by December, the United States had made Shokin's dismissal a condition of its loan guarantee.
The Ukrainian Rada dismissed Shokin from office in March 2016.
On December 4, 2015, at Pozharsky's request, Hunter Biden met privately with Zlochevsky and Pozharsky in Dubai, and Archer said that Biden "called D.C." during that conversation. Comer notes that this testimony was provided by Archer.
Including the State Department, "the Committee is investigating the nature of this call and the circumstances surrounding it," Comer writes.
The committee requested all records relating to phone talks between then-Vice President Joe Biden and Ukrainian officials between January 1, 2014 and December 31, 2016, and the department was given until September 26 to comply.
The committee also asked for any and all correspondence between the State Department and Blue Star Strategies, LLC between September 1, 2014 and December 31, 2016 on Ukraine or Burisma. Blue Star Strategies, LLC is a Democratic lobbying group that worked with Burisma.
References to Burisma, Zlochevsky, Pozharsky, Shokin, the Ukrainian Office of the Prosecutor General, Eric Schwerin, Devon Archer, or Hunter Biden anywhere in any documents or communications to or from several former State Department officials, such as John Kerry, Victoria Nuland, Amos Hochstein, Geoffrey Pyatt, Wendy Sherman, Thomas Shannon, and Alfonso Lenhardt between January 1, 2014 and January 20, 2017.
Comer has asked for everything written or spoken between the Obama administration and the State Department between January 1, 2015 and January 20, 2017 that mentions Burisma, Zlochevsky, Pozharsky, Shokin, the Ukrainian Prosecutor General's Office, Eric Schwerin, Devon Archer, or Hunter Biden.
Finally, he asks for any and all documents and communications between the State Department, the White House, and the U.S. Embassy in Ukraine regarding the terms of the $1 billion debt guarantee.
According to testimony Archer previously provided, the "brand" of Vice President Joe Biden was what opened doors to lucrative financial prospects for him and Hunter, including a seat on the executive team of Burisma.
According to an unnamed businessman, Burisma's founder claims to have been bribed $10 million ($5 million each to Joe and Hunter Biden) to put Hunter Biden on the board of the Ukrainian energy company and to use Biden's political influence to remove Shokin.
The source first met with FBI agents in 2017 to discuss the claims.
Form 1023, the standard FBI form for recording data gathered during an interview with a confidential human subject (CHS), was used to describe the informant's sessions with FBI agents on June 30, 2020.
After much effort, the House Oversight Committee and Senator Chuck Grassley were able to secure a copy of the form, which was disclosed in July with minimal redactions.
Comer and Grassley have demanded an explanation from the FBI as to whether and to what extent they have looked into the informant's statements.
Stay tuned to the DC Daily Journal.