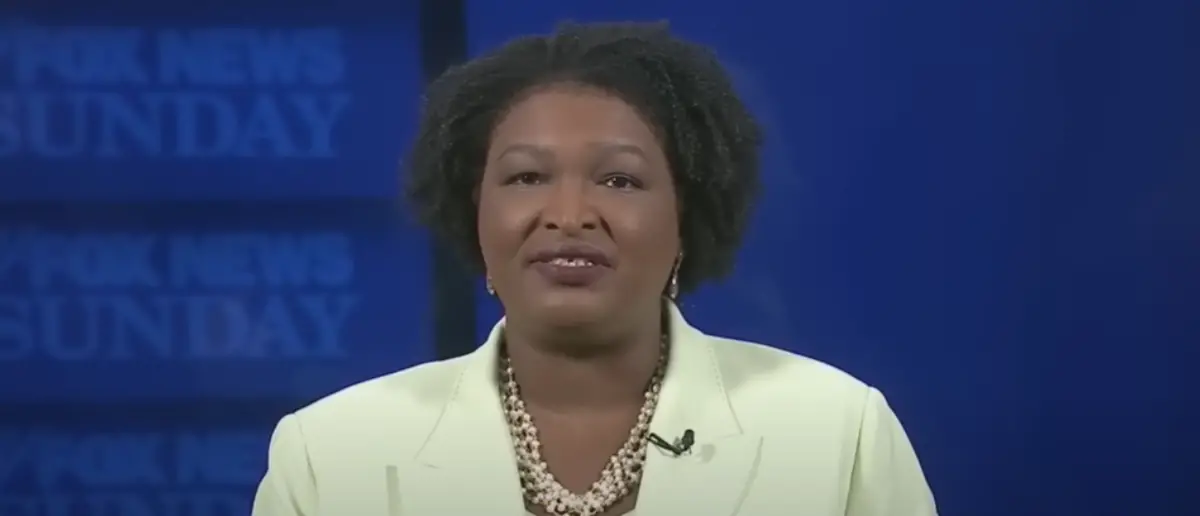 Sore loser Stacey Abrams wanted nothing more than to force her way into Georgia's Governor's mansion. And it looks like no action was out of the question for her.
And Stacey Abrams was caught in a $100 million scandal that is ending her political career.
When you look up the definition of "loser" in the dictionary, you'll see a picture of Stacey Abrams.
She spent the past four years pretending that she was cheated out of the governorship in Georgia.
Abrams denied the election results on national outlets like The View and MSNBC all while Democrats said election denial was "the greatest threat to our democracy."
Of course, what they mean is that questioning any election where the Democrats win is not allowed, otherwise you have free rein.
This year, Abrams hoped to finally clutch her shiny prize by winning the Georgia governor's race in November.
Instead, she was smacked across the face, losing by 7.5 points – over a five times larger margin than her loss in 2018.
And according to a report on Monday, Stacey Abrams' campaign is $1 million in debt despite raising more than $100 million in her second consecutive lost Georgia gubernatorial attempt.
The cash is owed to suppliers by the Democratic stalwart's campaign, according to Axios, quoting manager Lauren Groh-Wargo. ​
Despite Abrams' reputation for fundraising and voter turnout, the campaign's 180 full-time employees received their final paychecks on November 15, barely a week after Election Day, according to the article.
"People have told me they have no idea how they're going to pay their rent in January," ​a former staffer told ​the outlet. "It was more than unfortunate. It was messed up." ​
Groh-Wargo claimed the campaign was hit by a "cavalcade of negative press and negative polling" that hindered fundraising in the final months, adding that it has had to work with brokers to sell donor and voter databases to help pay down the debt. ​​
"We tried to do the best we could to make sure that help would be there for folks," ​Groh-Wargo said, noting that the campaign had paid staffers' health benefits through November.​
However, the report indicated Kemp's campaign staff ​was paid through November and awarded bonuses.
Both Republican Herschel Walker and Democratic Sen. Raphael Warnock's campaigns paid their staffs through December, according to the report.
The terrible treatment outraged several former Abrams staffers.
"I figured, $100 million? They should be able to pay me until December," ​one told Axios.
Another, however, stated that the campaign's pay rate was quite high and that the human resources department went "above and beyond" to assist them in finding new jobs.
Chris Huttman, a Democratic operative in Georgia, told Axios that Abrams' two campaigns for governor had a "well-documented habit" of spending money carelessly.
​"She was running a campaign where there's always been more money in the future that can fix the mistakes of the past," he said.
This isn't the first time Abrams-related organizations have been questioned about their spending habits.
In October, the Abrams-founded Fair Fight PAC started an internal probe after Fox News reported that friends and family of its political director had been granted plush jobs with little to no relevant expertise.
Days later, Politico discovered that the Atlanta law firm employing Abrams' campaign chief, Allegra Lawrence-Hardy, was paid more than $9 million to fight a court complaint claiming voter suppression in the 2018 governor's election, creating concerns of a conflict of interest.
Stay tuned to DC Daily Journal for updates on this developing story.