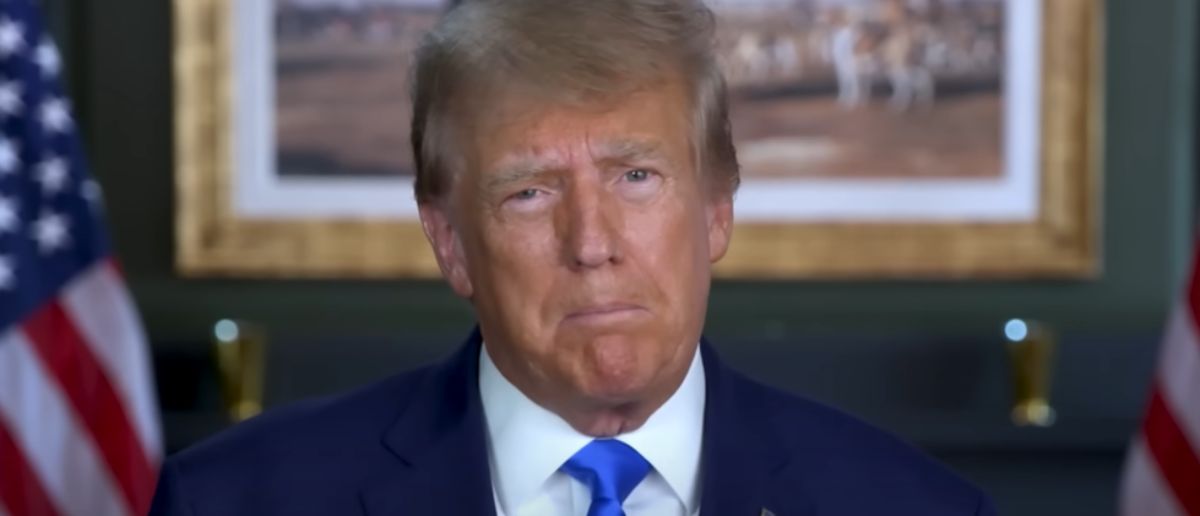 Donald Trump was hoping that he'd get a big Supreme Court win. He never expected this.
Because Supreme Court Justices have forever changed Donald Trump's life with this huge ruling.
The Supreme Court of Georgia unanimously rejected the last-minute attempt by former President Donald Trump to prevent an indictment for allegedly intervening with the outcome of the 2020 presidential election in Georgia.
The nine-member Georgia Supreme Court released a five-page judgment on Monday afternoon finding that Trump's attorneys had not made a compelling argument to end the investigation by Fulton County District Attorney Fani Willis. She has hinted at the possibility of indictments in the coming weeks as a grand jury hears evidence in the investigation into the election.
Georgia's high court ruled that Trump was trying to circumvent the normal procedure of filing for relief in lower courts by going directly to the Supreme Court.
In an unsigned ruling, the Supreme Court stated, "He makes no showing that he has been prevented fair access to the ordinary channels."
"He is asking this Court to step in and itself decide the motions currently pending in the superior court. This is not the sort of relief that this Court affords, at least absent extraordinary circumstances that Petitioner has not shown are present here."
Trump's legal team claims that Willis has broken state law by using a special grand jury to look into potential misconduct associated with the 2020 presidential election and then providing the findings of that grand jury to a regular grand jury, which is currently considering indictments against Trump and his allies.
Trump's legal team asked Fulton County Superior Court Judge Robert McBurney in March to put a stop to Willis' investigation. The judge has not yet made a decision on the motion. The district attorney's office has defended the probe, saying that all procedures required by state law have been met.
The Georgia Supreme Court has said that it is not willing to accept any of Trump's requests at this time, but that McBurney or any other judge is free to do so if they so want.
The focus of Willis' investigation appears to be the efforts made by Trump and his friends in the weeks following the 2020 election to overturn Trump's narrow loss to Joe Biden in Georgia by pressuring state officials.
An audio recording of a call Trump made to Georgia Secretary of State Brad Raffensperger is a major piece of evidence in the investigation. In the call, Trump can be heard pushing Raffensperger to "find 11,780 votes," which would give Trump the margin of victory in the state.
There were several witnesses for the special grand jury investigation, including election officials and regional Republican figures.
Republicans have appointed eight of Georgia's nine Supreme Court judges. One was elected with no party affiliation at all.
This news comes right as Trump is learning that he will also be facing charges from Special Counsel Jack Smith for the allegations that he tried to overturn the results of the Presidential election in 2020 on January 6, 2021.
Simply put, this has been an extremely tough few weeks and months for Donald Trump.
That being said, his campaign seems to be doing better than ever. His fundraising is some of the best out there right now alongside Ron DeSantis and Joe Biden.
His support amongst conservative voters nationwide has also not suffered according to a number of polls that show that he is still the favorite to win the Republican primary over the Republican field that has strong candidates like Ron DeSantis and Nikki Haley.
How many more legal onslaughts can Donald Trump take? That is the golden question, no doubt. He does face a trial in August for the classified documents indictment he is facing.
That will likely tell us more about the future of the Republican primary race and whether conservatives will continue to back Donald Trump as the best candidate to take on Joe Biden come November 2024.
Stay tuned to the DC Daily Journal.