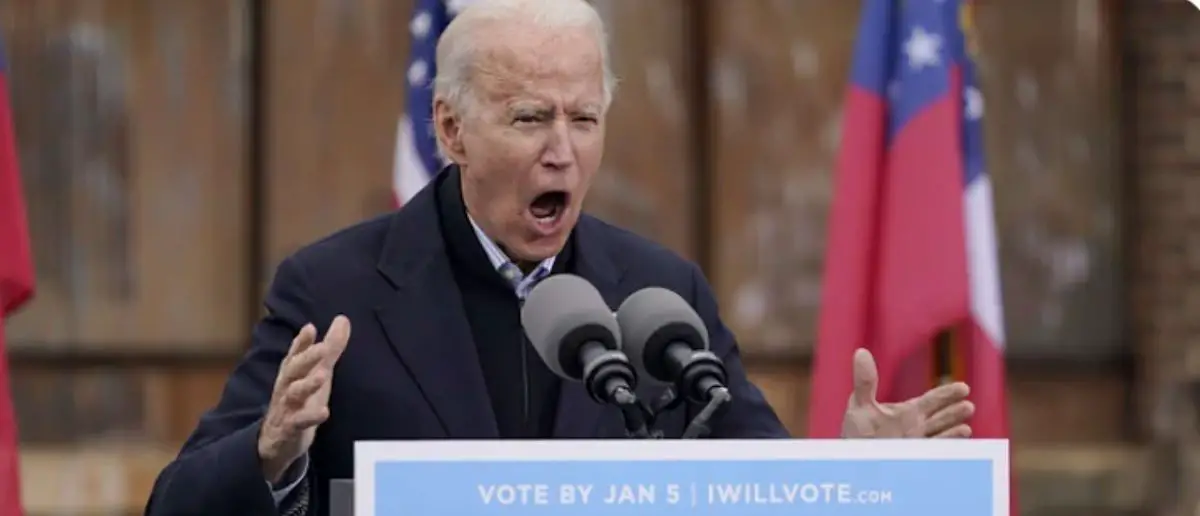 Democrats always try to get their way through intimidation. But now it backfired big time.
And the Supreme Court smacked Biden with a devastating loss he never saw coming.
Democrats love to push radical cultural issues that they refuse to allow anyone to disagree with them on.
One of the biggest is abortion. Joe Biden has made a point to use the issue as a dog whistle for his most extreme supporters – including plastering Fox News' website with ads calling to bring back Constitutionally guaranteed abortion.
But since he has no power to do so, the states are the ones to decide on the issue.
And Democrats just got hit with a major loss.
On Wednesday, the South Carolina Supreme Court upheld a revised version of the state's abortion ban after six weeks of pregnancy, overturning a prior finding by the high court earlier this year that found the statute unconstitutional.
The court ruled 4-1 that South Carolina's constitutional protection against "unreasonable invasions of privacy" does not extend to abortion and that the state statute was "within the zone of reasonable policy decisions rationally related to the State's interest in protecting the unborn."
"The legislature has made a policy determination that, at a certain point in the pregnancy, a woman's interest in autonomy and privacy doesn't outweigh the interest of the unborn child to live," Justice John Kittredge wrote in the 51-page decision.
The court ruled in favor of a revised version of the Fetal Heartbeat and Protection from Abortion Act, which was temporarily barred in January, nearly two years after Republican Governor Henry McMaster signed it into law with overwhelming support from state lawmakers.
McCaster stated that the historic verdict comes after years of labor in South Carolina to secure the protection of unborn children.
"With this victory, we protect the lives of countless unborn children and reaffirm South Carolina's place as one of the most pro-life states in America," South Carolina Governor Henry McMaster, a Republican, said in a statement.
Abortions are illegal if a fetal heartbeat is found, with exceptions for rape or incest during the first 12 weeks of pregnancy, medical crises, or fatal fetal deformities. Abortion providers who break the law face a $10,000 fine and a two-year prison sentence.
In 2021, the fetal heartbeat law was repealed. Nonetheless, it was temporarily in effect after the United States Supreme Court ruled to overrule Roe v. Wade and return abortion legislation choices to individual states.
The law was therefore temporarily halted until the court's previous judgement earlier this year, which Justice Kaye Hearn said was unconstitutional in the majority opinion.
Hearn, who has since stepped down from the Supreme Court, said that South Carolina "unquestionably has the authority to limit the right of privacy that protects women from state interference with her decision."
However, she said "any such limitation must be reasonable and it must be meaningful in that the time frames imposed must afford a woman sufficient time to determine she is pregnant and to take reasonable steps to terminate that pregnancy."
In response, state legislature altered the statute, but they were quickly sued by Planned Parenthood South Atlantic, the Greenville Women's Clinic, and two doctors.
Jenny Black, president and CEO of Planned Parenthood South Atlantic, said the judgment demonstrates "the dangerous politicization of South Carolina's highest court," and that it will bring "irreparable harm" to South Carolinians.
"This abortion ban is nearly identical to the ban struck down by this court just months ago — the only thing that has changed is the makeup of the court," Black added, quoting the Supreme Court.
"This abortion ban takes away people's ability to control what happens to their bodies, forcing many South Carolinians to remain pregnant against their will."
Abortion is illegal at all stages of pregnancy in more than a dozen states, with differing exceptions depending on the state, and certain limitations in other states are currently in effect due to legal challenges. According to the Guttmacher Institute, at least 15 of the 50 states have explicitly prohibited abortion since the historic reversal of Roe v. Wade.
Stay tuned to the DC Daily Journal.