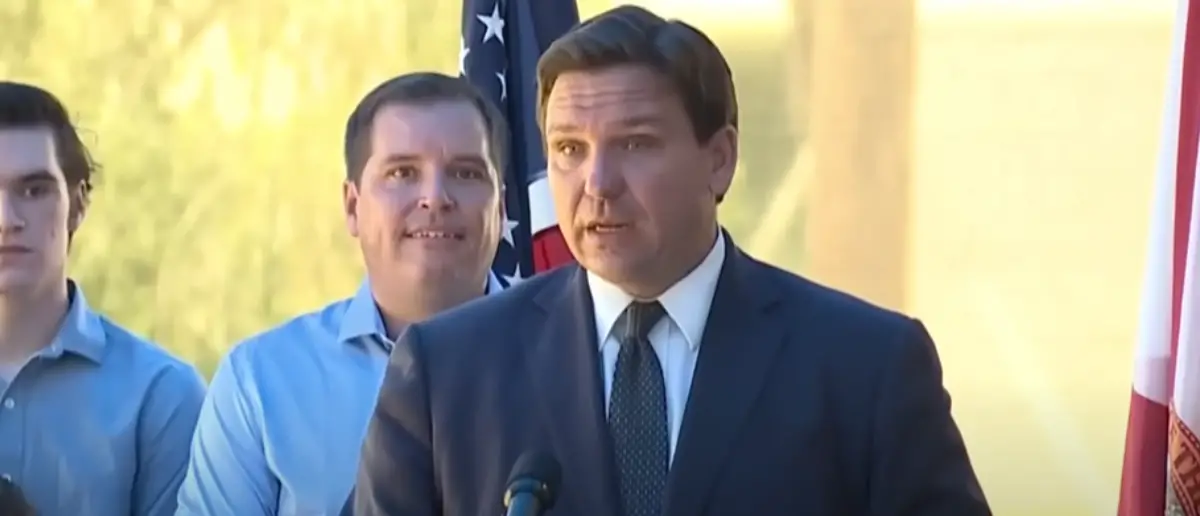 Ron DeSantis has quickly become a rockstar in the conservative movement. His unapologetic approach to politics has many Democrats shaking in fear.
And the Left is losing their minds after Ron DeSantis laid down the law.
Ever since Ron DeSantis took office in 2018, he's been a thorn in the side of the radical Left.
While Biden caused record inflation and supply shortages, DeSantis passed tax cuts for lower and middle-class Floridians.
Biden waved the white flag of surrender when it came to the crisis at the southern border, while DeSantis shipped illegal immigrants to liberal playgrounds like Martha's Vineyard and Deleware – Biden's home state.
During the COVID panic, DeSantis made sure Floridians had the choice of wearing a mask, getting a vaccine, and going out in public to live their lives. He made sure totalitarian mandates weren't foisted onto his citizens.
And he's adding another win to his streak after the CDC released guidance intending to mandate COVID vaccines for all children.
As part of a routine meeting, the CDC's Advisory Committee on Immunization Practices voted unanimously to recommend children six months and older get a COVID vaccine and booster whenever they are eligible.
Historically, whatever the CDC committee advises for the vaccination schedule, public schools tend to require for enrollment.
That means all children will have to be vaccinated against COVID to receive schooling, whether the parents want it or not.
But DeSantis made it clear that he will not follow down the path the CDC is paving.
"There's been a lot of questions to our office about the CDC potentially adding COVID vaccine to the childhood immunization schedule," DeSantis said.
"And I know a lot of parents are concerned about that because if that's on the immunization schedule, the fear is that schools could potentially mandate your child to get a COVID shot, even if that's not something that you want to do. So I just want to let everyone be clear, as long as I'm around, and as long as I'm kicking and screaming, there will be no COVID shot mandates for your kids."
As long as I am Governor, in Florida there will not be a COVID-19 vaccine mandate for children in our schools. pic.twitter.com/oDXAj3c4Oy

— Ron DeSantis (@GovRonDeSantis) October 20, 2022
He went on to emphasize that the decision to vaccinate children should remain a choice of the parents, not the state.
"That is your decision. That is your decision to make as a parent," he continued.
He then noted that the COVID vaccines are not the same run-of-the-mill vaccines that we are used to – these are experimental.
"These are new shots. I get a kick out of it when people kind of compare it to MMR and stuff, things that have been around for decades and decades. So parents, by and large, most parents in Florida have opted against doing these booster shots for … the young kids. The Surgeon General of Florida does not recommend this for young kids, for kids under under 18. And basically, his reason for that [is] there's not really been a proven benefit for that … but it's a free state, parents can make the other decision if that's what they want. The important thing is, is that school districts are not mandating this choice."
These remarks come after the Florida Surgeon General recommended against vaccinating young men ages 18 to 39 mRNA coronavirus vaccines due to risks of cardiac-related death.
Stay tuned to DC Daily Journal.