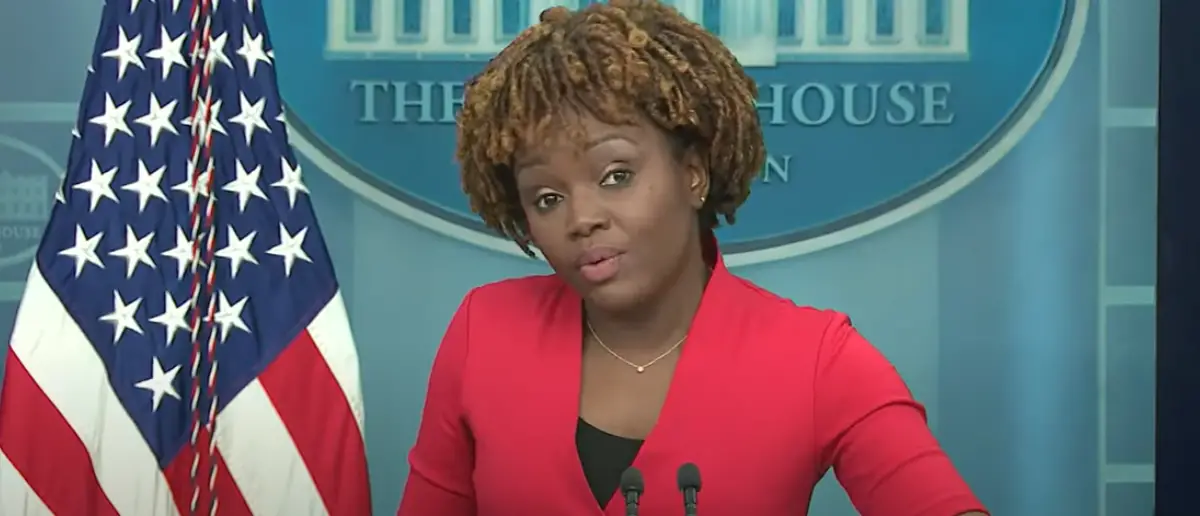 The Biden administration has an issue with telling the truth. They're shamelessly pumping out lies every day.
And the White House erupted in chaos after being caught in this lie.
Joe Biden and his lackeys in his administration are willing to say anything to keep people off their trails.
The problem is that the Biden White House has no victories to point to and brag about.
Everyday seems to bring a new scandal or policy failure that the administration has to cover up quick.
But now the lies are getting laughable.
On Tuesday, White House press secretary Karine Jean-Pierre was accused of telling "blatant lies" after claiming that House Republicans are "fighting to put fentanyl on the street."
The Biden administration spokesperson made the perplexing comments during a news briefing at the White House, commenting on the GOP's debt ceiling proposal, which House Speaker Kevin McCarthy (R-Calif.) revealed last week.
"It's clear that the speaker's bill breaks House Republicans' commitment to America," Jean-Pierre claimed.
"In the run-up to the 2022 election, House Republicans promised to put cops on the beat. Instead, they are fighting to put fentanyl on the street by defunding Border Patrol," she alleged.
"Their proposal makes clear the only things House Republicans are committed to giving Americans are increased crime, lower economic growth, and more manufacturing jobs sent back to China," Jean-Pierre said.
On Tuesday, the Heritage Foundation, a conservative think group, tweeted that the White House "must be counting on the media to shill for their blatant lies."
"Important to note that these lies are admissions they recognize these serious problems, but instead of solving them, they'll blame shift to avoid responsibility while working to worsen them," the post from the organization's Twitter account read.
Heritage went on to say that President Biden's latest omnibus bill limited Customs and Border Protection spending to "processing only" and accused Democrats of "allowing fentanyl to flood the streets by refusing literally any solutions that would reduce illegal border crossings."
"Every word out of KJP's mouth is not only a complete and utter lie, but it's the man she works for and the party he represents who are guilty of each accusation," the influential think tank's scathing tweet concluded.
Rep. Andrew Clyde's (R-GA) communications director, Madeline Huffman, called Jean-Pierre's description of McCarthy's debt ceiling proposal "insane gaslighting."
"Especially on the issue of crime, as Joe Biden has promised to veto [Clyde's] resolution to repeal the D.C. Council's anti-police law that will only worsen the crime crisis plaguing our nation's capital," she added in a tweet.
Republicans on the House Homeland Security Committee's Twitter account responded to Jean-Pierre's charges by highlighting that GOP lawmakers had introduced legislation to address the fentanyl problem by employing more Border Patrol personnel.
"Actually, Republicans put forward the Border Reinforcement Act this week to help hire 3k more Border Patrol agents and give CBP the tools they need to combat the fentanyl epidemic caused by the open-border policies of [Jean-Pierre's] boss," Homeland Security Committee Republicans tweeted.
McCarthy's proposal would allow the federal government to borrow additional $1.5 trillion through March 31, 2024, in exchange for non-defense discretionary expenditure cuts.
The speaker's proposal would cap future spending growth at 1% each year for the following decade.
"These spending limits are not draconian; they're responsible," McCarthy said last week on the House floor.
Stay tuned to DC Daily Journal.