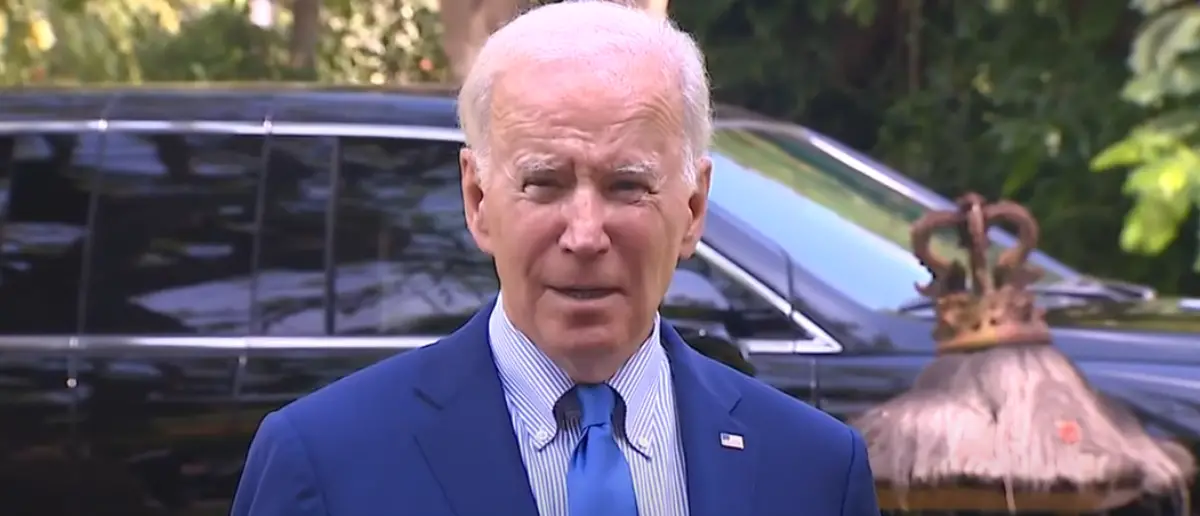 Joe Biden and the Democrats have made it clear they don't care about the American people. But everyone was shocked when they stooped this low.
And the White House is in a lockdown after this Biden official was caught in a felony.
Over the past few years, Democrats have tried to form themselves as the party of "diversity and inclusion."
Of course their acceptance of others is only good for people who don't dissent with any of their talking points.
This has led to multiple governmental positions being filled with people who check diversity boxes rather than the most qualified candidates.
And it's no secret either – Joe Biden touted how he chose his Supreme Court pick, Ketanji Brown-Jackson, specifically because she is a black woman.
But now one of Biden's brazenly political picks is coming back to bite him after committing this felony.
Megyn Kelly slammed the Biden administration after learning that Sam Brinton, the "gender-fluid" deputy assistant secretary for Spent Fuel and Waste Disposal at the Department of Energy's Office of Nuclear Energy, had been accused in a second occasion of snatching someone's bags at an airport.
Brinton had already been charged with stealing someone else's luggage in Minneapolis in September, but he has now been charged with stealing luggage at a Las Vegas airport. Brinton was given a felony warrant in Las Vegas for grand larceny, according to 8 News Now.
"This story is amazing," Kelly tweeted. "Perhaps some more time should be spent on actually vetting our nuclear officials (or firing them when necessary) instead of just hiring anyone who checks a diversity box."
This story is amazing.
Perhaps some more time should be spent on actually vetting our nuclear officials (or firing them when necessary) instead of just hiring anyone who checks a diversity box. https://t.co/zYBmTth6UF

— Megyn Kelly (@megynkelly) December 9, 2022
Brinton apparently traveled into Minneapolis-St. Paul International Airport from Washington, D.C., without checking a luggage. According to the lawsuit, Brinton took an Uber and checked into a hotel with a blue bag.
Prior to the Las Vegas allegations, House Republicans demanded Brinton's resignation in a letter to Energy Secretary Jennifer Granholm on Monday. 
They wrote: "Surveillance footage reveals Brinton taking and leaving with luggage from the baggage carousel at the Minneapolis-St. Paul Airport on September 16th. After initially lying to the police, Brinton later admitted to taking a suitcase valued at $2,325 and hiding the owner's belongings in a hotel room. Alarmingly, Brinton has been observed using the stolen suitcase on multiple trips to Washington, D.C., and was ultimately charged with felony theft, which carries a penalty of up to five years imprisonment, a $10,000 fine, or both."
"As an appointed official, Sam Brinton represents both your Department and the United States," according to the letter. "It is simply not possible for an individual to represent American values and simultaneously violate the felony laws of the land."
"Please provide your fully transparent response by December 20, 2022," they said.
Brinton, who has boasted about his puppy role-playing fetish online, accompanied transgender Assistant Health Secretary Rachel Levine to a party at the French ambassador's home in July, when they both wore dresses.
Brinton has previously presented lectures on kinky sex practices, including talks about adults who prefer to wear diapers and pretend to be babies, as well as fetishes including pup play, humiliation, and degradation, according to The Daily Wire.
You go back in time and have to explain this picture to someone from 2005. How do you explain what's going on and how we got here? pic.twitter.com/aG9gKib85O

— Allie Beth Stuckey (@conservmillen) July 15, 2022
Brinton was finally fired by the White House on Tuesday.
Stay tuned to DC Daily Journal.