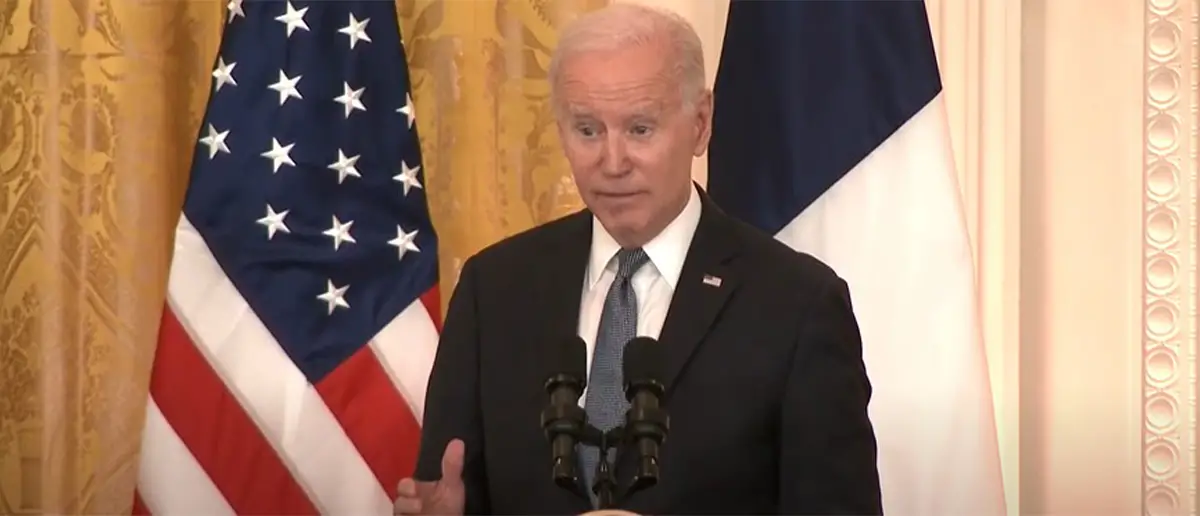 Joe Biden has built his entire legacy on selling out Americans and breaking the law. Now it's all coming crashing down.
And the White House is melting down after this Republican filed articles of impeachment.
As part of the oath of office, every politicians promises to uphold the Constitution and faithfully adhere to the laws of the country.
Many Americans believe this is nothing more than a joke as politicians are constantly caught in scandals or neglect their duties.
But people like Joe Biden make it a point to only appoint Democrats who will serve his agenda rather than Americans.
Nowhere is this more evident than in Department of Homeland Security Secretary, Alejandro Mayorkas.
While millions of illegal immigrants have poured over the border since Biden took office, Mayorkas has continued to undermine Border Patrol and the enforcement of the United States' immigration laws.
But his dereliction of duty is catching up with him – and it isn't going to be pretty.
Fox News reported that  Rep. Pat Fallon, a Republican from Texas, has filed articles of impeachment against Homeland Security Secretary Alejandro Mayorkas.
Monday, Fallon brought House Resolution 8 (articles of impeachment) against Mayorkas for "high crimes and misdemeanors."
"Since day one, Secretary Mayorkas' policies have undermined law enforcement activities at our southern border," Fallon said in a statement to Fox News last week. "From perjuring himself before Congress about maintaining operational control of the border to the infamous 'whip-gate' slander against our border patrol agents, Secretary Mayorkas has proven time and time again that he is unfit to lead the Department of Homeland Security."
"His willful actions have eroded our immigration system, undermined border patrol morale, and jeopardized American national security. He has violated the law and it is time for him to go," Fallon added.
The move comes in Rep. Kevin McCarthy's first week as speaker of the House. He is a Republican from California.
McCarthy said that if Republicans won back control of the House, Mayorkas could be impeached for how he has handled the migrant crisis at the southern border, where a record number of illegal immigrants have crossed into the U.S. from Mexico.
"If Secretary Mayorkas does not resign, House Republicans will investigate every order, every action and every failure and will determine whether we can begin impeachment inquiry," McCarthy told Fox News in November.
Pew Research says that the number of encounters between the U.S. Border Patrol and migrants along the U.S.-Mexico border in the 2021 fiscal year was more than four times higher than the previous fiscal year and the highest annual total on record.
In fiscal year 2022, there were 2,378,944 encounters at the U.S. border. This does not include the nearly 600,000 people who are known to have escaped custody.
Fox News said last week that Fallon's charges against Mayorkas would be broken up into three parts.
The first article says that Mayorkas did not follow the "Secure the Fence Act of 2006," which says that the secretary of Homeland Security must "maintain operational control over all of the United States' international land and maritime borders."
The second article accuses Mayorkas of being in "violation of his constitutional oath, willfully provided perjurious, false, and misleading testimony to Congress" for testifying the border was secure during April 26 and November 15 congressional hearings.
In his last article, Fallon says that Mayorkas "publicly and falsely slandered" border agents in Del Rio, Texas, who were accused of beating Haitian immigrants in 2021. These claims were later shown to be false.
"The 511-page report by the U.S. Customs and Border Protection's Office of Personal Responsibility found 'no evidence that [Border Patrol agents] involved in this incident struck, intentionally or otherwise, any migrant with their reins,'" Fallon wrote, according to Fox News. "Secretary Mayorkas slandered his own Border Patrol agents and TXDPS Troopers involved in this incident, contributing to a further decrease in already-low morale among agents."
The files have been sent to the Judiciary Committee of the House.
Fallon said he would send the articles of impeachment last week, before the 118th Congress was sworn in.
Mayorkas said on ABC's "This Week" on Sunday that he would not resign over how he has handled the southern border. He also said that he would be ready for House Republicans to investigate him.
"I do not," Mayorkas said when pressed by anchor George Stephanopoulos to respond to McCarthy's call for him to resign or if he had any plans to step down. "I've got a lot of work to do, and we're going to do it."
Stay tuned to DC Daily Journal.