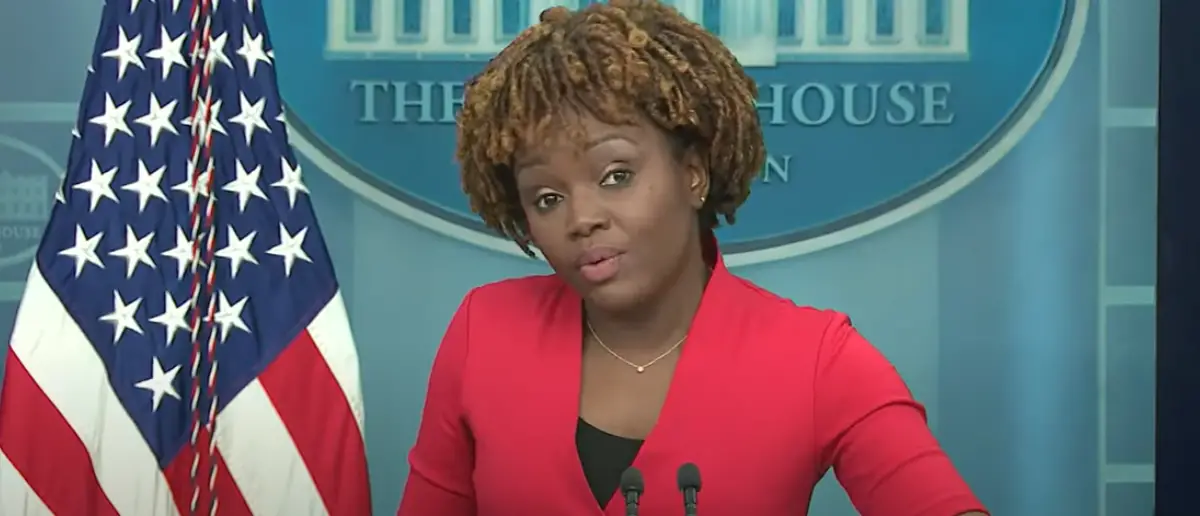 Joe Biden and his pals in office are duping the American public. But they never thought they'd be exposed like this.
And the White House was just caught in an outrageous lie that changes everything.
The Democrat Party won't be happy until the American public marches in lockstep with their radical agenda for the country.
They've spent decades working towards their goal of total control, so they can't have anyone breaking with the official narrative.
That's why they've spent the last year painting any American who espouses conservative ideas as a "threat to democracy," a "semi-fascist," or a "white supremacist."
They know they can't win the argument based on the evidence, so they resort to demonizing and silencing.
A perfect example is what the Left was able to accomplish through colluding with Big Tech social media giants like Twitter and Facebook before the 2020 presidential election.
Now with Elon Musk having acquired Twitter for $44 billion, the dirty laundry is being aired out for everyone to see.
And what no one can deny is that Twitter allowed Democrat election campaigns and bureaucrats embedded in federal agencies to censor and ban conservative voices on their platform.
But the Biden administration is denying they had any involvement. The only wrinkle in that story is they admitted to it just last year.
Despite her predecessor's claims to the contrary, White House Press Secretary Karine Jean-Pierre claimed on Friday that the Biden administration was not involved in Twitter content moderation decisions.
During a press conference, a reporter inquired whether officials had contact with former Twitter General Counsel Jim Baker, a former FBI attorney who assisted with Russia-related investigations against former President Donald Trump. Jean-Pierre stated repeatedly that the administration was "not involved" in censorship decisions.
"It's up to private companies to make these type[s] of decisions," she insisted, according to a report from Fox Business. "We were not involved. I can say that we were not involved."
The administration's involvement in content moderation differs from the summary provided by former White House Press Secretary Jen Psaki last year, who stated that officials were in "regular touch with social media platforms" to keep them informed of "the latest narratives dangerous to public health." She claimed that no "misinformation" proponent should be barred from one major platform but not others.
The initial installment of the Twitter Files, which recount the social media platform's censorship efforts prior to Elon Musk's recent acquisition of the company, was reportedly jeopardized last week after reporter Matt Taibbi revealed that Baker vetted the files without the knowledge of new management before sending them to journalists, despite being embroiled in the censorship controversy himself.
Baker's choice to vet the data led to his dismissal and the postponement of the second tranche of the Twitter Files. "In light of concerns about Baker's possible role in suppression of information important to the public dialogue, he was exited from Twitter today," Musk said.
Baker, a Harvard Law School professor and former Brookings Institution visiting scholar, had urged Facebook to suppress the New York Post's revelation on Hunter Biden's laptop ahead of the 2020 election. Five years ago, the attorney was the focus of a criminal inquiry over suspicions that he made unlawful leaks to the media; the investigation ended with no charges.
The first edition of the Twitter Files revealed that Biden campaign managers repeatedly asked executives to remove posts unfavorable of the then-Democratic presidential contender, often from the accounts of famous conservatives. "By 2020, requests from connected actors to delete tweets were routine," Taibbi wrote. "One executive would write to another: 'More to review from the Biden team.' The reply would come back: 'Handled.'"
The second edition of the Twitter Files, published on Thursday evening by journalist Bari Weiss, revealed that the social media business created blacklists, prohibited disfavored tweets from trending, and intentionally suppressed the visibility of entire accounts and trending topics without informing users. Former business executives including founder Jack Dorsey, CEO Parag Agrawal, and head of legal Vijaya Gadde worked together to ban many prominent conservative accounts. Musk just let go of the latter two executives.
Twitter officials had repeatedly stated for years that no such censoring had occurred. "People are asking us if we shadow ban. We do not," a blog post from 2018 co-authored by Gadde herself said. Dorsey answered with a simple "No" when asked by commentator Dave Rubin in 2020 whether the firm shadow bans "based on political beliefs."
Stay tuned to DC Daily Journal.