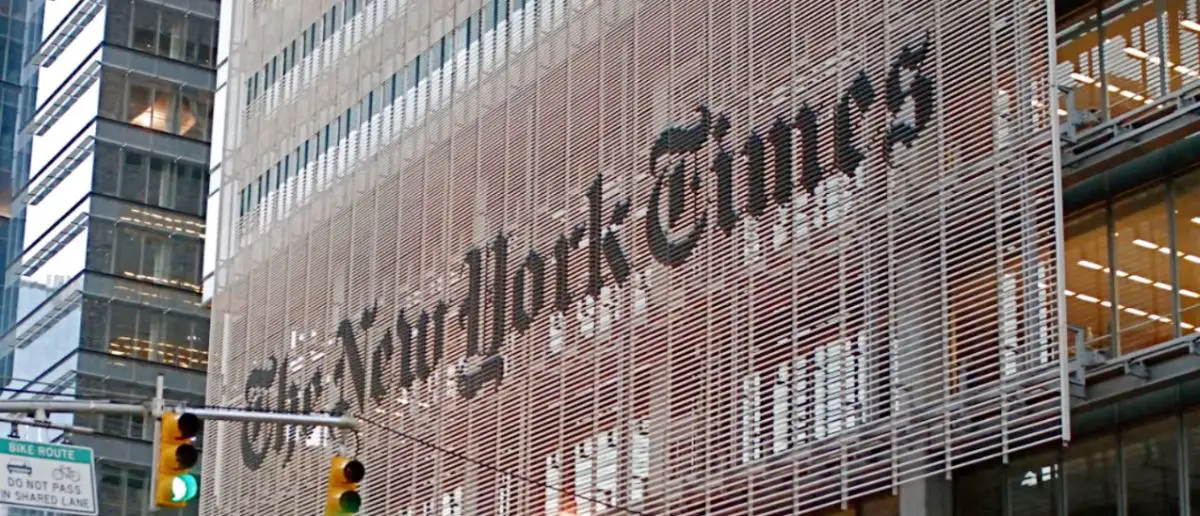 There's no low the Leftist media companies won't stoop to. They'll do anything to brainwash Americans to fall in line with their propaganda.
But this one photo just exposed The New York Times as fake news of the highest order.
You can always count on the likes of CNN, MSNBC, and ABC to lie through their teeth on television, even when it's obvious.
They have no journalistic integrity whatsoever in their quest for higher and higher ratings.
But studies have shown the vast majority of Americans don't view outlets like CNN and MSNBC as particularly trustworthy.
One study shows CNN is near the bottom in terms of factual reporting.
The real issue is that there are outlets that carry at on of respect in the eyes of Americans who are also peddling an agenda and propaganda.
The perfect example is The New York Times.
They were unashamed in their attacks on Brett Kavanaugh in 2018, and Donald Trump during his entire Presidency. They care more about sticking their finger in the wind and feeling where it goes so they can write their narrative in line with that feeling.
Recently, The New York Times' editorial board published an opinion piece titled "America's Toxic Gun Culture" that ruthlessly attacked the Second Amendment rights of Americans guaranteed by the U.S. Constitution.
Publishing an opinion piece that attacks the rights of Americans is one thing.
But the problem is the way they are spinning it.
On Twitter, The New York Times' shared the article with a quote from it that reads "The AR-15 has become a talisman for some right-wing politicians and voters."
And the photo being used for the article is a picture of shotgun shells.
In their attempt to attack the AR-15 weapon platform, they used a picture of rounds that aren't even used in AR-15s, but instead used in shotguns.
This is an important distinction because we hear so often from Democrats that they don't want to get rid of all your guns and take them from you. They say your shotguns and "real hunting rifles" are safe.
But the reality is they don't even know that shotgun shells aren't used in AR-15s at all. Meaning they are woefully undereducated on this topic and unqualified to tell Americans what the Second Amendment truly means.
So either they are straight up ignorant on the topic, or they are intentionally misleading Americans and lying to them about their true intentions.
The latter seems more likely.
Just consider how unashamed some gun grabbers like Beto O'Rourke have been in recent years claiming they are absolutely coming to "take your AR-15."
The sad reality is they aren't going to stop at the AR-15 platform. They want total control by the government being the main owner and distributer of firearms, which is exactly what our Founding Fathers wanted to avoid.
Stay tuned to the DC Daily Journal for more updates.