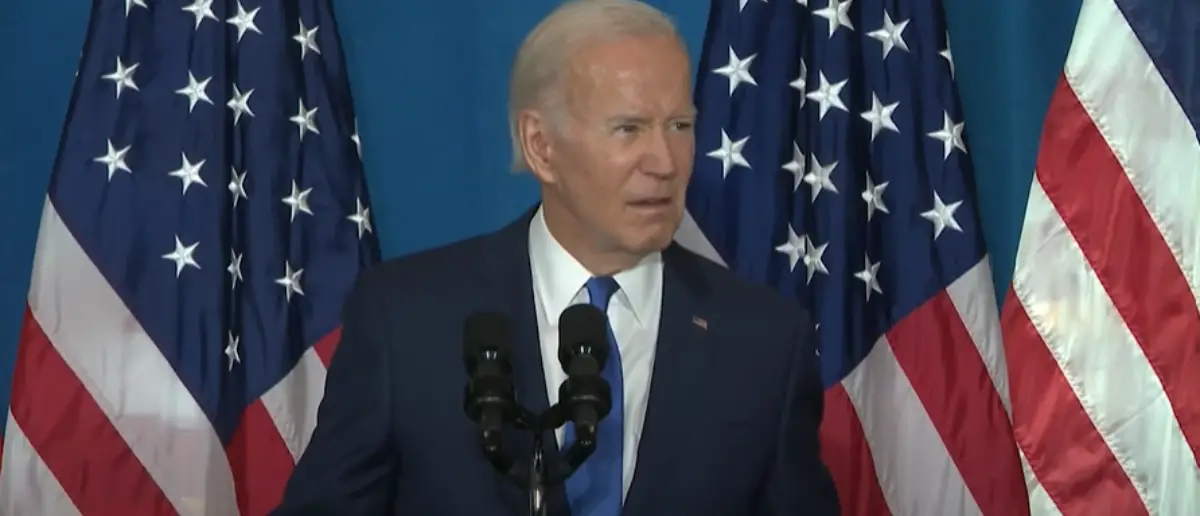 Many Americans believe that Joe Biden isn't actually in charge. And that it's actually his Democrat establishment in charge.
And now this video of Joe Biden proves that he's a puppet head President.
At more than 80 years old now, it's not a far-fetched idea that Joe Biden isn't doing all of the work a President would normally do in directing the White House and his political party.
That's also evident in the fact that Biden has been peddling a lot of modern Leftist ideologies that were foreign to the Democrat Joe Biden from decades past.
Just look at how President Biden gave an interview to the infamous transgender Dylan Mulvaney to discuss how "transgender kids" should be treated.
Do you think Joe Biden legitimately wanted to sit down with a transgender 20-something to defend giving minors "gender-affirming" care?
Absolutely not. This is the same guy who put on his racist hat when he told a black man on his own show that he wasn't black if he didn't vote for him over Donald Trump in the 2020 election.
Another issue that Biden just plays along for is climate change. The radical Left today keeps saying we're gonna all die tomorrow and burn up from the sun unless we all stop driving cars right now.
President Biden recently took a tour across Europe and while he was there he became a mouthpiece for the climate alarmists and propagandists, reiterating the tired talking point about how humanity doesn't have any time left to turn things around.
"It's the only existential threat humanity faces and we don't have a lot of time," President Biden said.
BIDEN on climate change: "It's the only existential threat humanity faces and we don't have a lot of time." pic.twitter.com/FhMEjLl0bh

— RNC Research (@RNCResearch) July 13, 2023
What's noteworthy about Joe Biden's comments is what happened directly after he said this in Helsinki, Finland.
Joe Biden was caught on video in a parade of more than two dozen cars that were escorting the President to his next destination. President Biden also arrived on a 747 jet.
Biden (who arrived on a 747 jet) is whisked away from the Helsinki airport in a motorcade spanning nearly two dozen vehicles (which were flown in on gigantic cargo planes).

Just hours ago, Biden called climate change "the single greatest threat to humanity." pic.twitter.com/uZBTL0EUL8

— RNC Research (@RNCResearch) July 12, 2023
If Joe Biden and the Democrats are so serious about taking "dramatic action" to curb the existential threat known as climate change, then why are they wasting so much gas with more than two dozen cars escorting the President? Why did he fly in on a 747 jet that the radical Leftists say is contributing to greenhouse gas emissions?
It's pure hypocrisy, that's what it is. They don't actually believe what they are saying. It's just a way for them to scare people into keeping them in power. That's what politicians do.
This instance feels a lot like another Biden admin official who got caught on video riding a bike for the cameras, only to get into a giant SUV when he thought he wasn't being recorded anymore.
Pete Buttigieg's dog and pony show.

Use an armored Suburban to bring a bike within a short distance of the destination. Unload it and ride in with a security detail in tow, pretending to save energy. 🙄 pic.twitter.com/Pxynakrl59

— Xeriland (@Xeriland) April 1, 2021
Stay tuned to the DC Daily Journal.