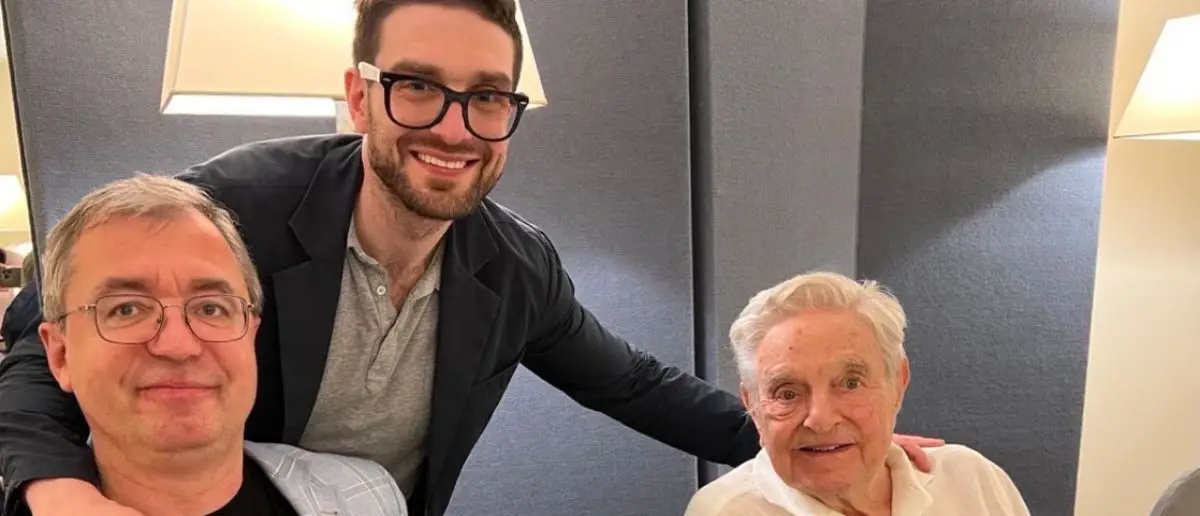 George Soros and Democrats have spent decades pushing Leftist ideology. But they are going for broke.
And top Democrats' secret meeting with Soros has frightening consequences for America.
George Soros spent a large portion of his life ensuring that his billions of dollars were being used to push liberal ideology throughout this country.
At the age of 92, he has finally decided to throw in the towel and pass the gauntlet on.
Now his son, Alex, has taken over the reigns, and it looks like he's going to be even worse than George ever was.
And he's not waiting around for anyone to come to him – he's going straight to the Democrats' HQ to hash out a plan.
Alex Soros, son of billionaire financier George Soros, gathered with high-ranking Democrats shortly after taking over the powerful Open Society Foundations (OSF), following his long-running practice of privately meeting with key lawmakers and openly disclosing the meetings.
The encounter appeared to be his first with federal MPs since taking over his father's multibillion-dollar nonprofit network, which invests heavily in left-wing causes.
After the elder Soros refused to hand up the network to any of his offspring, OSF announced on June 11 that Alex would take control. However, George eventually stated, "He's earned it."
According to an Instagram post, Alex sponsored a New York event with House Minority Leader Hakeem Jeffries and other senior Empire State Democrats, including Reps. Jerry Nadler and Gregory Meeks, just days after the announcement.
"Back in a New York minute to host distinct members of the New York for hmp with [Rep. Hakeem Jeffries] and members of the New York house delegation, [Rep. Pat Ryan, Rep. Jerry Nadler, Rep. Gregory Meeks, Rep. Ritchie Torres] on their quest to take the back [sic] the 2024 majority! And always supporting the sneaker caucus!" Alex wrote on June 17th.
Since 2018, Alex's social media platforms have shown dozens of photos showing him with House and Senate Democrats. Senate Majority Leader Chuck Schumer of New York and then-House Speaker Nancy Pelosi of California appear the most. Alex met with Schumer at least nine times, referring to him as a "good friend."
Alex met with Pelosi at least eight times, dubbing her the "greatest Speaker of the House in American History!"
He shared a photo with Vice President Kamala Harris a few weeks ago, adding, "Great to recently catch up with Madame Vice President, [Kamala Harris]!"
Alex has had great access to the Biden White House and appears to be keeping the direct connection as he now leads one of America's most renowned leftist foundations. George claimed after handing over authority that they "think alike," but Alex pointed out that he is "more political."
According to a recent Fox News Digital investigation of visitor logs, Alex has visited the White House at least 17 times since 2021.
The logs list Jon Finer, the principal deputy national security adviser; Jordan Finkelstein, special assistant to the president and chief of staff for senior Biden adviser Anita Dunn; and Mariana Adame, the adviser to the counselor of the president, as those greeting Alex.
While those people are indicated in the documents, it is unclear with whom he may have met for the sessions. The records may include White House workers who schedule appointments, meet guests, then transport them to other officials, so disguising the intended meeting host.
But it doesn't take a rocket scientist to figure out who one of the most powerful Democrat donors is meeting with.
Stay tuned to the DC Daily Journal.