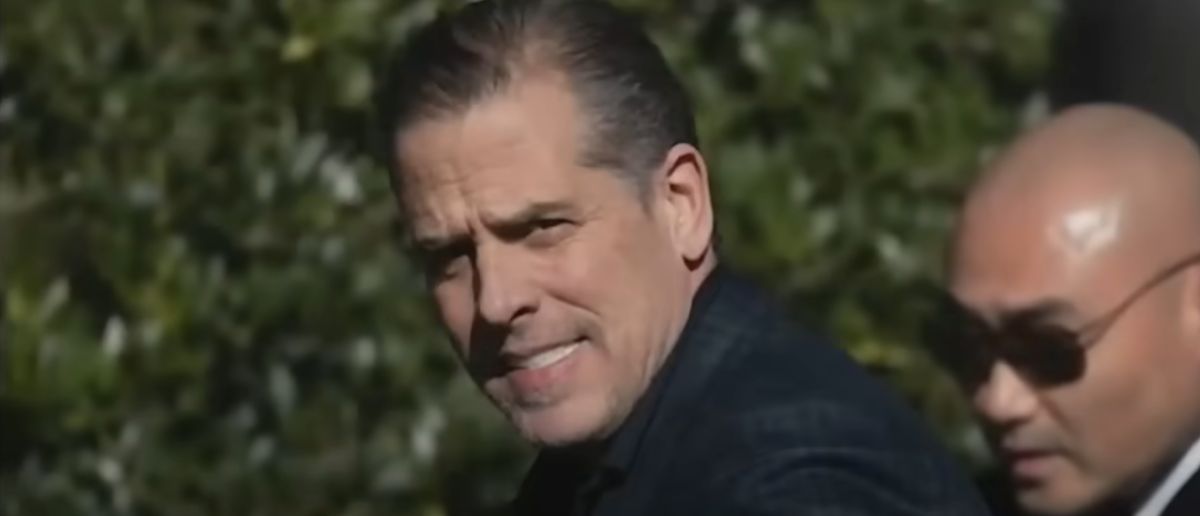 Hunter Biden thought he was getting off with a slap on the wrist. But a federal judge has denied his plea deal.
And now a top lawyer has revealed what the White House is most worried about in the Hunter Biden case.
Many Americans cheered when they learned that Hunter Biden's sweetheart deal had been denied by the federal judge overseeing the Hunter Biden case that's been on the front page of the news in recent weeks.
It was a rare moment that gave hope to the idea that someone like Hunter Biden isn't above the law just because of his connections to the President and the Washington, D.C. Swamp.
Not only that, but Hunter Biden may be in serious trouble moving forward as new reports have indicated that Hunter is under investigation by the Department of Justice for being a foreign agent.
🚨🚨🚨

Today, the Department of Justice revealed Hunter Biden is under investigation for being a foreign agent.

— Oversight Committee (@GOPoversight) July 26, 2023
Appearing on Fox News, a top law professor from George Washington University Jonathan Turley shared with the network what he believes the White House is most worried about moving forward in this case.
First, Turley noted that he thinks the Hunter Biden legal team wanted this plea deal to be as quick and easy as possible.
"I think part of the problem is they really did want to cap out the case. The Department of Justice wanted to cap this investigation. But they didn't want to say that it was now over. From the very beginning, the Hunter Biden team said this is a close-out plea agreement. There would be nothing left to investigate," Turley said on Fox News.
Furthermore, he said that the Department of Justice actually got in the way of this happening.
"But the Department of Justice is telling Congress we're not going to give you these witnesses or these documents because there's an ongoing investigation. You can't do both things when a judge is asking you to specifically address whether this is a close-out or a continuing investigation," Turley added.
The law professor of GWU said he believes this was supposed to be "scripted" and "easy" but that it has been anything but that.
"This is a big problem. This was all supposed to be scripted. It was all supposed to be easy. And now it is off script and it is anything but easy."
Then he dropped the bombshell sharing with Fox News viewers what the White House is most fearful of happening in this case. That's Hunter Biden being designated a foreign agent.
The reason is because that would open up pandoras box for the prosecution against Hunter Biden.
"Because the judge just raised the one charge that the White House most fears which is the chance that Hunter was a foreign agent. And if he was a foreign agent, the question is foreign agent for who and for what purpose? The president was that purpose. If you're influence peddling, it's influence over the president," Turley continued.
This would potentially drag the President Joe Biden himself into this court case as the investigation would be going back to 2014 and 2015 for research on the Biden family.
"So if you go for FARA, it's going to bring all of this stuff in. Including some of these tax accounts for 2014 and 15 that the Department of Justice allowed to run, allowed the statute of limitations to expire," he argued.
Lastly, he said that this news of the plea deal falling apart has taken all of Washington, D.C. by surprise because no one saw the deal being shredded to pieces.
"The whole purpose of this deal is collapsing as we're watching it. And it's taken Washington by utter surprise. I was on the Hill talking with members and everyone was floored."
Turley: Hunter Biden's Judge Raised the Question the W.H. Most Fears, Was He A Foreign Agent and For What Purpose? pic.twitter.com/RxZnpHuDWr

— Alexandra Datig | Front Page Index 🇺🇸 (@alexdatig) July 27, 2023
Stay tuned to the DC Daily Journal.