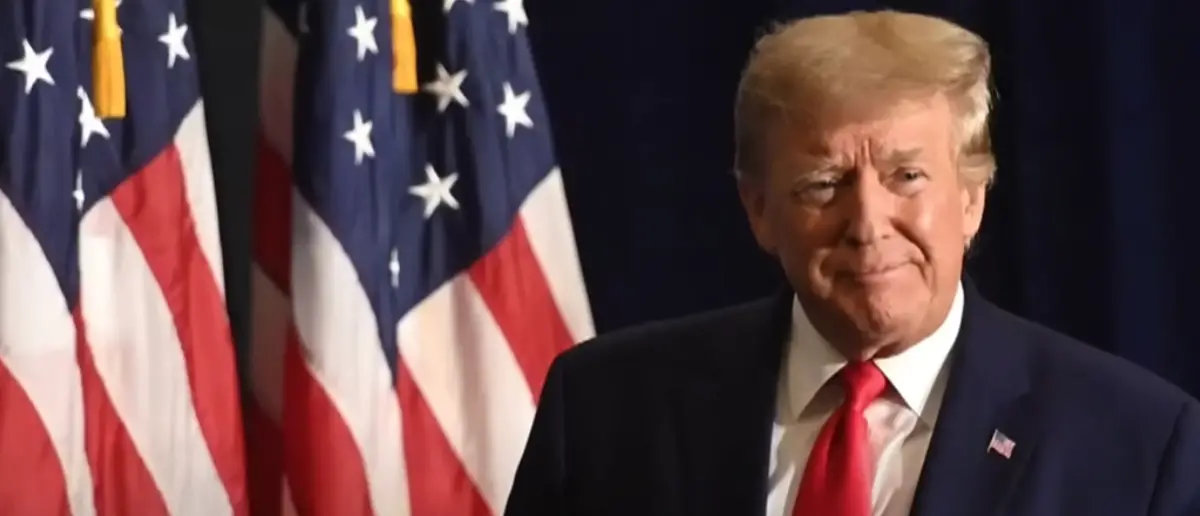 Joe Biden has been doing all in his power to scrub the government of Trump's achievements. But one isn't going away so easily.
And Trump just got the last laugh over Joe Biden.
No one can deny the southern border is an absolute disaster area.
Millions of illegals pour over every year thanks to the permissive policies of Joe Biden and his administration.
But even with an "open the flood gates" policy, Joe Biden is still paying for Trump's border wall.
In an exclusive report from Fox News, the Biden administration was found to be spending approximately $130,000 every day at the southern border to store and maintain unused border wall panels, and Senate Republicans are seeking answers.
Using information from a request for information to the United States Army Corps of Engineers (USACE), Republican members of the Senate Armed Forces Committee wrote to the Defense Department on Wednesday evening, questioning why roughly $50 million being spent each year to preserve Trump-era border materials.
The senators, led by ranking member Sen. Roger Wicker, R-Miss., and signed by Texas Senators Ted Cruz and John Cornyn, as well as nearly every other Republican on the committee, wrote that they "are disturbed to learn the Department of Defense is paying private landowners to store border wall materials procured under the Trump Administration instead of fortifying the southern border with those materials."
"At present, over 20,000 border wall sections, otherwise known as bollard panels, lie unused at 20 project sites across southern Arizona and New Mexico," the senators wrote to Melissa Dalton, the assistant secretary of defense for homeland defense and hemispheric affairs. 
"Every day, the Department of Defense pays $130,000 to store, maintain, and secure these materials. Since you were sworn in as the Assistant Secretary of Defense for Homeland Defense and Hemispheric Affairs a year ago, you have allowed the Department to pay over $47 million to store these panels. The Department of Defense should not be incurring these daily charges but should be using these funds to bolster national security."
"This failing program clearly misses that standard," the senators continued.
The USACE confirmed in its correspondence with the committee that President Biden's administration's cancellation of the border wall contracts in 2021 "left a variety of excess materials" and that the "total costs to store, maintain, and secure all the materials across all sites is estimated to be approximately $130,000 per day."
"Some of these materials, to include security cameras, overhead lights, and electrical and stormwater materials are being disposed of in accordance with federal excess material disposal laws and regulations," according to the USACE.
"Overall, 61% of non-bollard panel materials, and 4% of bollard panel materials have been transferred to other government agencies or disposed of through the DLA disposition process. The total value of these materials is estimated at approximately $300 million. However, the cost to the government cannot be finalized until audits are completed and negotiations with contractors are concluded."
The senators also pressed Dalton on why the Defense Department is not disposing of the remaining unused bollard panel materials, a required government process for the department that works in collaboration with the Defense Logistics Agency (DLA) to reutilize, resell, or demilitarize military property.
"We assume you are well aware of this capability since the Department used the program to transfer 1,700 border wall panels to the state of Texas early in your tenure," the senators wrote. "It has come to our attention that only 4% of the excess bollard panel materials have been transferred. We urge you to pursue all possible avenues to sponsor or endorse the reuse of excess Department of Defense property, including further transfer to states."
Attached to Dalton's letter was a series of questions from the committee about "internal correspondence" that resulted in the storage of materials at high costs rather than disposal, as well as a list of the entities and individuals being paid by the DOD to store border wall panels on private land and how those agreements were arranged.
Mississippi Republican Sen. Roger Wicker, the committee's ranking member, told Fox News Channel that the money spent to retain the useless items is "holding back" lawmakers' efforts to protect Americans and secure the border.
"It is astounding to me that the Department of Defense is paying $130,000 per day to do nothing with $300 million worth of border wall materials," Wicker said. "This clear example of government waste is holding back our mission to protect American citizens and American security. 
President Biden appears to prefer spending money to avoid building the wall, rather than protect Americans from cartels."
According to the USACE, the disposal of all unused border security supplies, as mandated in the government's contract closure process, has delayed the closure of many border construction contracts.
The process of canceling all contracts "is still on-going and is projected to continue at a minimum through 2024," according to the USACE. Non-bollard items are "scheduled to be turned in to DLA facilities by the end of March 2023" and USACE is "discussions with DLA regarding the over 20,000 excess bollard panels," according to the agency.
"Given the size, weight and transportation requirements for this material, significant planning and coordination may be required. Contract terminations cannot be completed until all materials have been properly disposed," the USACE told the committee.
Biden would rather pay to store the border wall than secure the border because it would give Trump an obvious victory.
Stay tuned to DC Daily Journal.