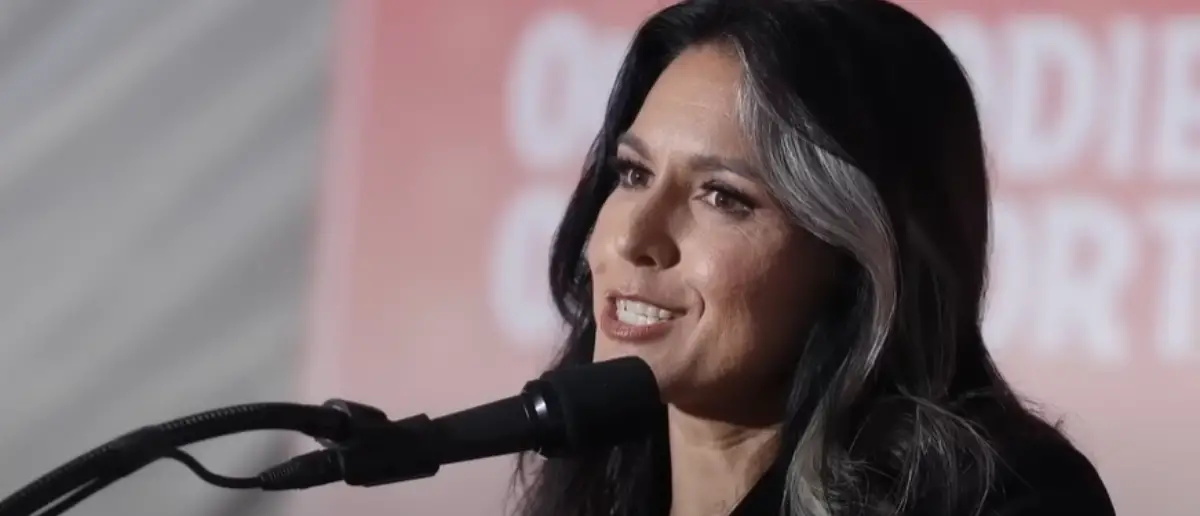 The former U.S. Representative from Hawaii, Tulsi Gabbard, made waves when she announced she was leaving the Democrat Party. But she's not done making waves just yet.
Because Tulsi Gabbard just put Chuck Schumer on blast with one stunning statement.
Tulsi Gabbard was for a long time one of the more unique Democrats in that she never quite wanted to play along with the Party's games.
She demonstrated this much when she wasn't afraid to attack a leading Democrat like Kamala Harris on the debate stage as she did in 2019 when she was running for president.
Many had assumed she would leave the Democrat Party sooner or later because everyone can see just how radical the Democrat Party has become today.
There's no disagreeing with the mainline, Marxist foundation of the Democrat Party today.
She even said as much in her 30-minute video explaining why she was leaving the Party and why the Democrat Party is downright evil in her opinion.
But she's not done sharing the truth about the Democrats either. Now she's going after the leaders of the Democrats as well.
Tulsi Gabbard appeared on the extremely popular Joe Rogan podcast the day she announced she was leaving the Democrat Party, which is enough to get someone "canceled" in today's culture.
While appearing on the show, she didn't pull any punches aimed at leading Democrats like Nancy Pelosi and Chuck Schumer.
Rogan and Gabbard were discussing censorship and how concerning it is that some people legitimately want to outright silence anyone who disagrees with them.
That's when Gabbard dropped the bombshell saying that Democrats create a "culture" of fear and that they are like "radical religious zealots."
"I think that the Democratic Party leaders, people like Hillary Clinton, people who have been in charge for a very long time foment this kind of culture of fear and like 'hey if you go against us, you're dead, you're on the sh*t list,'" Gabbard said on the Joe Rogan Experience podcast.
"You have, kind of the very loud activists who don't represent I think even the majority of the Democratic Party, but the AOCs of the world who are almost like these radical religious zealots and they are ideologues and whatever they choose is the battle of the day, if you are against them on that, forget it, you're done," she added.
Catch a part of the podcast episode in this Dave Rubin video below:
The Democrats are being exposed for their Orwellian, authoritarian, and Marxist foundations.
The truth is that the Democrat Party is the most extreme major party in power in U.S. history.
But of course, Joe Biden and the Democrats are doing everything in their power to deflect those true accusations thrown their way and are instead just trying to throw it back at "MAGA Republicans," which is why he literally made a speech to demonize Trump voters.
Stay tuned to the DC Daily Journal.