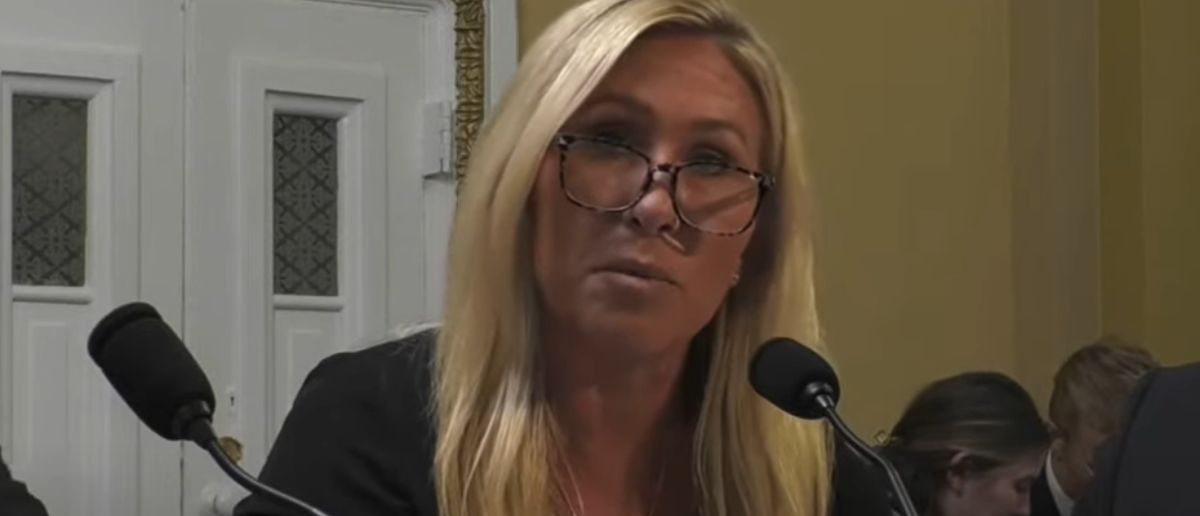 When a U.S. Rep. gets hit with an ethics violation, it's a big deal. The consequences can be devastating.
And you won't believe who has been hit with a shocking ethics violation complaint.
After Representative Marjorie Taylor Greene (R., Ga.) presented graphic images of Hunter Biden during a hearing in Congress last week, Biden's attorney filed an ethics complaint against Greene on Friday.
The Hill has seen a letter from Greene's attorney Abbe David Lowell requesting an investigation into the congresswoman's "abhorrent behavior" that breaches House Ethics regulations and standards of official conduct.
"This week, your colleague has lowered herself, and by extension the entire House of Representatives, to a new level of abhorrent behavior that blatantly violates House Ethics rules and standards of official conduct. If the OCE takes its responsibilities seriously, it will promptly and decisively condemn and discipline Ms. Greene for her latest actions," Lowell penned.
The House "has a duty now more than ever to make loud and clear that it does not endorse, condone, or agree with her outrageous, undignified conduct and brazen violations of the standards of official conduct," he continued.
On Wednesday, Greene and other members of the House Oversight Committee questioned two IRS whistleblowers who testified that the IRS, DOJ, and FBI interfered with their investigation into Hunter Biden.
Greene displayed posters with graphic photographs of Hunter Biden from his laptop hard drive during her time to interrogate the whistleblowers. The younger Biden's face was clearly apparent in the images, while the faces of everyone else were blurred out.
"Before we begin, I would like to let the committee and everyone watching at home that parental discretion is advised," Greene said before beginning her line of inquiry.
The focus of Greene's interrogation was on whether Hunter Biden had broken the federal Mann Act of 1910, which forbids the interstate transportation of women "for the purpose of prostitution or debauchery, or for any other immoral purpose."
Jamie Raskin (D-Md.), the ranking member of the committee, questioned the appropriateness of Greene's demonstrative: "Should we be displaying this, Mr. Chairman?"
In a follow-up, Raskin claimed that Greene had disobeyed House regulations.
"Yesterday they took us to a new low when Marjorie Taylor Greene decided for completely gratuitous reasons to show purported pornographic scenes of Hunter Biden. I mean, if that is not a violation of the rules of decorum of the House, then we don't have rules of decorum in the House," he said.
"And I've been telling Republicans, if those images were in a book, they'd be voting to ban them. Instead, they decided to display them to the whole country in the House of Representatives."
Moreover, Lowell writes that Greene is seeking to "use the power of her office to generate some clicks online, fundraise, and provide sensationalist clips for Fox News at the expense of harassing and embarrassing Mr. Biden, a private citizen."
He continued, "This political stunt by Ms. Greene will go down in history as an event unbecoming of any member of Congress and beneath the dignity of the House of Representatives."
Lowell pointed out that Greene also sent a link to a video containing the obscene photographs of Biden in a fundraising email she sent to her voters. He speculated that the transmission of obscene information via email might be in violation of federal law "even if one minor was included among the email distribution or was exposed to her outrage."
It was also implied that Greene may have violated a regulation requiring House members to behave "in a manner that reflects creditably on the House floor."
Lowell has twice previously requested an OCE investigation into Greene's actions, the most recent of which was Friday's letter.
"Representative Greene's unethical conduct arises from her continuous verbal attacks, defamatory statements, publication of personal photos and data, and promotion of conspiracy theories about and against Robert Hunter Biden," Lowell had written earlier this year.
Though, Greene's supporters say that the American public deserve to know the truth about the debauchery of the son of the President.
She also did warn everyone that the photos would be explicit and that discretion was advised for anyone tuning in.
It seems more so that the Democrats and the Biden legal team are more embarrassed that this information about Hunter Biden has come to light. As such they are simply taking it out on Marjorie Taylor Greene for being bold enough to share the facts.
Stay tuned to the DC Daily Journal.