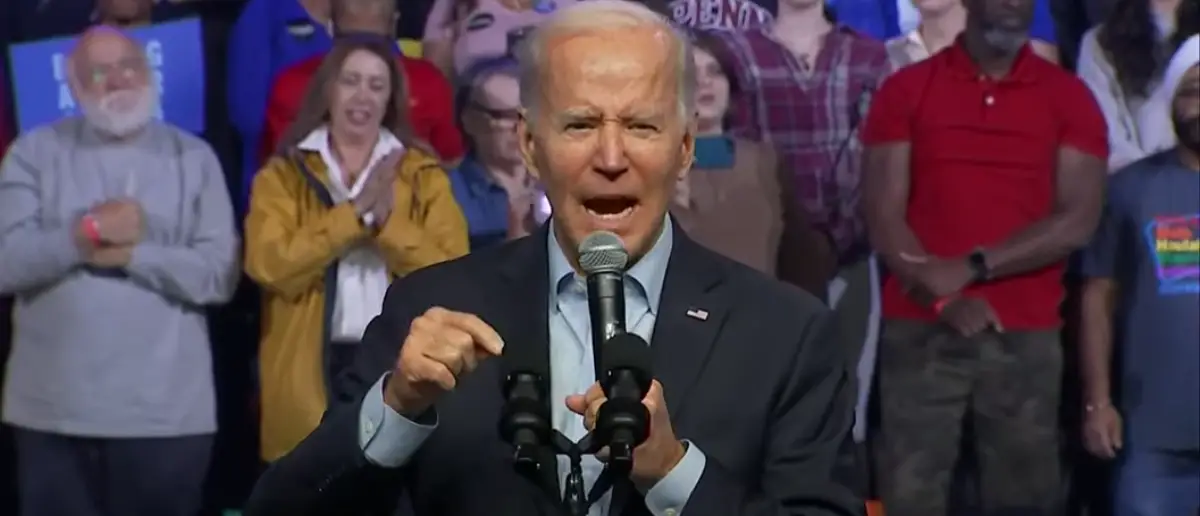 While all eyes are on Donald Trump, President Biden thought he could pull a fast one. But he's been caught red-handed.
And what Joe Biden just did behind closed doors will sicken you.
When Big Media is spending the vast majority of its attention on one particular issue, that should make you wonder what else is going on that they aren't telling you.
It's to be expected that the Donald Trump indictments would take up a ton of air time across the major cable news networks and make up a ton of the new articles being published online by the likes of The Washington Post, and more.
But there's been almost too much attention on that case that has been largely undramatic so far.
The media has completely neglected reporting on a major piece of news that you should know about.
You see, on Tuesday while everyone was caught up in the Trump arraignment, the Joe Biden quietly announced that they would be fueling the Ukraine proxy war against Russia even more.
A few million dollars funded by the taxpayers here and there thrown around like it's nothing is already bad enough.
Yet, on Tuesday, the Biden administration confirmed that they would be spending $2.6 billion more to fund Ukraine, helping them with rocket ammo, heavy arms ammo, as well as additional small arms.
Newsmax reports:
The United States on Tuesday unveiled details of $2.6 billion in new military aid for Ukraine's war against invading Russian forces, including ammunition for HIMARS precision rocket systems, artillery rounds and small arms.
As noted by Newsmax, this brings the total funding from the U.S. for Ukraine up to more than $35.1 billion.
Republicans in the U.S. House of Representative like Jim Jordan (R-OH) and the House Speaker Kevin McCarthy himself (R-CA) have demanded that the money funding Ukraine be audited, and at the very least tracked.
But the White House has been adamant that tracking federal dollars that come out of taxpayer bank accounts in the form of taxes is not realistic.
In fact, the Pentagon recently said that their monitoring of the situation has not "turned up evidence of widespread abuse."
But the Pentagon has repeatedly insisted that monitoring efforts have not turned up evidence of widespread abuses, with one senior official saying the main danger of illicit diversion comes from equipment captured by Russian forces.
How would the Biden administration know that unless they were able to audit and track the funds in the form of military equipment and personnel making its way over to Ukraine?
The American people have made it quite clear that they do not want to continue spending their own money to fund a proxy war with Russia that seemingly has no end in sight. This is an issue that even the so-called "progressive" Left has been agreeing with House Republicans on.
Joe Biden and his Democrat administration chose to do this at this time for a reason.
They don't want to catch more flak from the American people for their proxy war against Russia, so they pulled this stunt in quiet, behind closed doors.
Tulsi Gabbard was right when she said she was leaving the Party because the Democrats have become a bunch of war-mongering criminals.
Stay tuned to the DC Daily Journal.